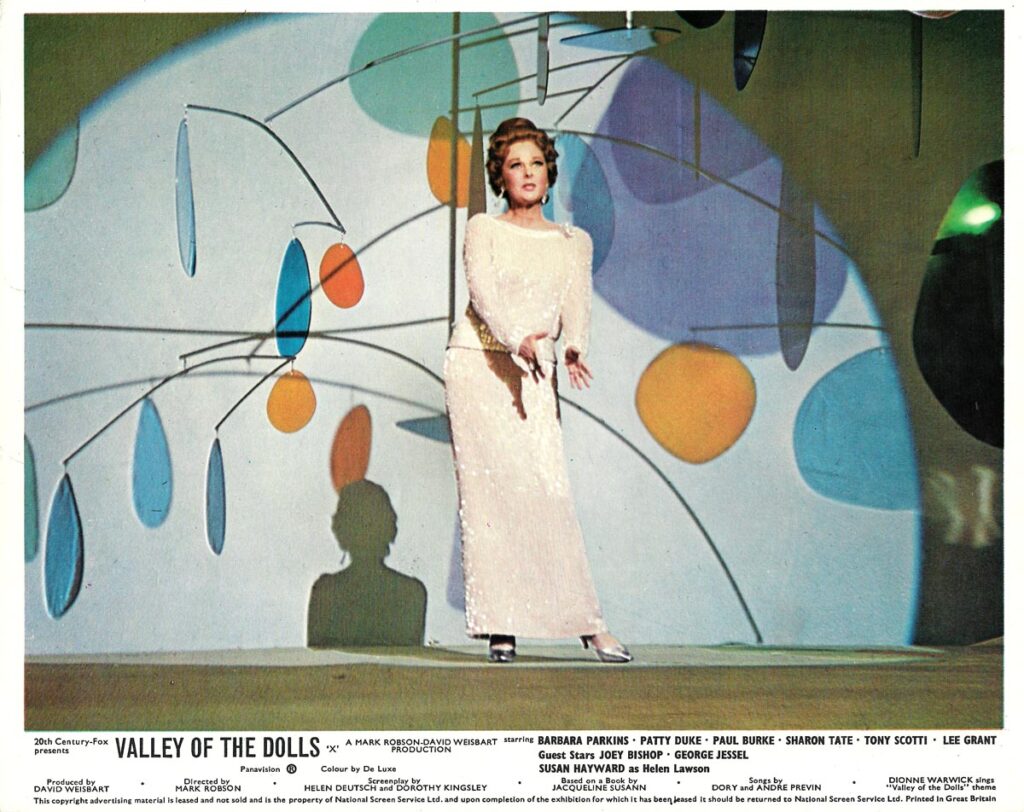 VALLEY OF THE DOLLS (1967) UK color still
Sold
Vintage original 8 x 10″ (20 x 25 cm.) color still, UK. Patty Duke, Barbara Parkins, Sharon Tate, Susan Hayward. Jacqueline Susann took behind-the-scenes rumored stories of 1940s Broadway and Hollywood (to which, as an aspiring actress, she was privy) and wove them into the old showbiz movie formula of three girls in the biz and how they end up. It had been done in popular films since SALLY, IRENE AND MARY (1925), and continued with ZIEGFELD GIRL (1941) and HOW TO MARRY A MILLIONAIRE (1953).

This time, though, the stories of some living legends of showbiz were being re-interpreted, and not in a flattering manner. The stories of Ethel Merman, Judy Garland (legendarily cast and fired from the film), Betty Hutton, Frances Farmer and Carole Landis made up the backgrounds of the main characters. Absurdly, the film makers set the film in contemporary 1967, by which time the use of "dolls" (Benzedrine) was as passe as was its style of filmmaking. Nevertheless, it was considered scandalous and great entertainment, and made a lot of money.

Here is Susan Hayward lip syncing (to Margaret Whiting's recording) the Dore and Andre Previn song "I'll Plant My Own Tree," on one of 1960s films most outrageous theatre stages. Unique image from the British set. Tiny scratch to the top right side blank white margin, otherwise mint. FINE.
Out of stock
Share With Friends: