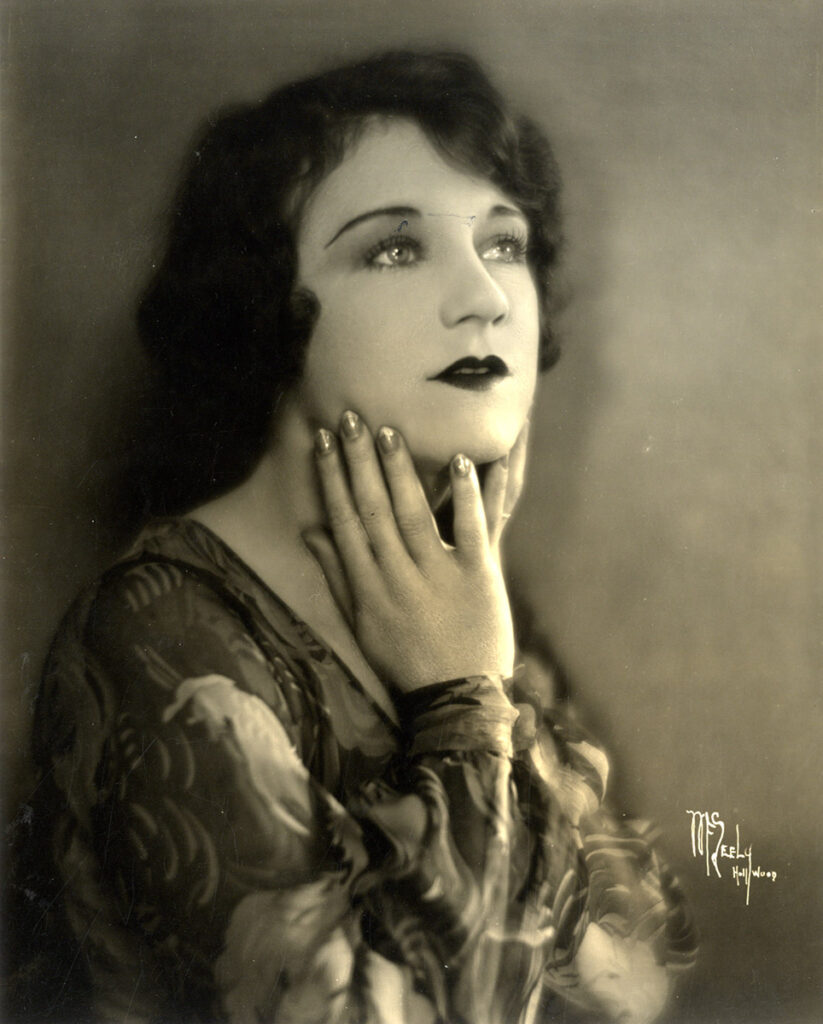 VIOLA DANA (ca. 1925) Portrait by Walter Fredrick Seely
Sold
Los Angeles: Walter Fredrick Seely, [ca. 1925]. Vintage original 9 1/2 x 7 1/2″ (23 x 19 cm.) black-and-white double weight glossy black-and-white photo. Fine.
One of the great darlings of the American silent cinema is elegantly captured in shadowed profile in this portrait by Walter Fredrick Seely, his ink stamp on the verso. This is one of Seeley's earliest portrait settings, having just left Witzel Studios to establish his own. The stamp is from his first Los Angeles studio.
"Seely was one of the most artful of the L.A. performing arts photographers. Trained as a landscape painter, Seely had co-directed the Redwood Gallery in Eureka with his brother Ed Seely from 1907 to 1911, so he knew how to run a studio. Seely stayed with Witzel until setting up an independent gallery under his own name in 1920 and created the most daringly designed images produced under the Witzel brand.
"His fine arts background inclined him to horizontal formats and reclining figures, a different orientation and disposition of subject than the vertical stock-in-trade of portraitists. A colorist whose eyes had been nourished by the natural tones of his native California, Seely imported into his photography an exquisite sense of tonal modulation and lighting dramatics. He favored the spare ornaments and props of pictorialist portraiture — the fat bellied urns, ewers, and ollas — and embraced pictorialism's interest in exotic costume.
"He had a finer sense of pictorial design than Witzel, but not as great an interest in the subtleties of facial expression. That part of Witzel drawn to glitz — to visual sensation for its own sake — found an amplifying eye in Seely. After Seely's departure, Witzel sought someone who could take his place." (Wikipedia)
Out of stock
Share With Friends: