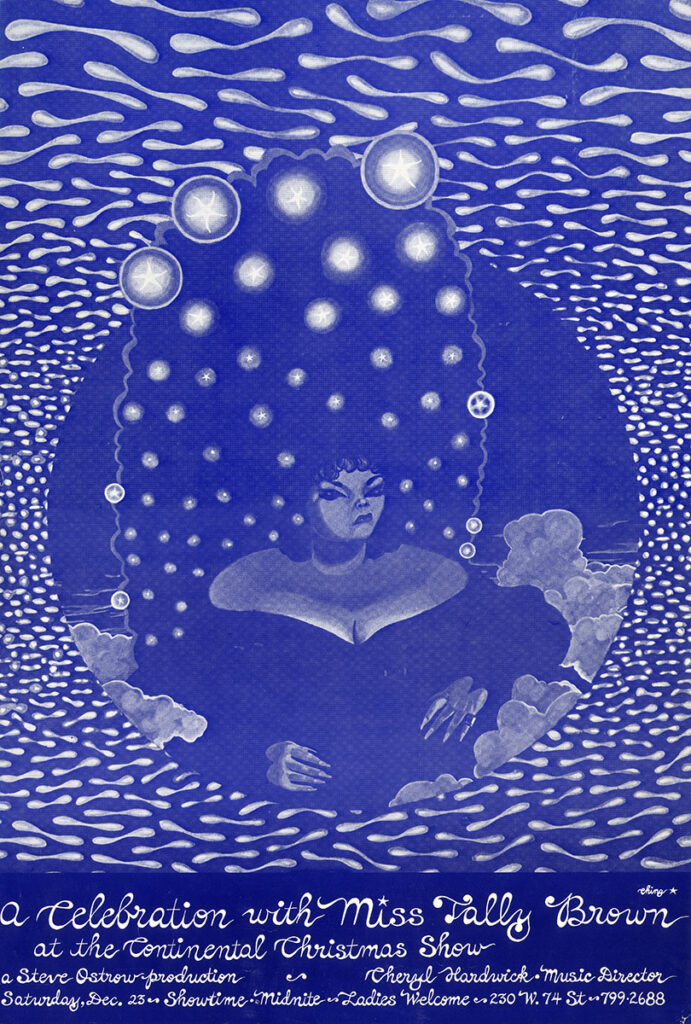 A CELEBRATION WITH MISS TALLY BROWN AT THE CONTINENTAL CHRISTMAS SHOW (1972) Concert poster by Ching Ho Cheng
Sold
[New York]; Steve Ostrow, [1972]. Vintage original 22.5 x 15.5″ (57 x 39.5 cm.) concert poster. Unfolded, fine.
"The Continental Baths was a gay bathhouse in the basement of the Ansonia Hotel in New York City, which was operated from 1968-1976 by Steve Ostrow. It was advertised as reminiscent of 'the glory of ancient Rome… It opened after Ostorow observed the crowds at Everard Baths and he wanted to improve on the Everard atmosphere of being 'sleazy, secretive, unkempt, not to mention unfriendly.' 
"While the baths utilized the Ansonia's lavish Gilded Age décor for a Roman style bath, it is probably best remembered as being an influential offbeat music venue. He began showcasing live acts which were the launching points for Bette Midler, Barry Manilow, Patti La Belle and Peter Allen." (Wikipedia)
Tally Brown was a singer and actress associated with the Warhol circle and the New York underground performance scene. She appeared at notable New York nightclubs such as Reno Sweeney's and S.N.A.F.U.
This poster was designed by Chinese-American artist Ching Ho Cheng. The charming inscription on the back appears to be in Cheng's hand.
"Cheng returned to New York [in 1976] and checked into the Chelsea Hotel intending to remain for two months; he lived and worked there until his death in May 1989. Rosa von Praunheim portrayed Cheng in his studio in the Chelsea Hotel for his award-winning film Tally Brown, New York (1979).
"At a time when Asian-Americans were nearly absent from the contemporary art scene, Cheng was highly regarded by peers and by prominent art historians such as Gert Schiff and Henry Geldzahler, the first curator of twentieth-century art at the Metropolitan Museum of Art." (Wikipedia)
Posters advertising concerts at the Continental Baths are terribly scarce. I have never seen any other. Not in OCLC. 
Out of stock
Share With Friends: