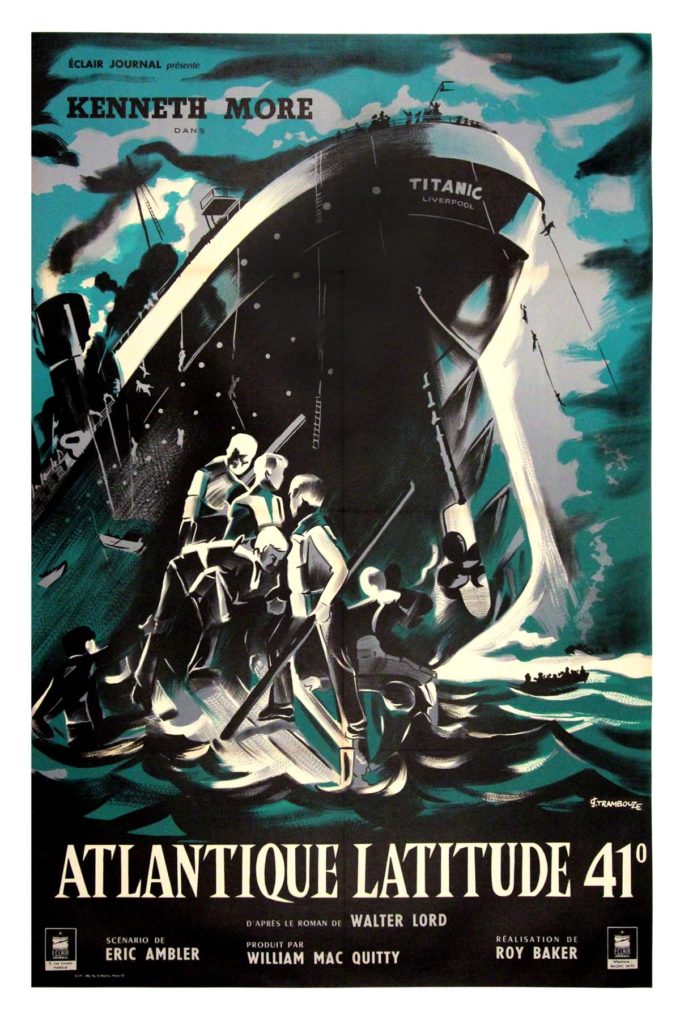 ATLANTIQUE, LATITUDE 41° [A NIGHT TO REMEMBER] (1958) French half grande poster
Sold
Vintage original 30 x 46″ (78 x 117 cm.) half grande affiche poster, France. Kenneth More, Ronald Allen, Robert Ayres, Honor Blackman, Anthony Bushell, dir: Roy Ward Baker; Rank Organisation. On linen, near fine.
There have been several fine depictions on film of the epic tragedy of RMS Titanic, this one based on Walter Lord's definitive book. Even with the most recent epic film telling, critics still consider this "the definitive cinematic telling of the story," (Heyer 2012, p.104). Because many of the survivors were living when the book and film were made, exact accuracy could be achieved and the film was made in order of sequence.
In dramatic graphics, artist G. Trambouze has depicted the horror and turmoil of RMS Titanic's famous sinking. Of the different posters designed for this film, this is a particularly good one, because it has a clear image of the ship.
Out of stock
Share With Friends: