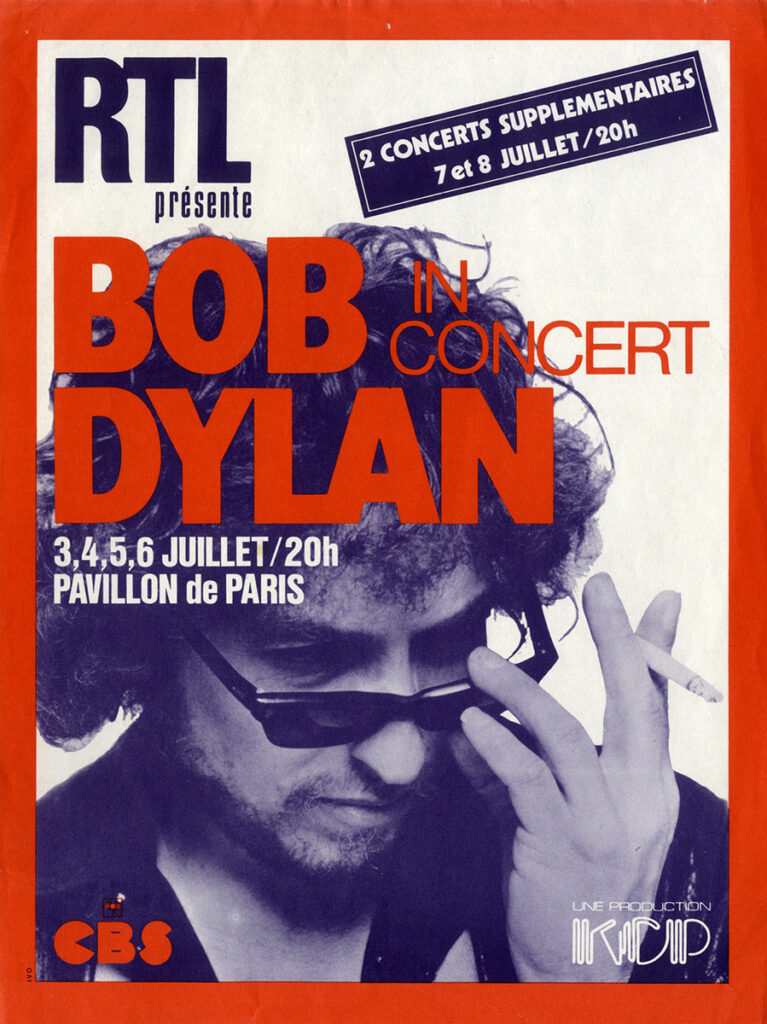 BOB DYLAN IN CONCERT (1978) French mini-poster
Sold
Paris: RTL, [1978]. Vintage original 11 x 8.25″ (28 x 21 cm.) French mini-poster. There is a tiny pinhole in each corner, and a faint diagonal crease at bottom left corner, overall in just about fine unfolded condition.
Poster for Bob Dylan's six consecutive concerts at the Pavillon de Paris in Paris from July 3 to July 8, 1978, presented by RTL in cooperation with Albert Koski's KCP. Dylan was touring Europe in support of Street-Legal, his eighteenth studio album, produced by Don DeVito and released on June 15, 1978, on Columbia Records.
For the tour, Dylan assembled an eight-piece band, featuring Billy Cross (lead guitar), Alan Pasqua (keyboards), Steven Soles (rhythm guitar, backup vocals), David Mansfield (violin & mandolin), Steve Douglas (horns), Jerry Scheff (bass), Bobbye Hall (percussion) and Ian Wallace (drums). Dylan was also accompanied by backing singers Helena Springs, Jo Ann Harris and Carolyn Dennis.
The Paris concerts were a triumphant return to Europe, Dylan's first European tour since the notorious May 1966 tour.
Out of stock
Share With Friends: