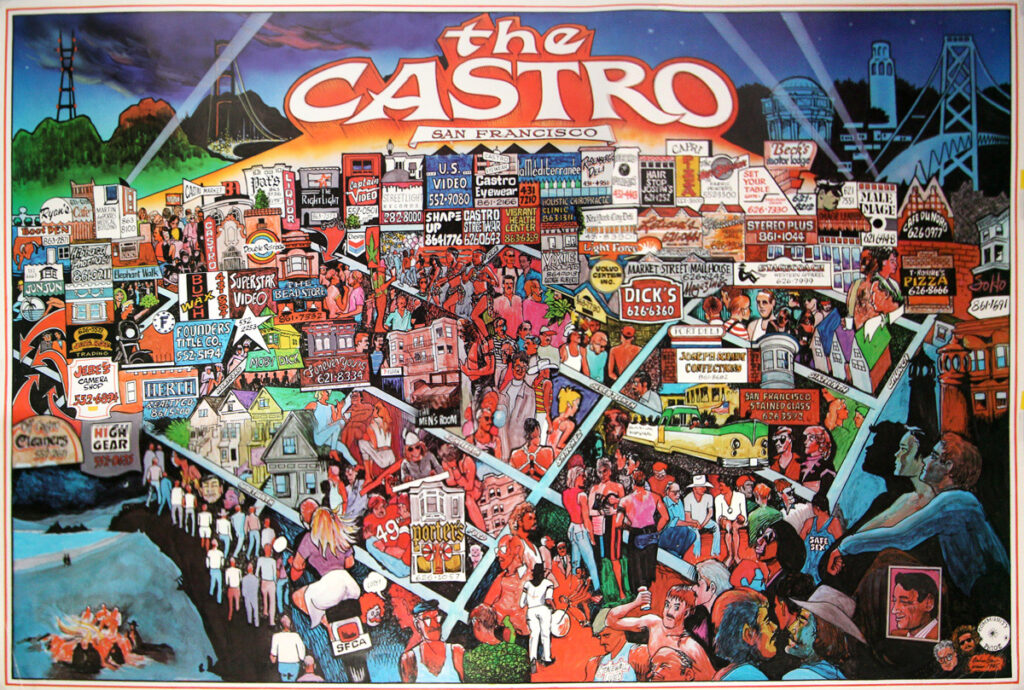 (California LGBTQ history) THE CASTRO, SAN FRANCISCO (1985) Pictorial map / poster by Graham Bruce
$

3,000.00
[San Francisco]: Community Pride, 1985. Vintage original 24 x 36″ (61 x 91.5 cm.) pictorial map / poster. Unfolded, minor crimping at bottom left corner, some minor additional wear in a few places at edges, but just about fine with vibrant colors.
A vibrant portrayal of San Francisco's Castro neighborhood at a time of great social activism but also at a moment when the LGBTQ community was being devastated by the AIDS epidemic. The map spotlights many of the establishments which catered to the gay community.
We are treated to an oblique perspective of the neighborhood. Structuring the view is an orthogonal grid of blue lines representing the area's main streets. In the spaces created between these streets we find an abundance of imagery depicting life — and especially nightlife — in the district. At the forefront, most of the scenes are centered on a variety of human figures. Many of them have deliberately been drawn as neutral figures, in some cases hardly more than an outline. But many also include details that anchor the scenes to San Francisco, including 49er football jerseys, CA license plates or ganja-toting hippies.
The map includes many different images of gay men, with an impressive array of mustaches and cowboy hats. There are various portrayals of men hugging, dancing and generally hanging out and being themselves.
This map is an extraordinary time capsule — and an exceedingly rare one. WorldCat only records one known copy, at the Library of Congress, and I can find no previous auction record of it ever appearing.
Share With Friends: