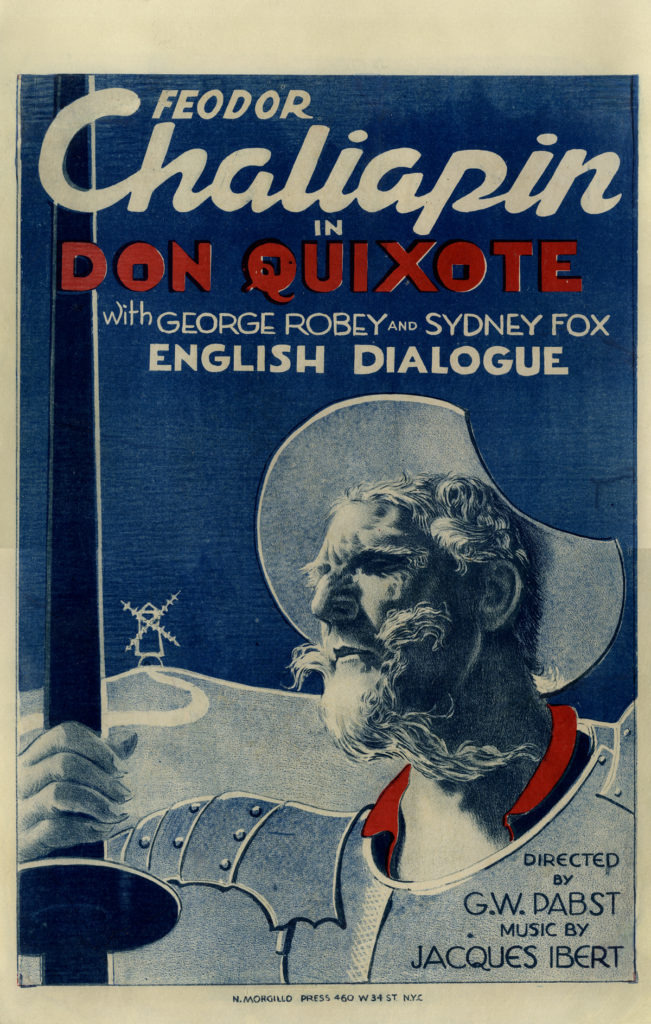 DON QUIXOTE (ADVENTURES OF DON QUIXOTE) (1933) Window card poster
$

1,000.00
Vintage original 14 x 22″ (35 x 55 cm.) window card poster, USA. Feodor Chaliapin, Sr., George Robey, Oscar Asche, Miles Mander, Sidney Fox, dir: Georg Wilhelm Pabst; United Artists. The story of an elderly gentlemen in 16th century Spain who goes mad after reading too much about chivalry, claims himself a knight and sets out with a small entourage to revive that age. With songs, this version of the famous tale would later be realized as the musical Man of La Mancha.
Three versions were filmed for 3 different languages — English, French and German — with the famous Russian-born opera singer Feodor Chaliapin playing in all three versions, resulting in three somewhat different films. This work is one of the only times Chaliapin was captured on film. He is known to have been the first opera singer to concern himself with a believably-acted presentation of character.
This card displays beautifully and has been cleaned and backed. There were some creases/tears in the "C" of "Chaliapin" which has had a bit of touch-up. An area in the top center has been addressed. An area at the bottom of the sword has also had a bit of touch-up and a tear at the center of Chaliapin's neck extending from the right edge has had a touch-up. An inner tear below the windmill has been addressed. A few minor edge creases have been smoothed out. VERY GOOD-FINE.
Share With Friends: