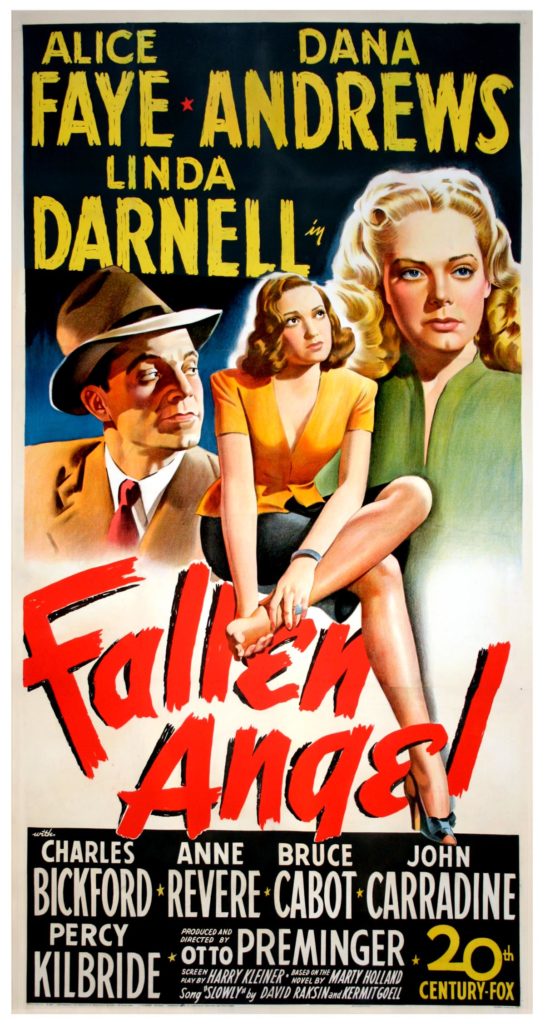 FALLEN ANGEL (1945) Three sheet stone litho poster
Sold
Vintage original 41 x 81″ (105 x 202 cm.) three sheet poster, USA. Alice Faye, Dana Andrews, Linda Darnell, Charles Bickford, dir: Otto Preminger; Twentieth Century Fox. Classic film noir which was Preminger's follow-up film to LAURA.
Story concerned a penniless drifter (Dana Andrews) who falls in love with a waitress (Linda Darnell) but marries another woman (Alice Faye) for her money. When the waitress is murdered, the wife allows her husband to fund his own investigation into the murder. Darnell prepared for her waitress role by waiting on tables at the Fox commissary. So impressed by her work was Preminger that he cut the film in her favor, diminishing Faye's starring role. Made a year after LAURA, though less well-known, this is a disturbing and beautiful noir film.
The one sheet poster, which is far more common, though with a similar image, is not a stone litho like this three sheet — giving this three sheet a special luminescence. On linen, NEAR FINE.
Out of stock
Share With Friends: