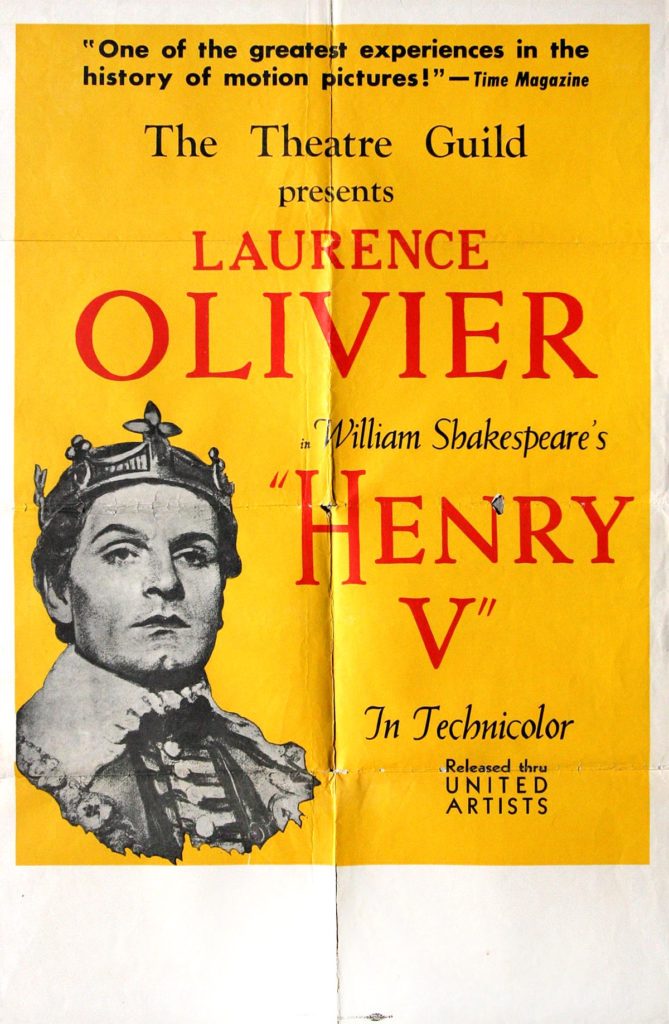 HENRY V (1944; 1946 US-release) One sheet poster
Sold
Vintage original 27 x 41″ (68 x 105 cm.) one sheet poster, USA. Leslie Banks, Laurence Olivier, Robert Newton, Renee Asherson, dir: Laurence Olivier; Two Cities Films/Eagle-Lion. Folded, with various kinds of fold wear and chipping, which could be easily addressed with minor conservation, very good.
The film was first released in the UK by Eagle-Lion in November 1944. Olivier's directorial debut was commissioned by the British government to make this lavish Technicolor film as a patriotic morale booster. It emphasized the parts of Shakespeare's work which portrayed the glory of war, played down the bloody side and, by omission of sections of the original play, showed the character of Henry in a favorable light. Still, it is considered to be one of the finest film adaptations of a Shakespeare work.
This is the first theatrical poster for the US-release of June 1946 through United Artists. The release qualified the film for the 1946 Academy Awards. Olivier was presented with a special Oscar for bringing Shakespeare to the screen, and the film was nominated for various awards including for Best Actor and Best Picture.
There are a couple of different known printings of this poster — this one, which has no date (there is a number "48" next to the name of the printer, but we think that refers to a postal zone), and another, which has a copyright of 1947 in the lower left corner. Since this poster was printed by a company not otherwise known to us for producing movie posters, we surmise it's from the film's very rare first run, where the film was being shown in legitimate theaters and not cinemas. We have never encountered another copy
Out of stock
Share With Friends: