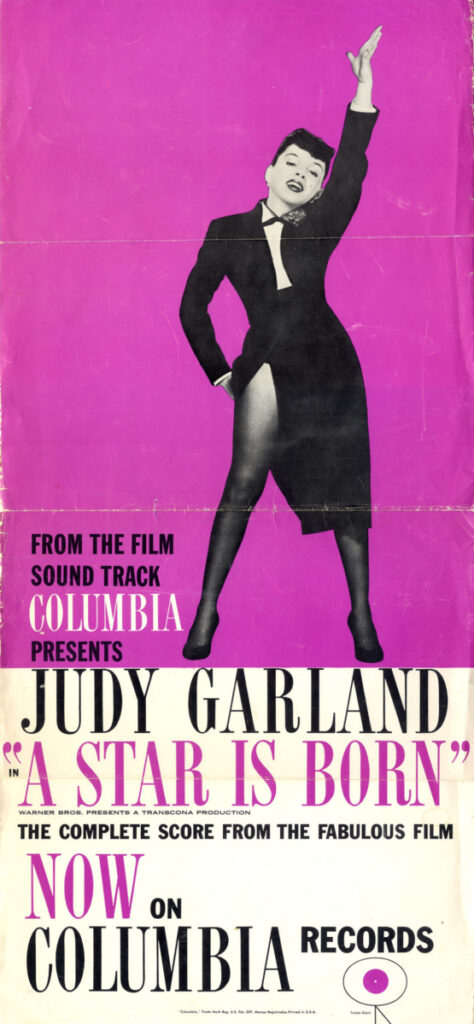 JUDY GARLAND | A STAR IS BORN (1954) Record store display poster
$

1,500.00
[Los Angeles: Warner Brothers, 1954]. Vintage original 12 x 26″ (30 x 67 cm.) tri-folded poster. Overall minor edge wear, a bit more at top right side and mid left side and at fold creases, very good.  
This poster is for record store display for the 1954 Columbia Records first release of this historic film soundtrack. Judy Garland recorded exclusively for Decca Records between 1936-1946. Her home film studio, MGM, asked her to give up that contract when they started releasing soundtracks in 1946. Though some of the Decca output included her movie songs, she was able to branch out in many styles and perform record-only songs for Decca. 
Though she continued that career path on radio, it was not until leaving MGM and creating her own stage show that she then went back to her recording career. In 1953 she signed a contract with Columbia Records, recorded four sides of pop songs and then embarked on the challenge of making her musical film version of A STAR IS BORN. As she was signed with Columbia for recordings, they made a deal with Warner Brothers to release a soundtrack album in 1954. It was released in 33 rpm and in a box set of 78 rpm records. It reached fourth place on the Billboard chart when first released.
Share With Friends: