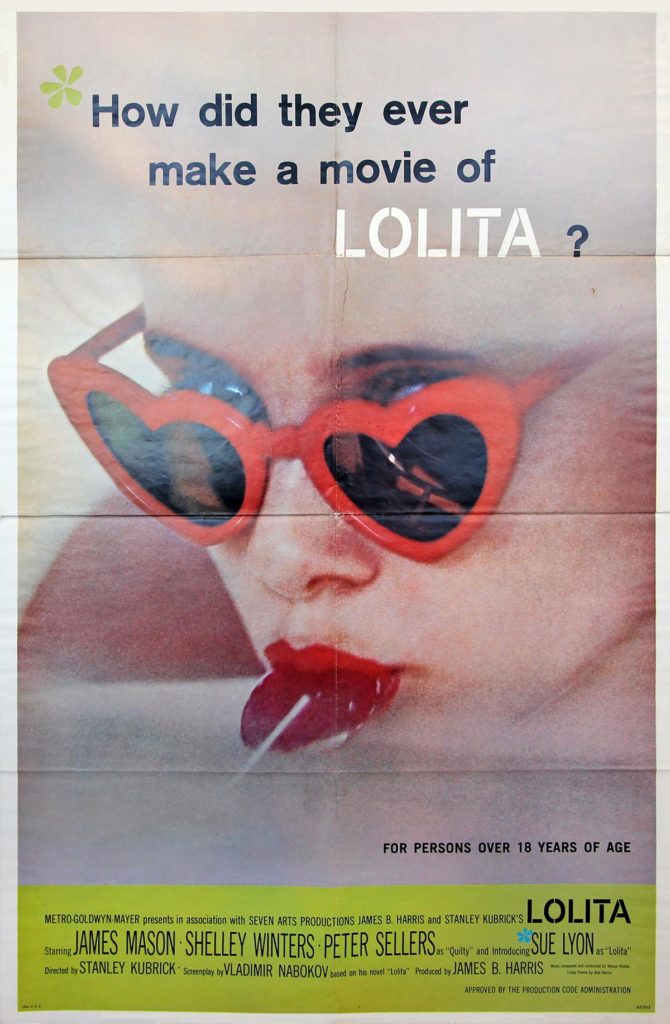 LOLITA (1962) One sheet poster
Sold
Vintage original 41 x 27″ (102 x 68 cm.) one sheet poster, USA. James Mason, Shelley Winters, Sue Lyon, Peter Sellers, Lois Maxwell, dir: Stanley Kubrick; MGM. One of the most iconic movie posters of all-time. Very controversial was the novel by Vladimir Nabokov (who did the adapted screenplay) about a 40-something French literature professor and his obsession for the 12-year-old daughter of his landlady.
Very controversial to this day is the film. The censors were after the script from day one, and Lolita's age had to be raised to 14. In the end, Kubrick, un-credited, actually wrote much of the script as presented on screen. Nevertheless, it was Nabokov who received the Academy Award nomination for Best Writing – Screenplay based on material from another medium.
This famous image of Sue Lyon as Lolita, wearing the heart-shaped sunglasses, is a portrait by Bert Stern. The image was used for publicity only; cat-eyed sunglasses were used in the film. Amongs those considered for and offered the role of Humbert were Marlon Brando, David Niven, Cary Grant and Errol Flynn (who passed before production started). Amongs the other Lolita potentials were Joey Heatherton and Haley Mills; in both cases, their well-known fathers vetoed the casting! Peter Sellers based his peculiar voice on that of Stanley Kubrick.
Poster is folded and appears to be unused. There is only the minutest of edge and fold wear. FINE.
Out of stock
Share With Friends: