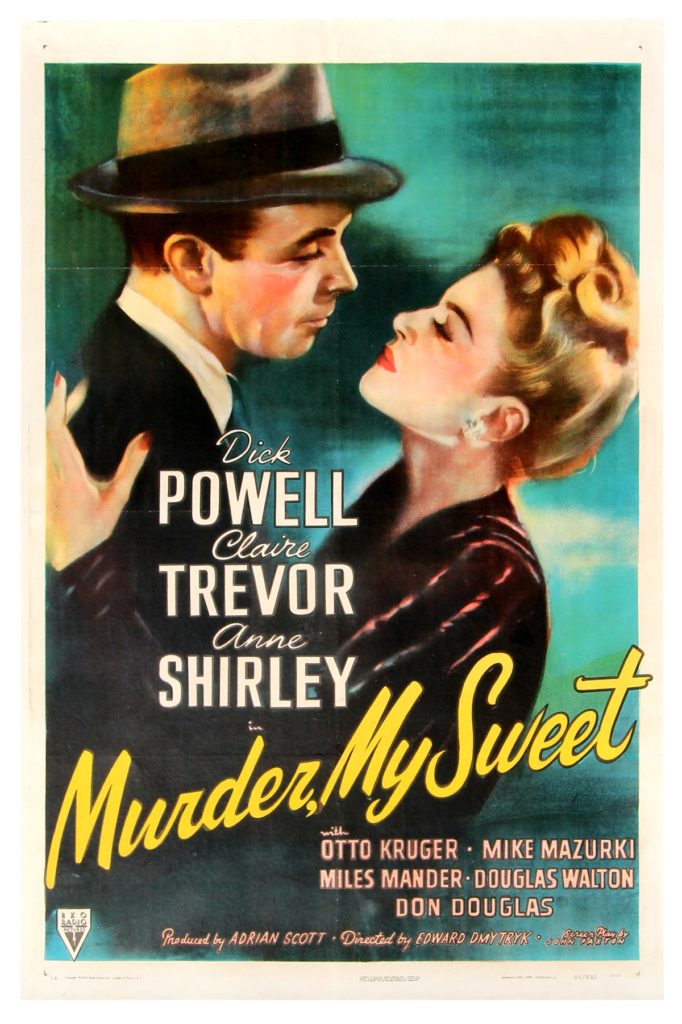 MURDER, MY SWEET (1944) One sheet poster
Sold
Vintage original 41 x 27″ (103 x 68 cm.) one sheet poster, USA. Dick Powell, Claire Trevor, Anne Shirley, dir: Edward Dymtryk; RKO. Pinholes at corners filled in and folds slightly touched up, the bottom fold and juncture a bit more than the others, about fine.
Private eye Phillip Marlowe (Dick Powell) is led into a complex web of deceit, perjury, theft and murder when he is hired to find an ex-con's former girlfriend.
After years of playing the ingenue male in great Warner Brothers musicals (and briefly at MGM), Powell revitalized his career in film noir. RKO was on the brink of bankruptcy and signed Powell to make some musicals, his stipulation being that he played a dramatic role each year as well. So successful was the film that he need not make musicals. Even writer Raymond Chandler praised his performance. The title of Chandler's novel, Farewell, My Lovely, was changed in fear that audiences might mistake the film for a musical with Powell starring.
Here he is in a romantic clinch with noir femme fatale Claire Trevor. A striking and most legendary poster, this copy is beautiful and is on linen.
Out of stock
Share With Friends: