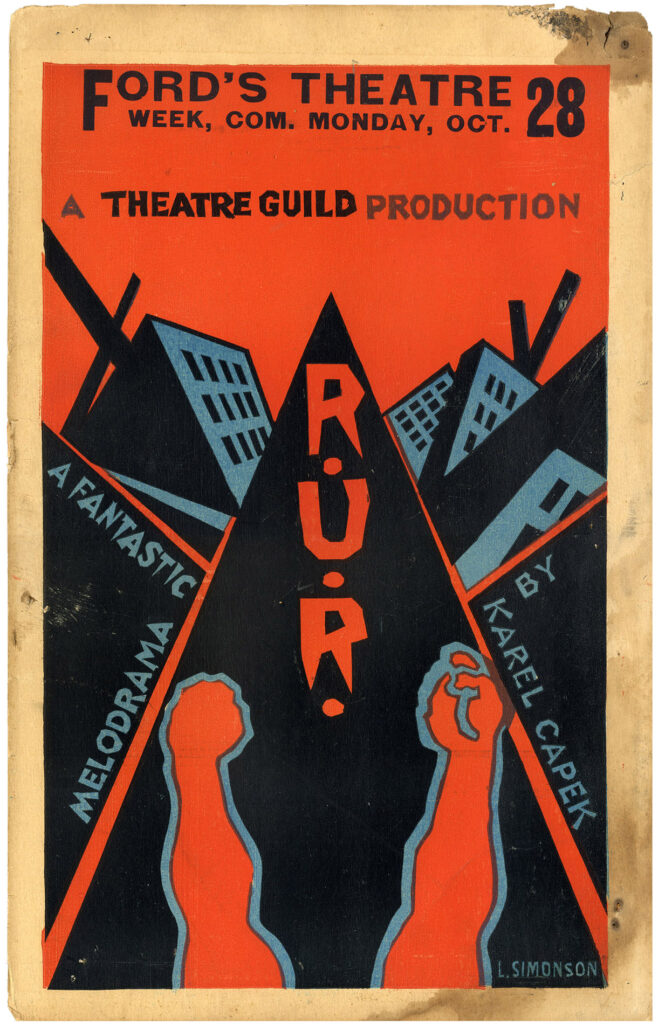 R.U.R. (1923) Theatre poster
Sold
Karel Čapek (playwright) [Washington, D.C.]: Theatre Guild, [1923]. Vintage original 22 x 14″ (56 x 36 cm.) window card theatre poster. Stains in blank margins with a few minor surface blemishes, but with the colors of the poster still bright and imagery intact, NEAR FINE.
Karel Čapek's Czech science-fiction play R.U.R. [Rossum's Universal Robots] had its world premiere in Prague in 1921 and quickly made its way around the world. By 1923 it had been translated into 30 languages. The play introduced the word "robot" into international vocabulary. It begins in a factory that makes artificial people, called roboti (robots), from synthetic organic matter. They are living creatures of artificial flesh and blood rather than machinery. They may be mistaken for humans and can think for themselves. They seem happy to work for humans at first, but a robot rebellion leads to the extinction of the human race.
The play had its American premiere on Broadway at the Garrick Theatre, where it ran for 184 performances. This poster is for its subsequent touring production. The artwork by L. Simonson is the same as that used for the Broadway run of the play.
Out of stock
Share With Friends: