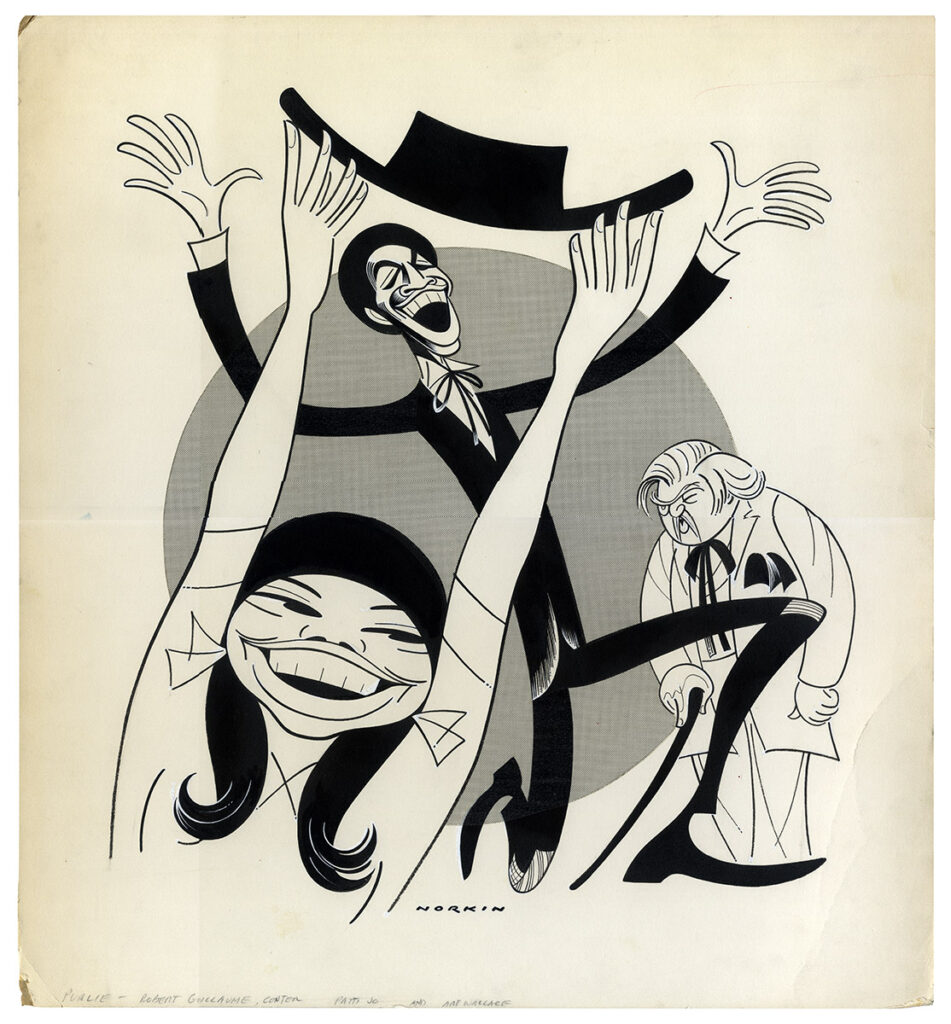 ROBERT GUILLAUME | PURLIE (1971-72) Original artwork by Sam Norkin
Sold
Vintage original pen and ink caricature, 23 x 21″ (59 x 54 cm.) on artboard. Light wear and creasing at extreme blank edges, near fine.
Purlie is a musical with a book by Ossie Davis, Philip Rose and Peter Udell, lyrics by Udell and music by Gary Geld. It is based on Davis's 1961 play Purlie Victorious. Purlie is set in an era when Jim Crow laws were still in effect in the American South. Its focus is on the dynamic traveling preacher Purlie Victorious Judson, who returns to his small Georgia town hoping to save Big Bethel, the community's church, and emancipate the cotton pickers who work on oppressive Ol' Cap'n Cotchipee's plantation. With the assistance of Lutiebelle Gussie Mae Jenkins, Purlie hopes to pry loose from Cotchipee an inheritance due his long-lost cousin and use the money to achieve his goals. Also playing a part in Purlie's plans is Cotchipee's son Charlie, who ultimately proves to be far more fair-minded than his Simon Legree-like father and who saves the church from destruction with an act of defiance that has dire consequences for the tyrannical Cap'n. Although Davis did not participate actively in the creation of the musical, so much of his original script was included in the final project that Peter Udell and Philip Rose felt he should share credit for the book. 
Samuel Norkin (1917– 2011) was a Brooklyn, New York-born cartoonist who specialized in theater caricatures for more than seven decades. From 1940 to 1956, his theatrical illustrations were a regular feature in the New York Herald Tribune. Then, for the next 26 years, he covered the performing arts for the Daily News. 
This artwork is for a 1972 Broadway revival of the play. In that production, Robert Guillaume and Patti Jo (both of whom were in the original production, which ran from 1970 to 1971, and who then were in a national tour), were joined by Art Wallace. All three of them (portrayed in this piece) also starred in a brief 1972 Broadway revival.
Out of stock
Share With Friends: