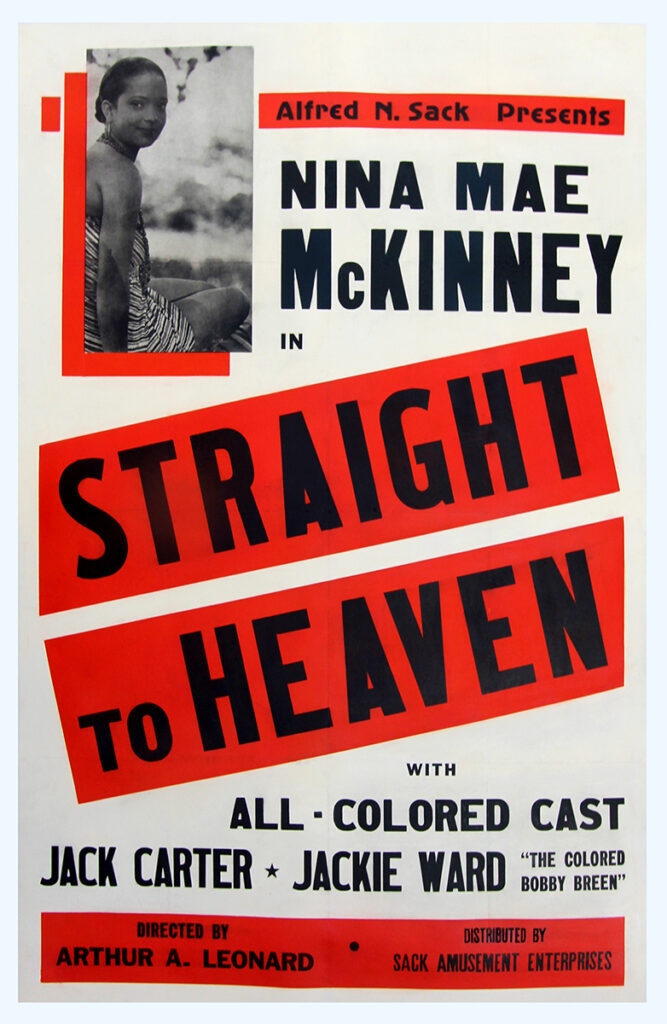 STRAIGHT TO HEAVEN (1939) One sheet poster
$

2,500.00
[Dallas]: Sack Amusement Enterprises, [1939]. Vintage original 41 x 27″ (104 x 69 cm.) one sheet poster. Mounted on archival linen, with conservation done to address wear at fold lines and lower extreme right, very good-.
A 1939 Arthur H. Leonard (billed as "Arthur A. Leonard") romantic melodrama ("With all-colored cast") about a singer whose father is a chemist, and his father discovers that gangsters are forcing Harlem shop owners to sell expired canned goods, and the father tries to investigate and the gangsters frame him for murder, so his son gets involved, working for the mob undercover, and he there meets a pretty young woman who gets involved as well. The film stars Nina Mae McKinney, Jack Carter, Jackie Ward ("the colored Bobby Breen"), Pearl Bains and James Baskett. Note that Jackie Ward was a young black singer who played the son in this movie, but this was his only movie appearance.
Nina Mae McKinney is a tragic name in film history. MGM starred her in King Vidor's 1929 HALLELUJAH and promoted her as the "sepia Garbo", but once that film had finished its theatrical run neither MGM nor any other Hollywood studio had any kind of work for her. She did find occasional work in Black cast films like this one. 
Posters for this film are unusually scarce, and this is the only one which I have ever encountered.
Share With Friends: