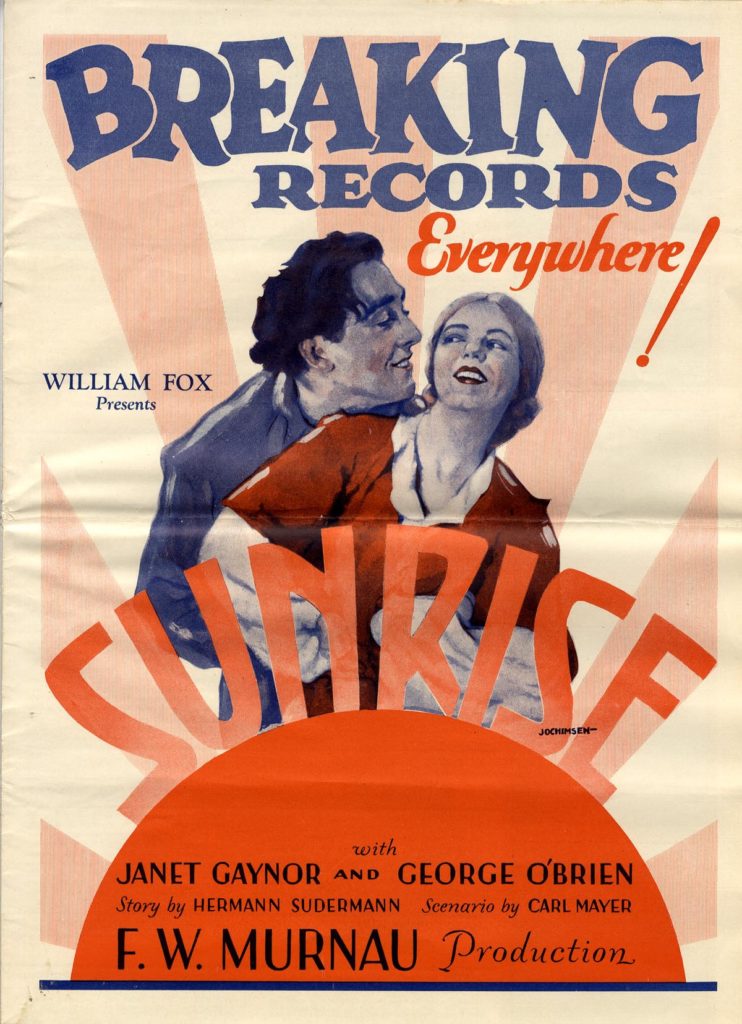 SUNRISE (1927) Special promotional poster
Sold
Vintage original 15 x 11″ (37 x 28 cm.) folded / 35 x 22″ (87 x 55 cm.) unfolded special promotional poster, USA. George O'Brien, Janet Gaynor, Margaret Livingston, dir: F. W. Murnau; Fox. The full title of this classic is Sunrise: A Song of Two Humans, and that was most appropriate. It is the story of a young married farmer and his wife. When he falls under the spell of a city woman, he attempts to take the life of his wife — but he cannot, and they spend a wonderful day in the city together, falling more in love with each other.
The film likely is Murnau's greatest work and is to this day felt to be amongst the very finest of all silent films. It is the film which people come away from understanding the great artistic achievement of what silent motion picture-making was all about. It was greatly honored in its day as well, basically winning an Academy Award during the very first Oscar ceremony for Best Picture, Unique and Artistic Production — a very appropriate award indeed. Gaynor would win the first Best Actress award for this and two other films that year. Today, it has the distinction of being the very first silent film to be released on Blu-ray. No explanation can do this film justice and it just needs to be experienced. Much of the film was shot on locations at Big Bear and San Bernardino National Forest, California, but it appears as well as the studio back lot.
This special promotional poster presents itself as a program but then opens up to a two-sided poster promoting the mastery of the film with reviews, 16 scene still images, 3 images from the Carthay Circle Theatre premiere in Los Angeles, as well as opening in Philadelphia and New York and theatre play statistics on the reverse side. Cover art of Janet Gaynor and George O'Brien is by Jochimsen. Truly, Fox realized the brilliance of this film during the initial release. Folded, minor wear. ABOUT FINE.
Out of stock
Share With Friends: