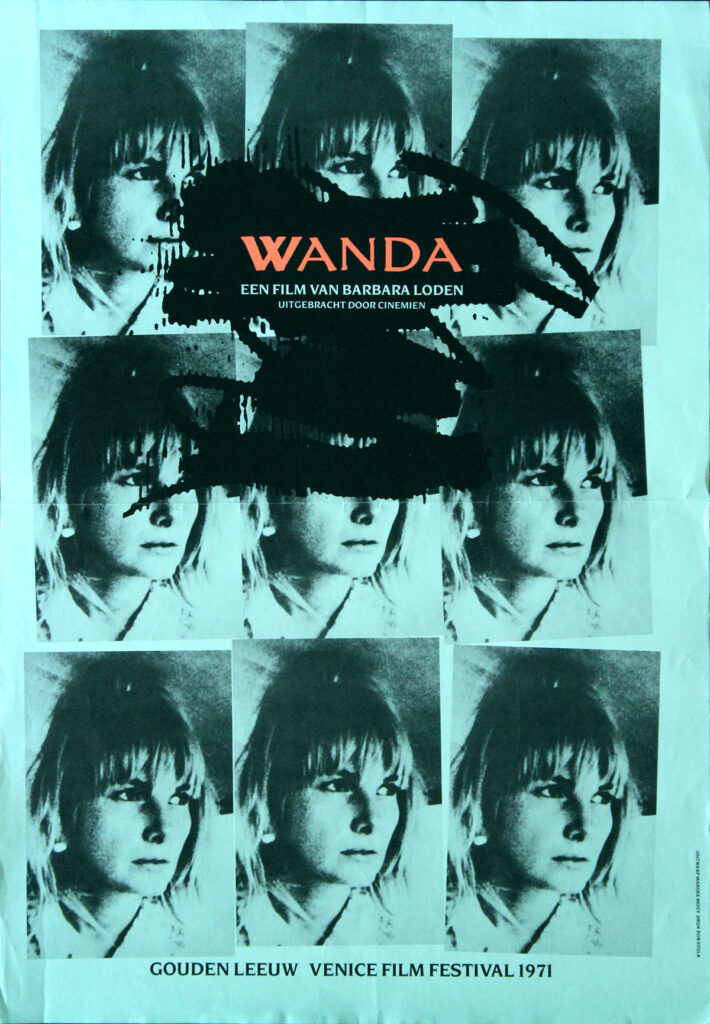 WANDA (1971) Dutch poster
Sold
Barbara Loden (actor, director) Vintage original 24 x 17″ (61 x 43 cm.) poster, Netherlands. Amsterdam: Cinemien, 1971. Bardene International Films. Folded once horizontally, near fine.
WANDA, which Barbara Loden wrote, directed and starred in, is a landmark in the history of films directed by women.
"Independent drama film written and directed by Barbara Loden, who also stars in the title role. Set in the anthracite coal region of eastern Pennsylvania, the film focuses on an apathetic woman with limited options who inadvertently goes on the run with a bank robber.
"Inspired by her own past feelings of aimlessness, as well as a newspaper article detailing a woman's participation in a bank robbery, Loden wrote the screenplay for Wanda before securing financing through Harry Shuster, a Los Angeles-based producer. The film was shot on location with a small crew of around seven people, primarily in eastern Pennsylvania and Connecticut, and much of the dialog and filming was improvised, with Loden only loosely referring to the screenplay.
"Wanda was chosen for the 31st Venice International Film Festival, where it won the Pasinetti Award for Best Foreign Film. A restored version of the film was screened out of competition at the 67th Venice International Film Festival in 2010. In 2017, the film was selected for preservation in the United States National Film Registry by the Library of Congress for being 'culturally, historically, or aesthetically significant.'" (Wikipedia)
Out of stock
Share With Friends: