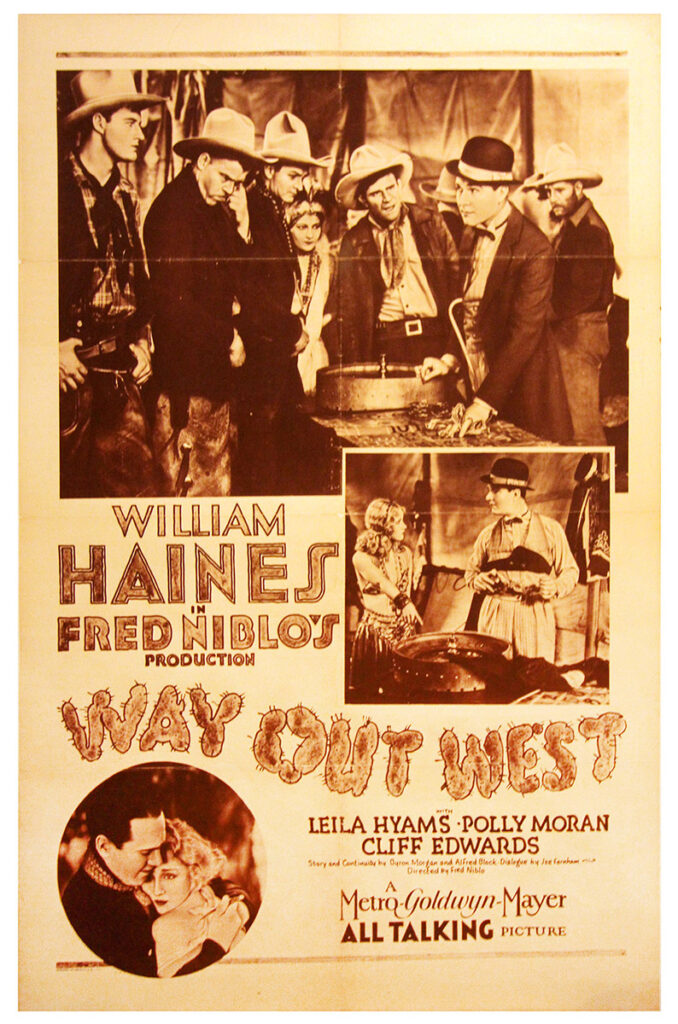 WAY OUT WEST (1930) One sheet poster
Sold
[Hollywood]: MGM, [1930]. Vintage original 42 x 27 ¾" (107 x 71 cm.) one sheet poster, conserved on archival linen, very good+.  
William Haines starred in this Western comedy, a film so filled with queer innuendos and doubles entendre, that it has to be recognized as a kind of landmark in American LGBTQ film history. 
"Gay film historians, noting the homosexuality of William Haines, suggest that Way Out West is 'one of the gayest films ever made'. Haines biographer William J. Mann cites latent homoeroticism and inside gay humor throughout the film. 
"In one particular example, viewed in light of the Pansy Craze that was beginning to reach Hollywood, Windy (William Haines) is mistaken for the cook Pansy. When called by her name, he replies 'I'm the wildest pansy you ever picked!' Richard Barrios, author of Screened Out: Playing Gay in Hollywood from Edison to Stonewall, concurs: 'For anyone seeking gay text or subtext in any of Haines's movies, this is the one to study.'" (Wikipedia) 
Haines was an enormous star at MGM for several years. In 1930, the year of this film's release, the Quigley Poll, a survey of film exhibitors, listed him as the top box-office attraction in the US. Although MGM knew full well that Haines was gay, they looked the other way until he got arrested with a sailor whom he had picked up. Louis Mayer demanded that Haines get into a fake, studio-arranged "lavender marriage". Haines refused, and his career ended soon after. He had a very successful afterlife as an interior designer. 
He is now recognized as an icon in American LGBTQ film history and WAY OUT WEST seems, to a contemporary viewer, astoundingly "out there".  It is not an exaggeration to suggest that this is as close to a gay film as a major studio would ever again create for many decades — not to mention a Western, at that. 
Posters for this film are exceedingly scarce. This one features three separate images of Haines.
Out of stock
Share With Friends: