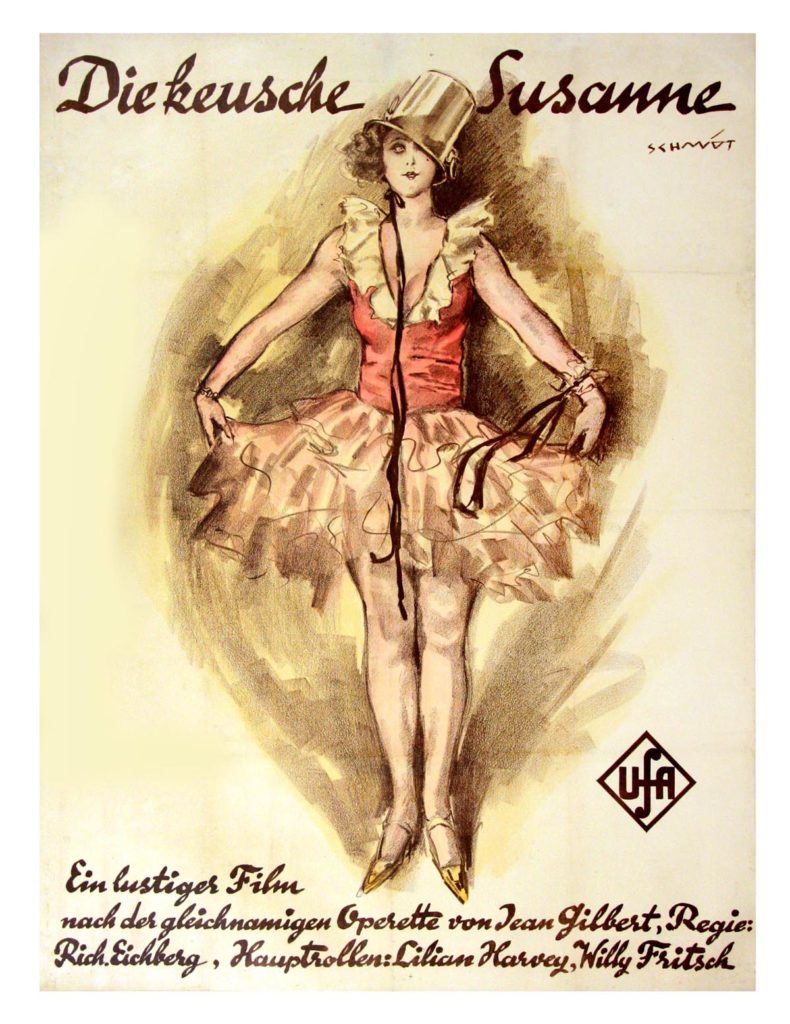 DIE KEUSCHE SUSANNE [GIRL IN THE TAXI] (1926)
Sold
Vintage original 37 x 49″ (94 x 124 cm.) poster, Germany. Lillian Harvey, Ruth Weyher, Willy Fritsch, Wilhelme Bendow, Sascha Bragowa, Werner Fuetterer, Jean Gilbert, dir: Richard Desvallieres; Richard Eichberg-Film GmbH/UFA. By poster artist Robert Schmidt.
Lillian Harvey, British-born but brought up in Germany, became a sweetheart of German cinema in this, her first film. Opera trained, she would go on to film a series of operetta type movies in the era of the early talking films, including some in Hollywood.
In this film she became teamed with Willy Fritsch, and they would go on to make 11 films together. They were considered the "dream couple" of German cinema. This film (though silent) was based on an operetta (literally translated as "Chaste Susanne") by Jean Gilbert. What is important about this charming poster is that it represents German expressionism in its lightest and perhaps most pleasantly appealing form. Little is known about the Viennese graphic designer Robert Schmidt, but he did create exciting poster art for UFA, including METROPOLIS.
On linen, NEAR FINE.
Out of stock
Share With Friends: