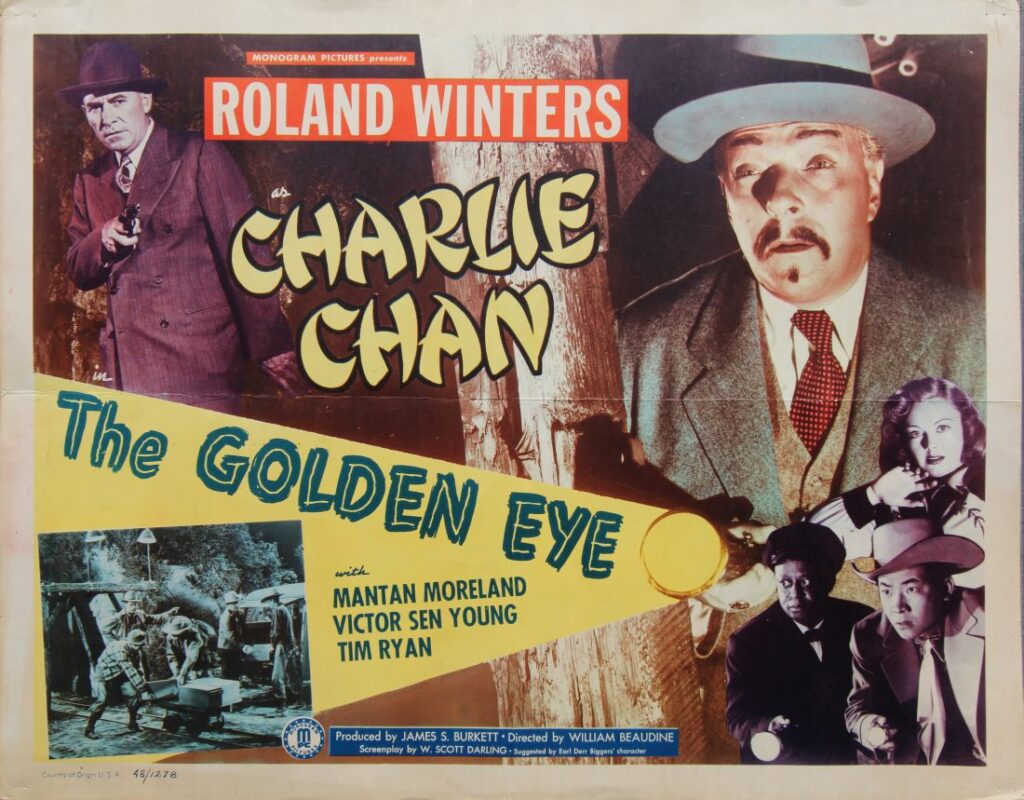 CHARLIE CHAN IN THE GOLDEN EYE [THE GOLDEN EYE] (1948)
Sold
Vintage original 22 x 28″ (56 x 71 cm.) half sheet poster, USA. Roland Winters, Wanda McKay, Mantan Moreland, Victor Sen Yung. In this story, Chan and crew pose as tourists at a dude ranch which runs a losing gold mine in Arizona. The mine suddenly is turning a huge profit and its owner needs what may be criminal activity investigated.
Nearing the end of the Charlie Chan film series, this is number 45 of the 47. After Sidney Toler's death in 1946, Monogram decided to continue the series, though it was far-less distinguished. Interesting for the time is that, though Chan is played by caucasian Roland Winters, top-billed, also at the top of the billing are African American actor Manton Moreland and Asian actor Victor Sen Yung — showing that even at this early time in film history, audiences favored characters and actors other than white Americans, and that racism was being broken down, particularly after World War II. The inclusion of their images on this poster is a plus to collectors.
Folded, one small marginal tear mended with archival paper, a few pinholes, NEAR FINE.
Out of stock
Share With Friends: