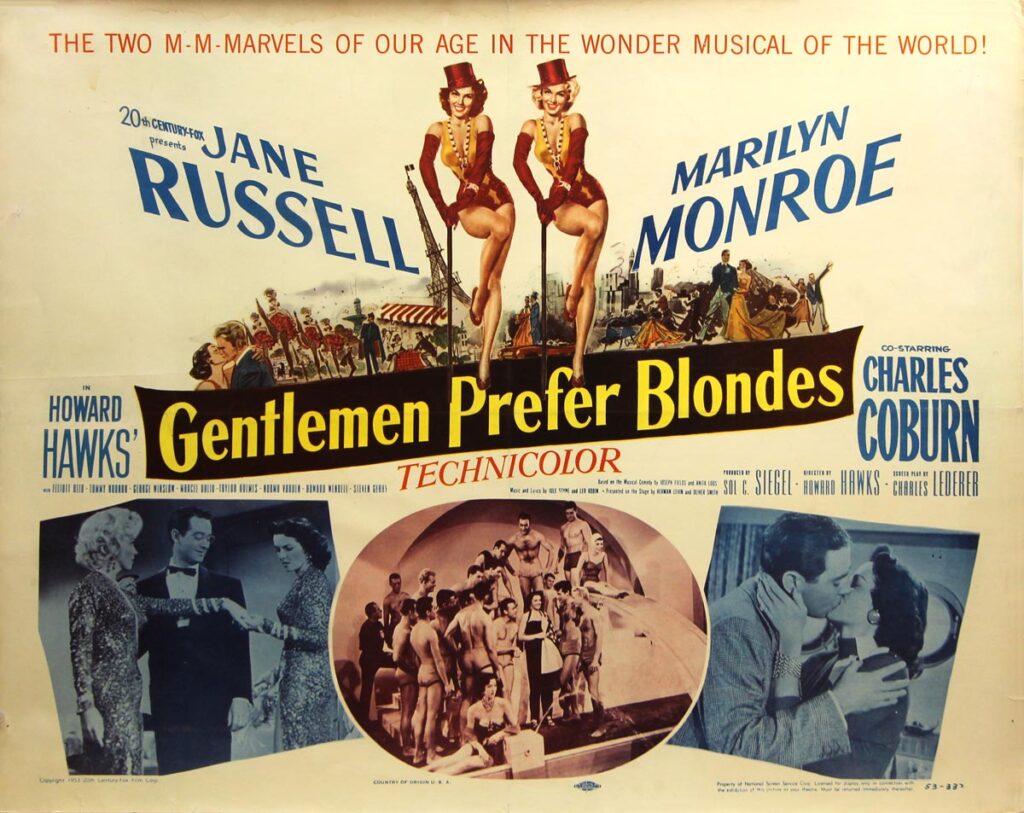 GENTLEMEN PREFER BLONDES (1953)
Sold
Vintage original 22 x 28″ (55 x 70 cm.) half sheet poster, USA. Jane Russell, Marilyn Monroe, Charles Coburn, Tommy Noonan, Elliott Reid, dir: Howard Hawks; Twentieth Century Fox. Wonderfully entertaining tale of two show girls travelling to Paris, who are followed by a private eye to ensure they behave as they are tempted by generous men aboard ship and upon arrival.
From the popular Broadway show based on Anita Loos' story, the character of Lorelei Lee and the song "Diamonds Are a Girl's Best Friend" had already been immortalized by the original, Carol Channing, but here Marilyn Monroe also made it her own, and the character and song also became identified with her. Jane Russell proved herself in the musical and comedy departments as well (one of her finest performances), all directed with great energy by non-musical director Howard Hawks, who had a great flair for fast comedy. The team of Monroe and Russell proved so popular that not only did they plant their hand/footprints and signatures in cement at the Grauman's Chinese premiere, but a follow-up film was planned (though not made).
The two ladies look great in their showgirl costumes, dominating the artwork of Paris at top while tinted scene stills are featured below. Poster is paper-backed. A few edge tears were addressed and there is touch-up at the fold lines. There is light soiling to the white background and some water staining to the top edge. VERY GOOD-FINE.
Out of stock
Share With Friends: