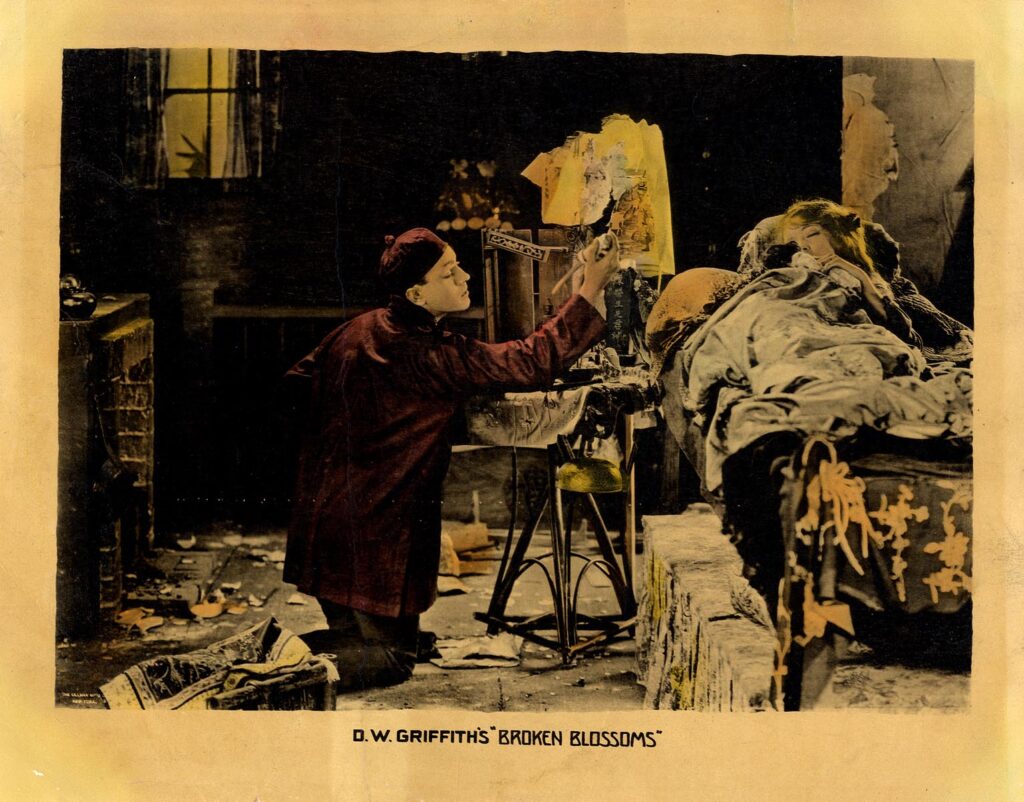 BROKEN BLOSSOMS (1919)
Sold
Vintage original 11 x 14″ (28 x 35 cm.) lobby card, USA. Lillian Gish, Richard Barthelmess, Donald Crisp, dir: D.W. Griffith; United Artists.
Legendary silent film from D.W. Griffith, it is the tragic tale of a frail girl brutalized by her father and befriended by a Chinese immigrant, all taking place in the seedy Limehouse District of London. When the girl passes out in the street one day, the Chinese immigrant, who has fallen in love with her from afar, takes her into his shop to nurse her and dresses the ragged girl as a princess (as seen in this scene card). When her father discovers she has stayed the night with this foreigner, he beats her to death.
Some of the most beautiful and horrifically-realistic acting in all silent cinema was achieved by leads Gish, Bartholomew and Crisp. Griffith made the film for Adolph Zukor, but Zukor hated it, so Griffith took his own money, bought it for its production cost and had his newly-formed company, United Artists, release kit.
Beautiful hand-coloring to this card. Any cards from this film are almost impossible to find, and most specifically any of the few which show both of the film's leads. Lillian Gish is watched over by Richard Barthelemess in this scene. Card is professionally and expertly restored. It was folded or separated in thirds vertically. There were pinholes and small tears along to top blank margin. There was a diagonal tear going from the upper left side into the image about 3″ (7.5 cm.). The bottom left corner was creased. There were inner and edge tears along the bottom blank margin under the title. Displays beautifully. VERY GOOD-.
Out of stock
Share With Friends: