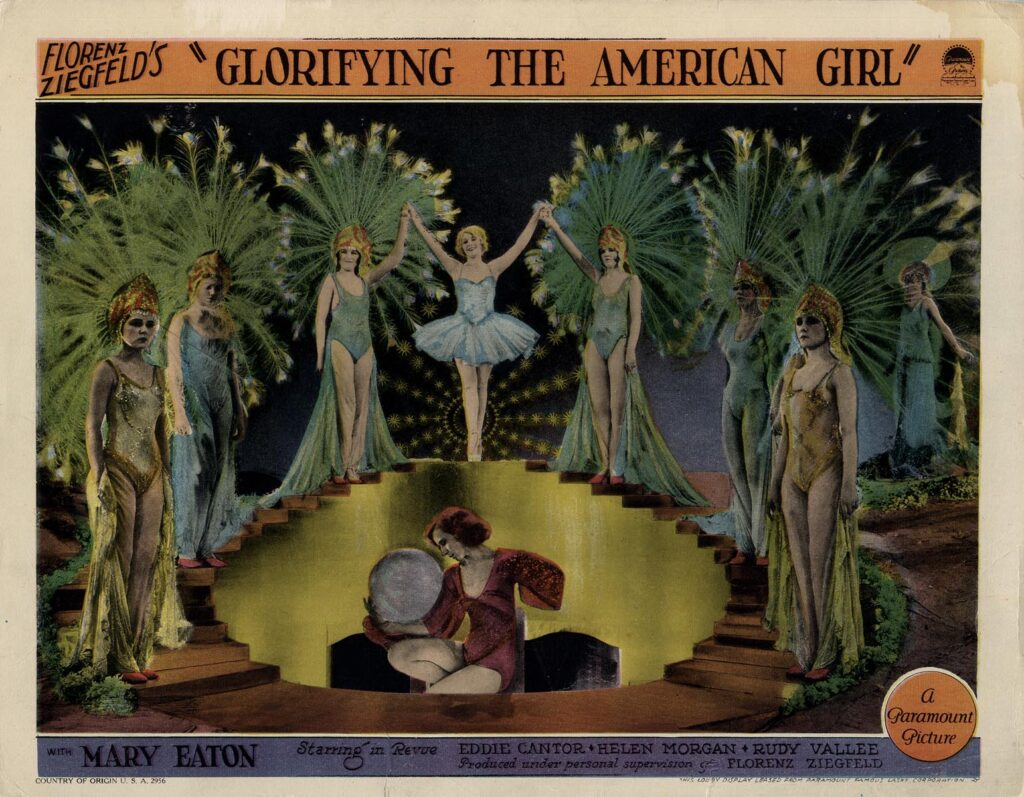 GLORIFYING THE AMERICAN GIRL (1929)
Sold
Vintage original 11 x 14″ (28 x 35 cm.) lobby card, USA. Mary Eaton, Eddie Cantor, Helen Morgan, Rudy Vallee, dir: Millard Webb; Paramount.
One of the top films of the early musical/talkie extravaganza era. This film utilized Florence Ziegfeld's famous follies girls and stars, including Mary Eaton and Helen Morgan. In fact, Ziegfeld himself appeared in the film, as did songwriter Irving Berlin and a host of stage and film stars and producers.
Offering an interesting look at real city life of 1929, the last two reels (featuring the spectacular finale) were filmed in two-strip Technicolor, highlighted by a spectacular set and costumes — or lack thereof, with Olympic star Johnny Weismuller in a loincloth.
This card features a scene from that finale, with the ever popular Ziegfeld girls and dancer Mary Eaton at center. The vibrant color of this card emulates the feel of early-Technicolor. There is a bit of soiling to the top right corner, a bit of creasing in the blank white right bottom margin and at the bottom right corner and a mended tear at the very bottom edge of the card. NEAR FINE.
Out of stock
Share With Friends: