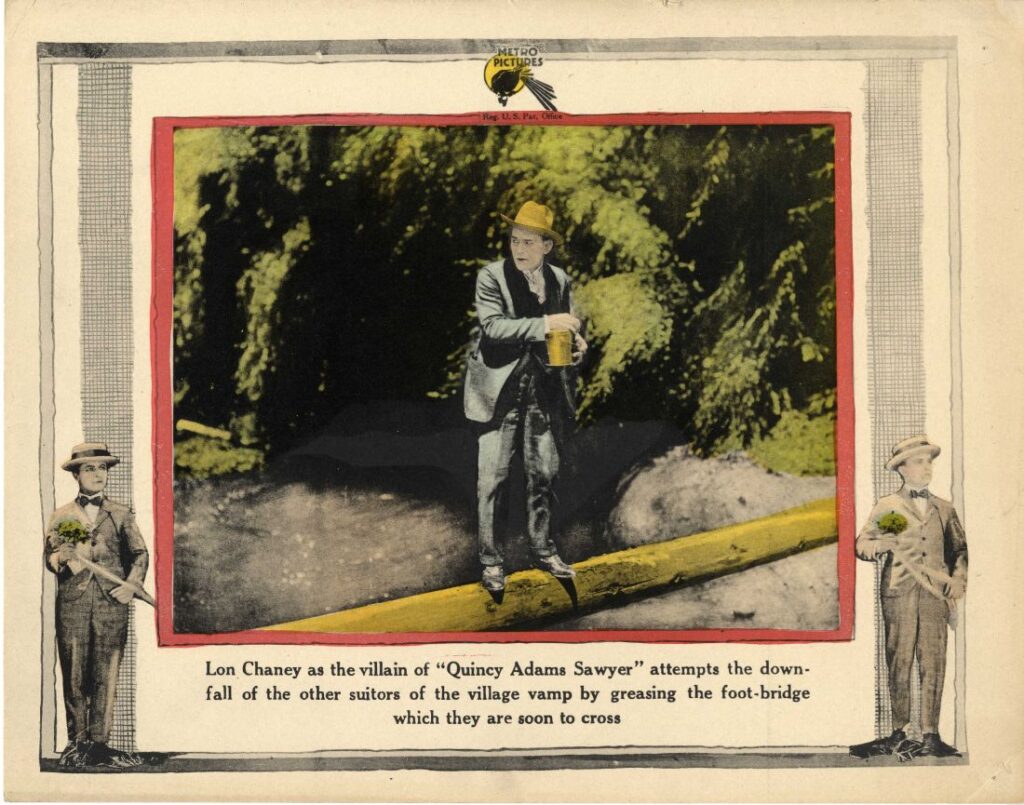 QUINCY ADAMS SAWYER (1922) Lobby card – 2
Sold
Vintage original 11 x 14″ (28 x 35 cm.) lobby card, USA. Lon Chaney, John Bowers, Blanche Sweet, Barbara La Marr, Elmo Lincoln, Louise Fazenda, dir: Clarence G. Badger; Metro Pictures.
A wonderful cast of silent film greats joined the great Lon Chaney for this comedy drama based on a popular novel of the time. Chaney plays crooked lawyer Obadiah Strout, who has stolen bearer bonds. He puts all kinds of obstacles and crazy characters in the way of Quincy Adams Sawyer (John Bowers), who is attempting to solve the disappearance. Chaney proved himself greatly adept at playing both the menacing evil character and the comedy of the story.
Today the film is not well remembered, but the participants are: Bowers would come to be remembered for his drowning suicide which became part of the script for A STAR IS BORN, Elmo Lincoln as film's first Tarzan, La Marr for her young death a few years later, and of course Chaney for his great body of work. The various characters (different on each one) are featured on the border art of the cards for this film.
Lon Chaney as villainous Obadiah Strout greases the bridge in one of his schemes to throw-off lawyer Quincy Adams Sawyer. The suitors to the town vamp (as described in the text) are present on the borders of the card. FINE.
Out of stock
Share With Friends: