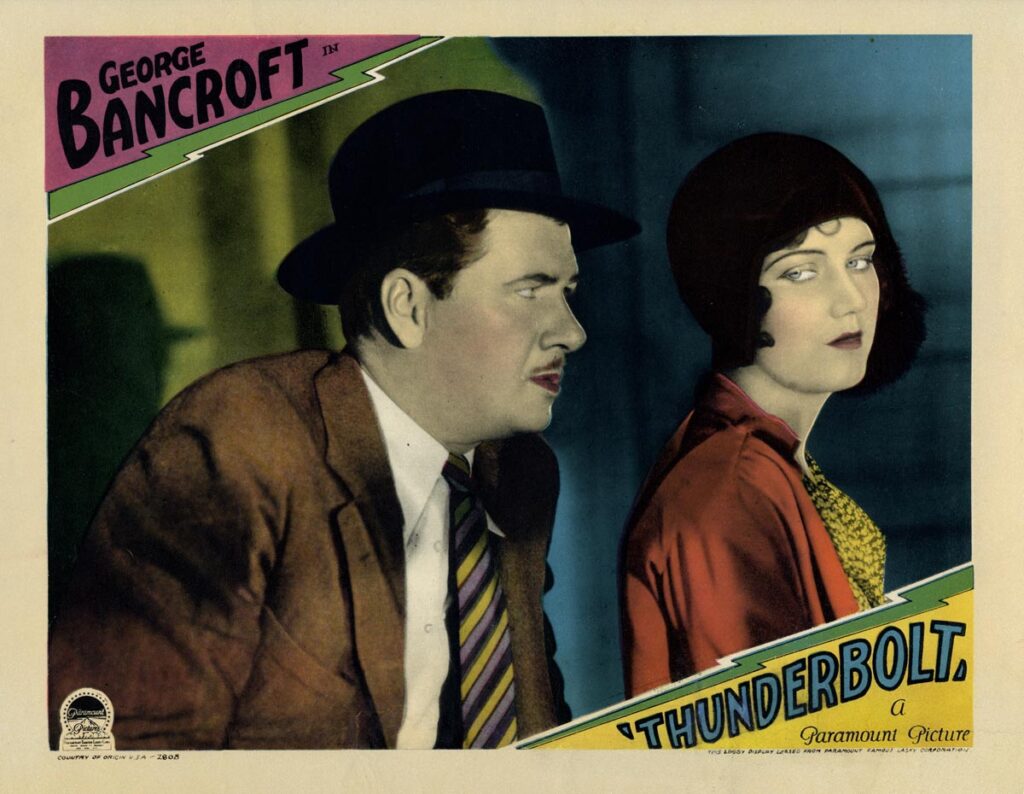 THUNDERBOLT (1929) Set of 4 lobby cards
Sold
Set of four (4) vintage original 11 x 14″ (28 x 35 cm.) lobby cards, USA. Fay Wray, George Bancroft, Richard Arlen, Tully Marshall, dir: Joseph von Sternberg; Paramount. One of them is paper-backed, all have professional touch-up to blank margins, NEAR VERY GOOD.
Superb cards from a film which is considered to be one of the first in the film noir genre. A top star of the time, George Bancroft was nominated for the Academy Award for Best Actor in this film.
Story of a criminal named Thunderbolt (George Bancroft) who is imprisoned and facing execution. An innocent man who has been framed named Bob Morgan (Richard Arlen) is placed in the cell next to Thunderbolt. Unknowing of the relationship, Bob has fallen in love with Thunderbolt's girl (Fay Wray) while on the outside. Thunderbolt plots to stop his own execution long enough to kill Bob.
A revolutionary early sound film which made use of asynchronous dialogue long before this became standard, and made by the highly regarded director of world cinema Joseph von Sternberg. Art direction was by Hans Drier. The script was by Charles and Jules Furthman and Herman J. Mankiewicz. Joseph L. Mankiewicz and Sternberg wrote the dialogue.
Bancroft and Wray appear in three of the cards. Wray, Arlen and another actor are in the fourth. Stunning color and Art Deco title treatments. One of the cards was illustrated in the famous reference book, Foyer Pleasures.
Out of stock
Share With Friends: