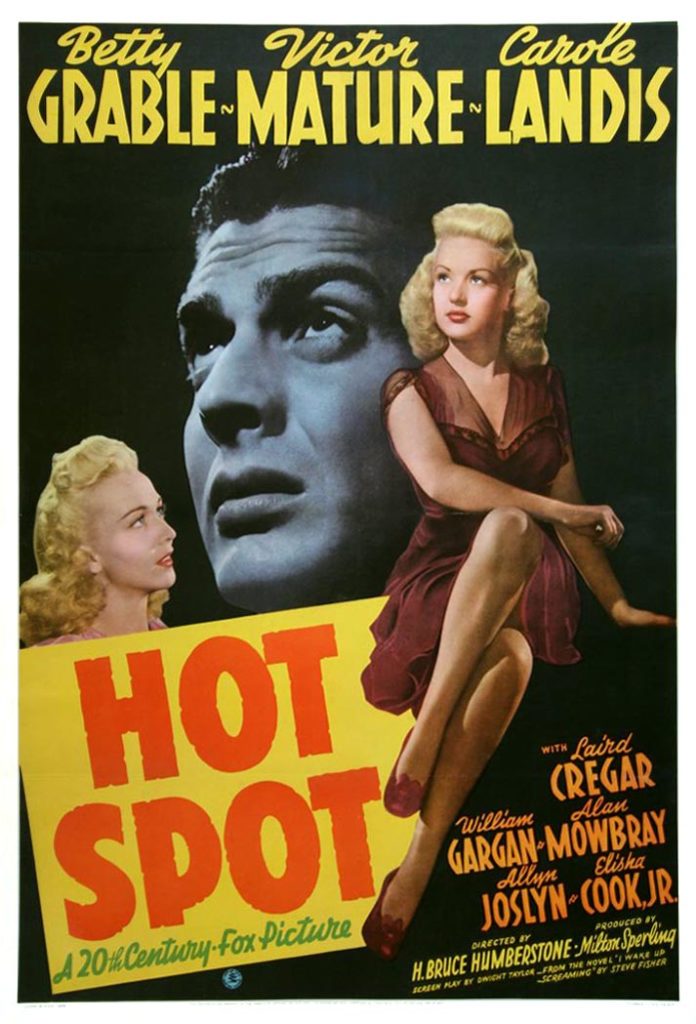 HOT SPOT [I WAKE UP SCREAMING] (1941)
Sold
Vintage original 27 x 41″ (68 x 102 cm.) one sheet poster, USA. Betty Grable, Victor Mature, Carole Landis, Laird Cregar, dir: H. Bruce Humberstone; Twentieth Century Fox. The original working title for I Wake Up Screaming, this film's campaign art was ready to go before the title change. Most art on this film uses the release title, making this a very rare piece.
An unusual and early film noir using musical actress Betty Grable, who displayed a character of psychological depth. With the cutting of a song she sang in the sheet music store where she worked, this would be her only non-musical film role. It is the tale of a model/waitress (Carole Landis) who is given a chance at stardom by an impresario, but is murdered on the eve of her deserting him for Hollywood. Grable is the sister who must find out what has happened. Fox borrowed a very famous tune from MGM for the film's music score: recent Academy Award-winning song "Over the Rainbow".
In this highly effective poster suggesting the dark genre of the story are Jill Lynn (Betty Grable), Frankie Christopher (Victor Mature) and the murdered sister Vicky Lyn (Carole Landis). On linen, NEAR FINE.
Out of stock
Share With Friends: