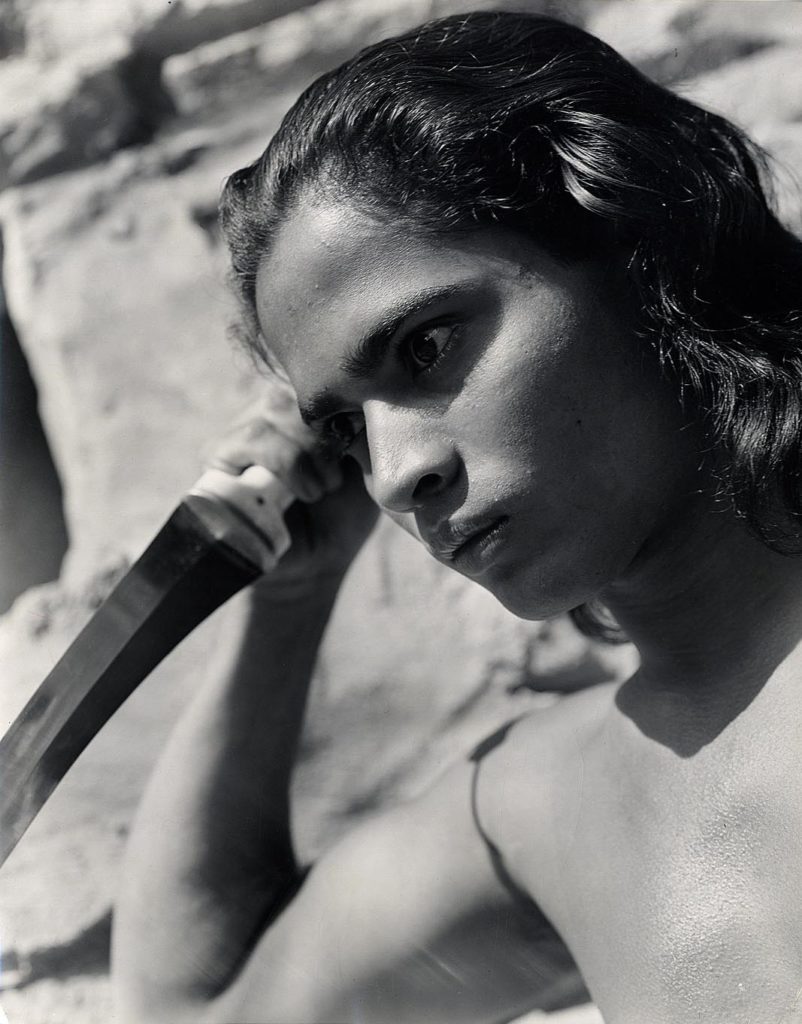 JUNGLE BOOK, THE (1942) Set of 60 photos
Sold
Group of sixty (60) vintage original stills as described. Sabu, Joseph Calleia, John Qualen, Frank Puglia, Rosemary DeCamp, Patricia O' Rourke., dir: Zoltan Korda; Alexander Korda Films, United Artists. Adapted by Laurence Stallings from the Rudyard Kipling novel. The movie was filmed in Hollywood during a period when the Korda brothers set up production outside of their native London due to World War II. Stallings took the main story from Kipling's book and focused on Mowgli, the boy born and raised in the jungle by the animals, his acclimation to the life of man when he is brought into their village and how his relationship with the jungle creatures saves lives when the village is destroyed by fire. The greed of human nature was a strong theme in this version as well.
Made as an epic Technicolor adventure, the sets (represented in several images in this grouping) were built on the soundstages and backlot of the Hollywood Center Studios (though second unit work was done on location and shot by Andre De Toth) and tame animals from area zoos (supplemented by "animatronics" of the day) were employed. The thoughts of the animals were presented effectively in voice-overs. The fantasy was greatly enhanced by the music score of Miklos Rozsa and the film has the distinction of being the very first non-musical film to have a commercial recording made of its soundtrack. There were four Academy Award nominations, including that for the score, special effects, color cinematography and color art direction.
NUMBERED imageS
Two (2) 14 x 11″ (36 x 28 cm.) double weight photos, each with descriptive text in bottom, numbered #8 and 12. Both with marginal chipping, one with a diagonal tear (mended on verso), and some marginal rubbing and light staining
Eight (8) 10 x 8″ (25 x 20 cm.) black-and-white single weight glossy silver gelatin prints scene stills: A. K. 57900- 22, 36, 55, 74, 90, 94, 175, 179 (image is full frame of oversized still 8).
Four (4) 10 x 8″ (25 x 20 cm.) various publicity, behind-the-scenes stills: Sabu 1940-K101-P2 (Portrait), A.K. 5700-S-79 (Sabu with Tiger), A.K. 57900-P-24- (Crew films in village, paper blurb and photo by Coburn on verso), Spec-33 (Sabu in turban with chimp actor).
UN-NUMBERED imageS
Five (5) 10 x 8″ (25 x 20 cm.)" black-and-white single weight glossy silver gelatin print images depicting Sabu as Mowgli and Rosemary De Camp as Messua (his adoptive human mother) during sequence of Mowgli coming to man's village and being taught various tasks.
Fourteen (14) 9 x 7″ (23 x 17 cm) black-and-white single weight glossy borderless silver gelatin print images. This group includes portrait images of Sabu as Mowgli (one of which is marked for retouching), images of him riding and directing the elephants in the jungle, exploring the jungle with adoptive sister Mahala (Patricia O'Rourke), also includes character actor Joseph Calleia as Buldeo in character and in two make up tests.
Ten (10) 10 x 8″ (25 x 20 cm.) black-and-white single weight glossy silver gelatin print images of sets. This grouping highlights the spectacular and intricately designed and built jungle village, jungle and river sets constructed for the film under the production design of Vincent Korda and the art direction of J. McMillan Johnson and Jack Okey, which would be nominated for an Academy Award.
Seventeen (17) 5 x 4″ (12 x 10 cm.) black-and-white single weight glossy silver gelatin print images. images include iconic still of Sabu as Mowgli riding elephant through the jungle ("Theme shot of pic" is handwritten on verso), various dramatic close shots of Sabu as Mowgli, close shots of Patricia O'Rourke as Mahala, various real jungle animals on the set, including Elephants., tiger and hyena (this includes numbers A. K. 57900-10, 11, 19, 163), those of the "animotronic" alligator and a behind-the-scenes image filming one of the river sequences with Sabu and O'Rourke.
images display use, including slight creases in blank white margins and a few pin holes in several. Overall excellent condition. Nice archive of a classic film. VERY GOOD-FINE.
Out of stock
Share With Friends: