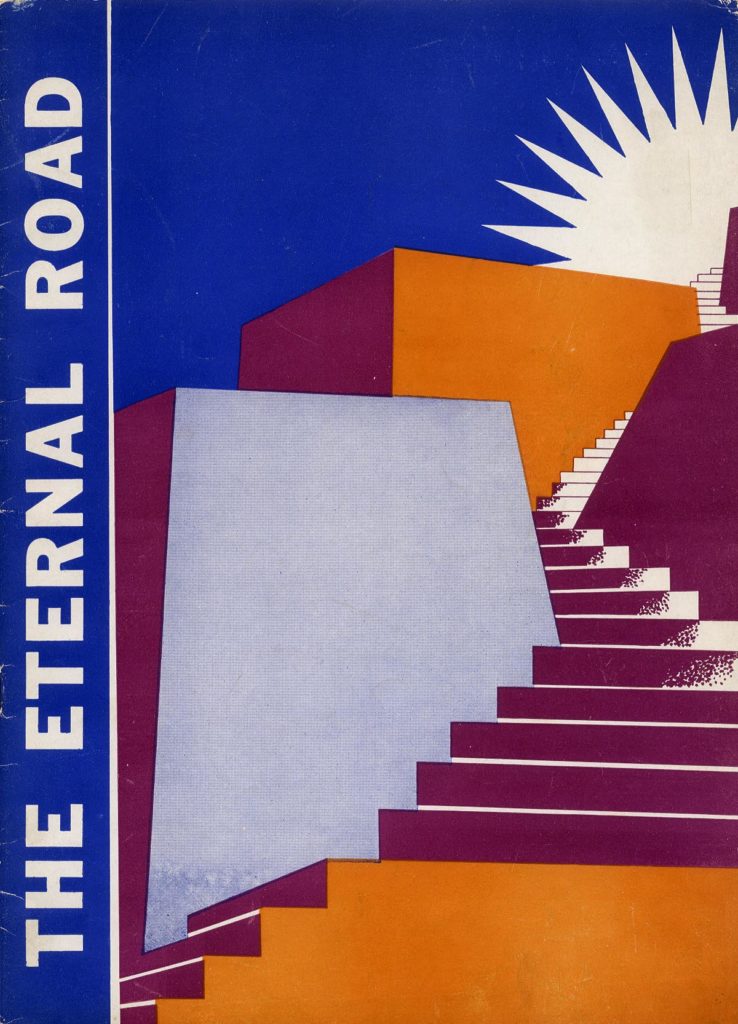 ETERNAL ROAD, THE (1937)
Sold
Vintage original 11; x 8″ (30 x 22 cm.) program, USA.
"The piece was conceived by Zionist activist Meyer Weisgal to alert the then-ignorant public to Hitler's persecution of the Jews in 1937 Germany. Weisgal enlisted the help of director Max Reinhardt, who found Weill to compose the music and Werfel to write the libretto. Set in a synagogue where Jews hide all night as a pogrom rages outside, the story combines Biblical and pre-World War II Jewish history. The rabbi reads from the Torah, leading, in each act, to the exploration and re-enactment of a different Biblical theme. At the conclusion, the destruction of the Temple in Jerusalem and the deportation of those hiding become one, while the despair of a scattered people is balanced by a messianic voice that speaks of hope for deliverance of the Jews in Zion – (although by 1937 Jews were unable to emigrate from Germany to most countries and were barred from Palestine). The music evokes cantorial lamentations, classical fugues and showtunes, among other styles." (www.wikipedia.com)

At a terrible time in Jewish history, with Nazi persecutions continually growing more and more horrid, director Reinhardt staged this huge pageant of an opera-oratorio in New York, with music by Weill (who had already had to flee Nazi Germany) and a book by Franz Werfel. Although THE ETERNAL ROAD was well received at the time of its debut in 1937, it was not until the turn of the 20th century that it began to be revived.
Pictorial wrappers, 4to, stapled, middle pages coming loose, overall VERY GOOD+.
Out of stock
Share With Friends: