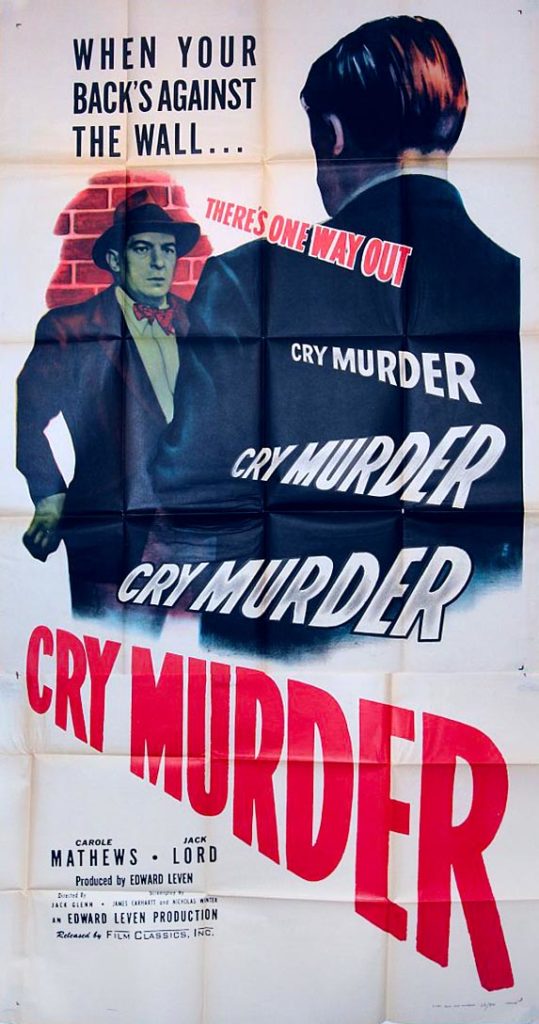 CRY MURDER (1950)
Sold
Vintage original 41 x 81″ (102 x 202 cm.) three sheet poster, USA. Carole Mathews, Jack Lord, Howard Smith, Hope Miller, dir: Jack Glenn; Film Classics.
Earl Carroll-showgirl and leading lady Carole Mathews plays a young actress who retires from the screen in order to marry a rich politician (whose father does not approve of this union). At the same time, she is being blackmailed by an artist with letters stolen from her. She then becomes a number one suspect in a murder case. Jack Lord's second film appearance, this rarely seen noir features snappy dialogue by James Carhardt and Nicholas Winter, based on the play Lost and Found by A.B. Shiffrin.
Intriguing title treatment. Folded, there is only light shelf wear to an unused poster, FINE.
Out of stock
Share With Friends: