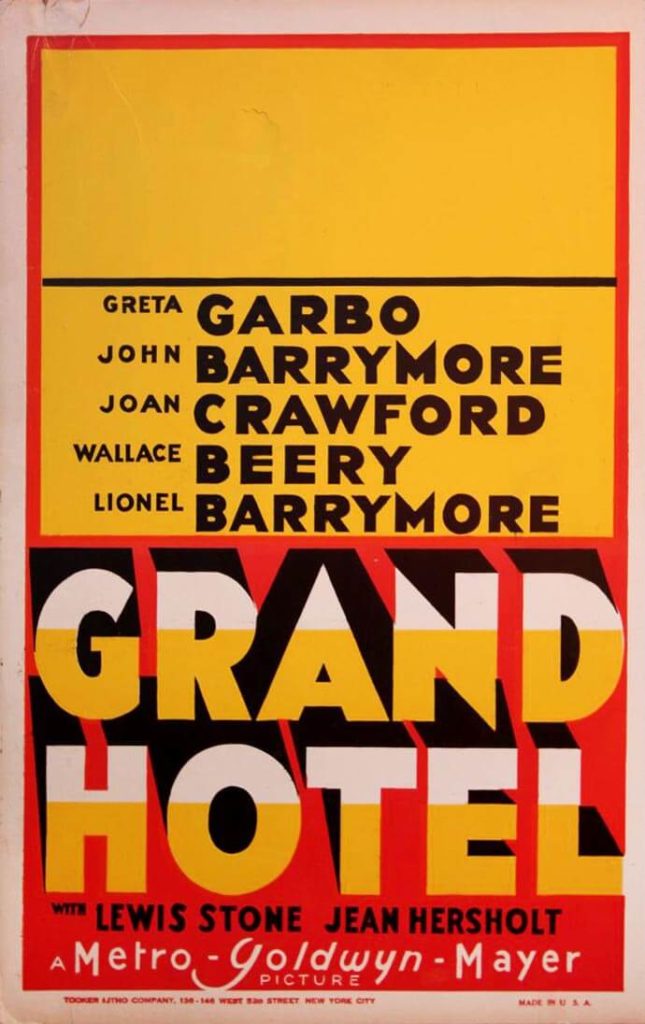 GRAND HOTEL (1932)
Sold
Vintage original 14 x 22″ (35 x 56 cm.) window card poster, USA. Greta Garbo, John Barrymore, Joan Crawford, Wallace Beery, Lionel Barrymore, Lewis Stone, Jean Hersholt, dir: Edmund Goulding; MGM. The granddaddy of the all-star cast extravaganza. The mold was cast with this story of a group of different people staying at Berlin's luxury hotel (and based on Vicki Baum's book). Their dramas play out in the rooms of the hotel, some of them meeting and overlapping, but mostly each story plays itself out, with the cynical, bored and scarred doctor of the establishment (Lewis Stone) stating at the start and finish of the film, "Grand Hotel, people come, people go, nothing ever happens." But plenty did happen, including thievery, romance, compromise, murder and friendship.

Wary of putting five top stars together in one film, due to cost and possible loss at the box office, the execs at MGM were proven wrong when the film made a huge profit. This prompted them to continue what became a now-famous trend. The film would win the Academy Award for Best Picture, though it was nominated for no other awards.

For this simple window card, with its Deco letter treatment, the stars' names above the title was enough to ensure a large audience. Unrestored, 1″ (3 cm.) tear at top border, internal 1 " (4 cm.) tear in blank imprint area, NEAR FINE.
Out of stock
Share With Friends: