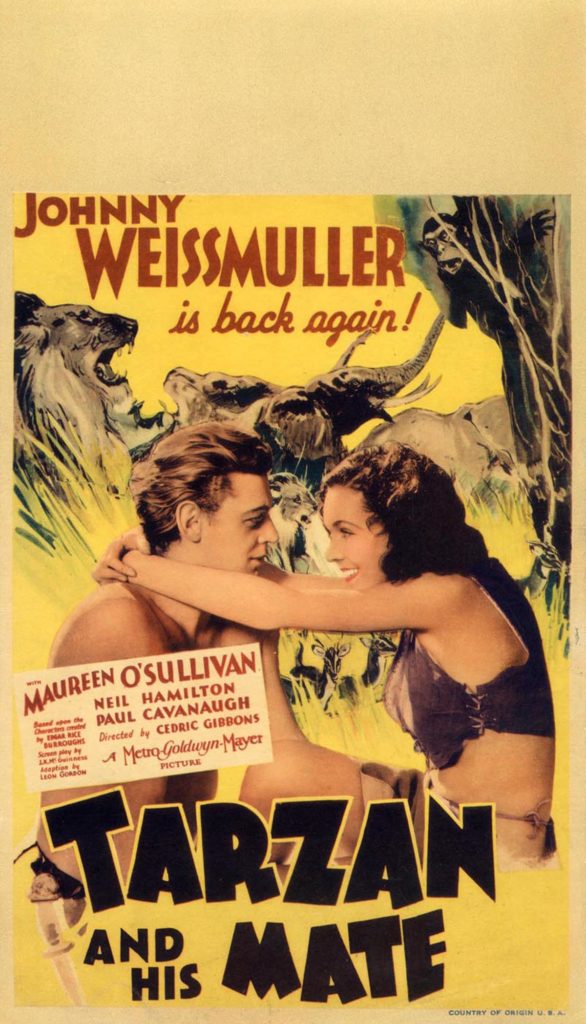 TARZAN AND HIS MATE (1934) Window card poster
Sold
Vintage original 8 x 14″ (20 x 36 cm.) mini/midget window card, USA, Johnny Weissmuller, Maureen O'Sullivan, Neil Hamilton, Paul Cavanagh, dir: Cedric Gibbons, Jack Conway; MGM. The best and the most loved of the Johnny Weismuller Tarzan series, which ran from 1932 through 1942 at MGM with the lovely O'Sullivan as Jane, and then continued at RKO between 1943 and 1948.

This is also the sexiest of the titles, with O'Sullivan in her two-piece jungle wear and Weissmuller in his abbreviated loin cloth. It contained the still-controversial nude swim scene, which could be shown during the initial April 1934 release. Filmed in several versions (clothed, partially nude and fully nude), the scene was fully cut from the film later that year; it was not until the late-1990s that it was found and restored.

Olympic champ Josephine McKim did the actual nude swim for O'Sullivan, but the openly flirtatious and sexual — yet innocent — relationship enacted between O'Sullivan and Weismuller remains extremely appealing today, and makes the film, with all its wonderful adventure, highly watchable and highly collectible. A great Pre-Code title!

Poster has been touched up in blank upper margin and lower margin. VERY GOOD.
Out of stock
Share With Friends: