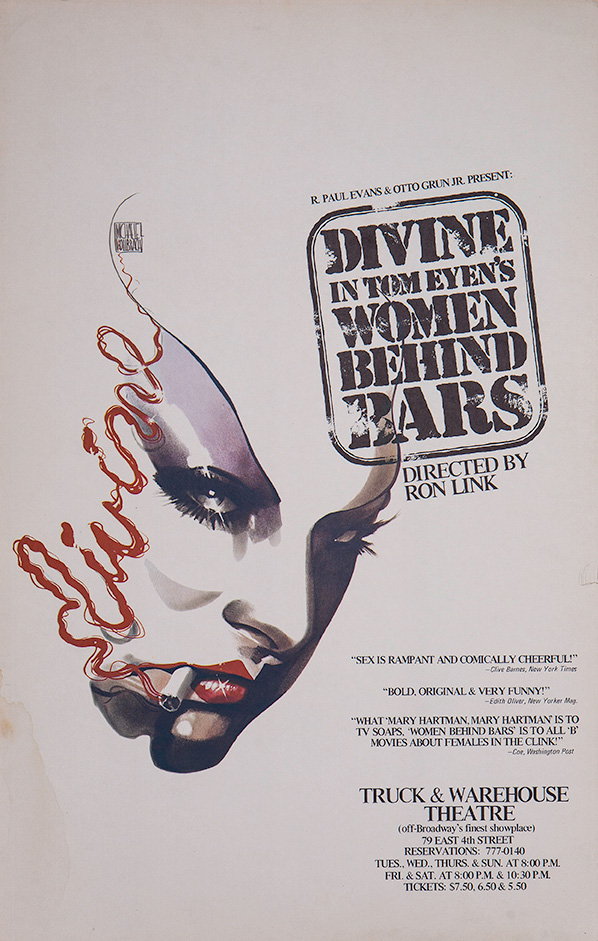 WOMEN BEHIND BARS (1976) Broadway window card poster
Sold
Vintage original 22 x 14" (56 x 36 cm.) stage window card, USA. Poster for the Tom Eyen camp comedy, which opened in May, 1975, with a cast headed by Pat Ast, and then was revived in 1976 with a cast headed by Divine. This revival (for which our poster was created) was a cult success, and that led to subsequent productions in Los Angeles and London.
Wikipedia: "Women Behind Bars is a camp spoof theatrical play of the exploitation films produced by Universal, Warner Bros. and Republic Pictures in the 1950s. This black comedy play is set in the Women's House of Detention in Greenwich Village. Among the range of social and psychological types imprisoned within its walls are an innocent young woman (framed by her husband on a charge of armed robbery), who is brutalized, betrayed and sexually assaulted throughout her eight years of incarceration (she is ultimately broken by the system and leaves jail a hard-edged, gum-chomping drug dealer), a chain-smoking, gum-snapping street-wise tough girl, and a delicate Southern belle reminiscent of Blanche DuBois. Lording over all is the sadistic matron and her tough-as-nails sidekick.
"The subtle hints of lesbianism found in the original B-movies are played broadly for laughs throughout."
This play was a breakthrough for Divine, who was now able to alternate film work with stage and cabaret appearances. FINE.
Out of stock
Share With Friends: