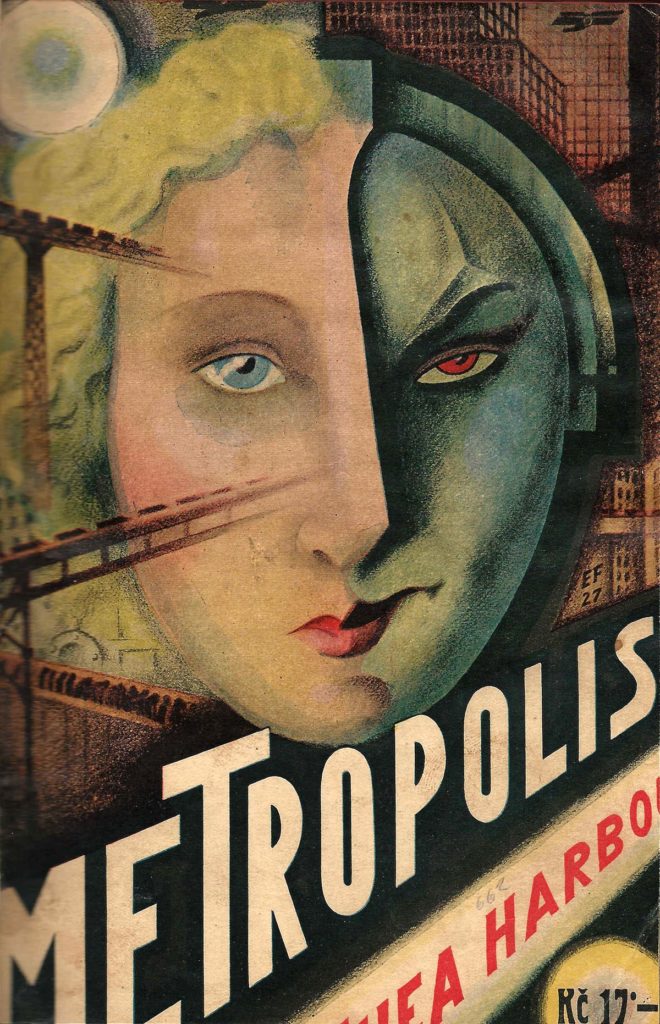 METROPOLIS /PHOTOPLAY BOOK EDITION (1927)
Sold
First Czechoslovakian Edition, photoplay with all 64 UFA images from the film, Prague: Ustredni delnicke knihkupectvi a nakladatelstvi, 1927.
First Czech edition of Thea Harbou's novel, published the same year as the release of the Fritz Lang film for which she wrote the screenplay. Importantly, this edition is the only one to contain all 64 images of the UFA still photographs released for the film in 1927 (for which a collection of the actual vintage photographs would be essentially impossible).
The film's iconic images of an imagined dystopian future inspired many illustrations and designs, the jacket for this edition being an exceptional example by the Czech illustrator Emanuel Frinta (1896-1970). Shown is the novel's "automatic head" split with a human female's visage, against a futuristic architecture and transportation scheme, including trains on highly elevated tracks, highways on bridges and airplanes flying past enormous skyscrapers.
Contemporary half cloth binding with marbled paper covered boards. Original front wrapper, very slightly trimmed to conform to the original text block, bound in. Pages and wrapper very good plus (faint tide mark to the fore edge of the first several leaves), boards about very good with some bowing). 9 x 6″ (23 x 10 cm.) , 239 pp.
-fritzlang -lang -metropolis -photoplay
Out of stock
Share With Friends: