COMEDIC BACKGROUND
Black comedian/comedic actors today rank as some of the most successful and respected stars of the film, stage and television comedy firmament: Eddie Murphy, Bill Cosby, Chris Rock, Dave Chappelle, Leslie Jones, Kevin Hart, Redd Fox, Whoopi Goldberg, Dick Gregory, Wanda Sykes, Nipsey Russell and the list goes on and on.
But this was not always the case. For the first half to two thirds of the 20th century there were very few African American comedians or comedic actors that achieved anything approaching the recognition their fellow thespians have in show business today. If they succeeded, the rolls they played were supporting, at best, and more often relegated to servants or comic foils.
EDDIE "ROCHESTER" ANDERSON
The above portrait is of Eddie Anderson, who came to fame as the gravel-voiced "Rochester" on Jack Benny's Radio Program. He was at this moment (1934) under contract to Paramount Pictures. It is a vintage original 10 x 8″ (25 x 20 cm.) black-and-white print still photo, there are stains on back with only minor marginal staining in blank margin of front, VERY GOOD+.
From Oakland to Benny
Born September 18, 1905 in Oakland, California, Eddie Anderson's career as an entertainer began at the age of 14 when he teamed up with his brother Cornelius in a song-and-dance act.  Anderson's career continued onto the silver screen where he had parts in movies such as What Price Hollywood? (1932) and Green Pastures (1936), although it was not until 1937 when he appeared as a railway porter on The Jack Benny's radio program that Anderson truly got his big break. Though he was initially slated as only having a one-shot role, Anderson was so well received that he was offered the part of "Rochester Van Jones," Jack's valet.
"Rochester" turned out to be Anderson's most popular role by far, and he continued with it until 1965 when The Jack Benny Television Program was taken off the air.  "Rochester" was not Anderson's only role during this time; he also kept on in movies and can be found in such films as Gone with the Wind (1939), Cabin in the Sky (1943), and It's a Mad Mad Mad Mad World (1963).
Although Anderson was working at a time when most African Americans were struggling in their attempts to break into show business, he was able to find great success. Despite his stardom, Anderson was not able to avoid some of the more discriminatory practices of the day. A large number of his roles continued to be subservient in nature, and even "Rochester" was portrayed as a somewhat stereotypical character.
Yet, despite some limitations, Anderson broke the mold in many ways. Though technically subservient to his white boss, "Rochester" was at the same time witty, sarcastic, and often portrayed as more intelligent than Jack Benny himself. Also, as the program continued, and Anderson became more important to the show, his role became less stereotypical.
Eddie "Rochester" Anderson died February 28, 1977. In 2001 he was inducted into the Radio Hall of Fame.
Black Past
---
STEPIN FETCHIT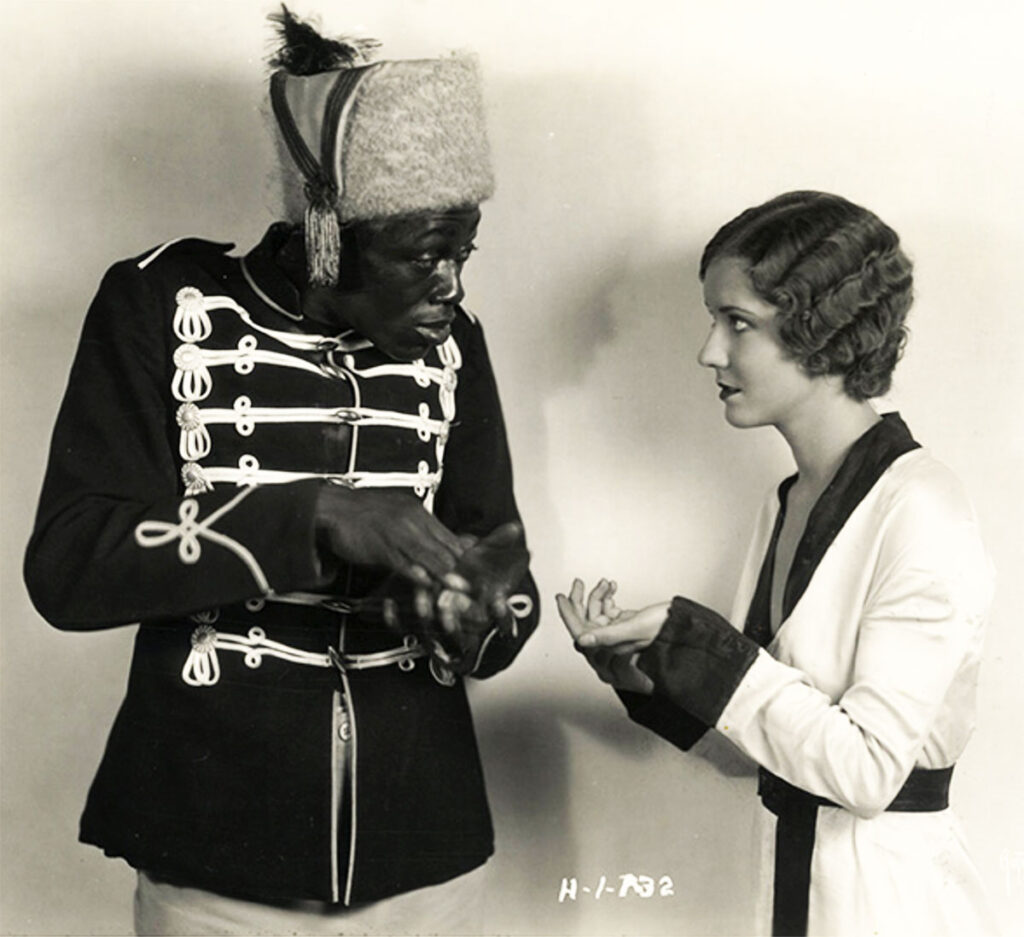 Vintage original 8 x 10″ (20 x 25 cm.) black-and-white, USA. Stepin Fetchit, Mae Clarke, dir: Kenneth Hawks; Fox. JUST ABOUT FINE. Very early talkie and one of the legendary Stepin Fetchit's earliest movies (he only began to appear on screen in 1929).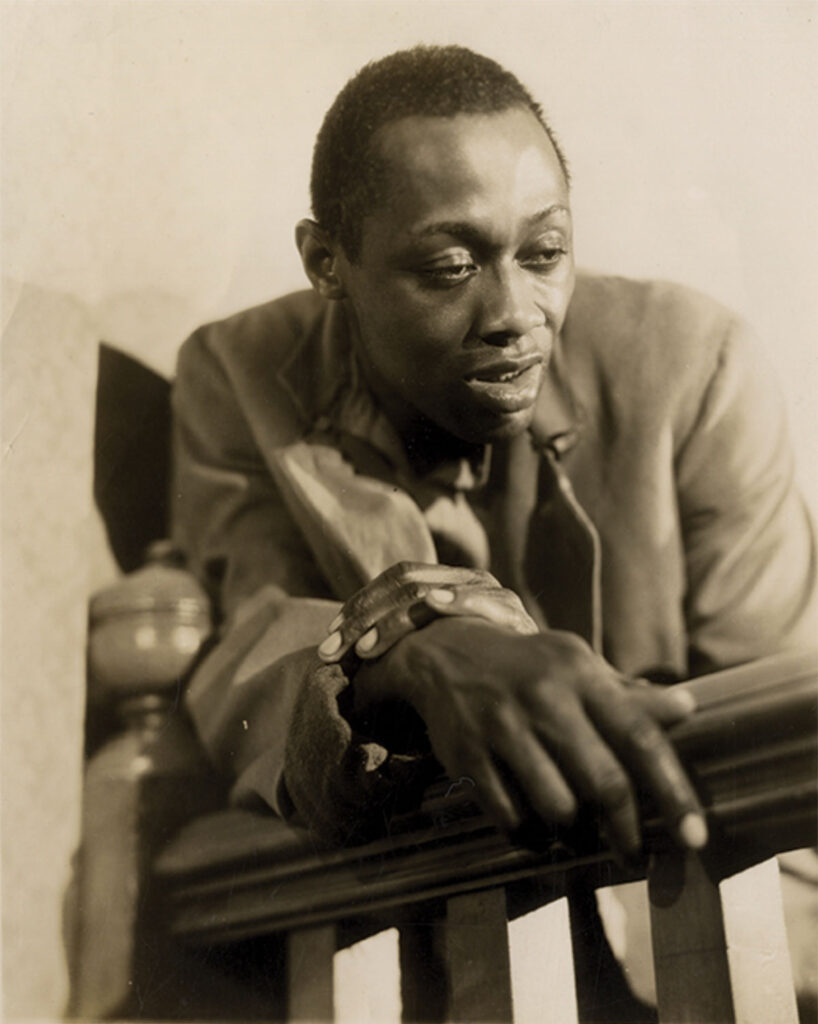 Vintage original 10 x 8" (25 x 20 cm.) photo, USA. Traces of paper in lower bottom left corner, VERY GOOD+. Portrait of Stepin Fetchit in this Shirley Temple film for Fox, under its working title THE BOWERY PRINCESS
Lincoln Theodore Monroe Andrew Perry
Perry was born in Key West, Florida in 1902 to West Indian parents. He arrived in Hollywood in the early 1920s after a period on the Vaudeville comedy circuit. When a Twentieth Century Fox Studios talent scout spotted him, Perry was given a successful screen test and his career began as "Stepin Fetchit" (Perry named his persona after a race-horse). Perry parlayed his lanky frame, unfocused gaze and dancer's skilled movements into a character that movie audiences found hilarious and captivating. Mass audiences readily accepted stereotypical portrayals of illiterate and servile blacks and Perry became the most successful of a number of actors who pursued such roles.
Between 1925 and 1976 Perry appeared over fifty films including seven in 1934 alone. In most of his 1920s and 1930s movies Perry was "comic relief" in action films which featured major film stars of the era.
Reviled by Langston Hughes and many others for his film and stage portrayals of black characters as "lazy, shuffling, no-account Negroes," Perry transformed himself from a minor-league minstrel clown into one of the most highly-paid black actors in Hollywood.
Lincoln Perry opened doors that had been slammed shut prior to his arrival on the scene. He was highly paid as he worked in the best films, at the best studios and for the best directors. He never shrank from his personal vision of what he could, or would, do to achieve his goals. Many actors who are employed in entertainment today would not be working if Stepin Fetchit had not gone before them, a fact noted by the Hollywood NAACP when in 1976 it presented him a Special Image Award and two years later when Perry was inducted into the Black Filmmaker's Hall of Fame.
Black Past
---
MANTAN MORELAND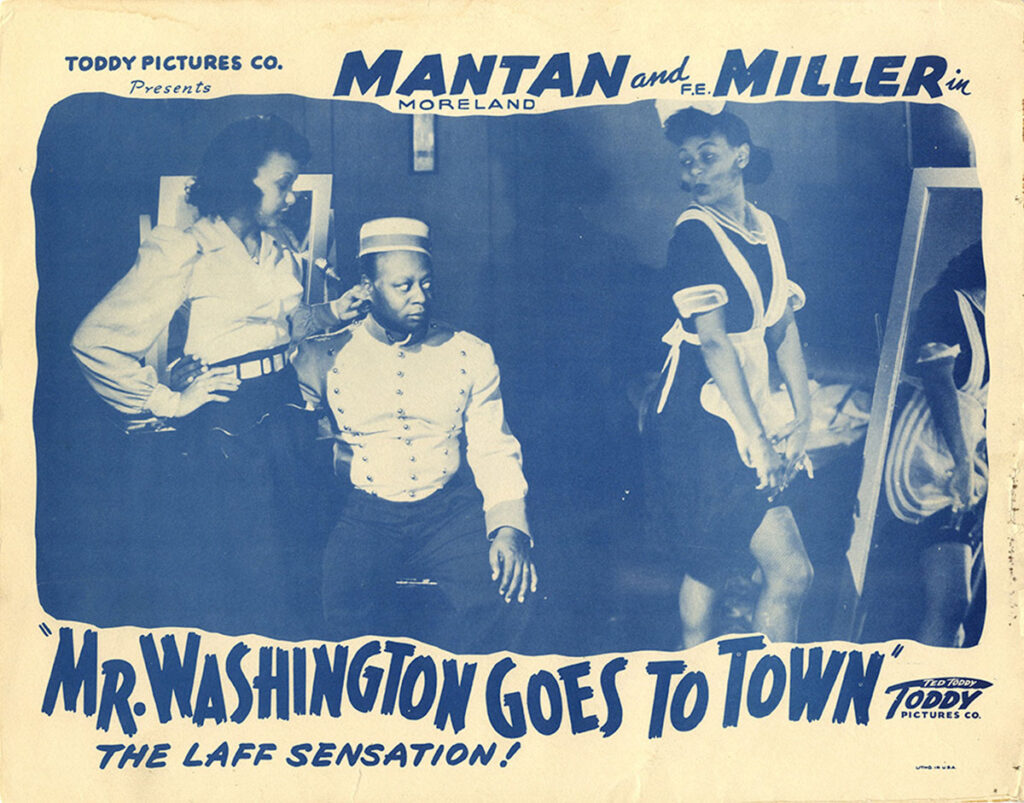 Vintage original 11 x 14″ (28 x 36 cm.) photo, USA. Mantan Moreland, Marguerite Whitten, Maceo Bruce Sheffield, Arthur Ray, dir: William Beaudine; Toddy. Tape on verso, does not show through, FINE-.
Mantan Moreland was an American actor, most popular for his role as the "google-eyed" chauffeur "Birmingham Brown" in the Charlie Chan movies. Moreland was born On September 3, 1902 to Marcella and Frank Moreland in Ouachita Parish, Monroe, Louisiana. At the age of fourteen he ran away and joined a circus, and performed in the "Chitlin' circuit," of black vaudeville shows. Moreland was first hired as a comedian in 1927, appearing at Connie's Inn, a Harlem, New York nightclub. He then worked in the Broadway musical Blackbirds of 1928, which ran for five hundred and eighteen performances. He spent a few years performing in other Broadway shows and touring in Europe before getting his big break in movies in the 1933 film That's the Spirit.
Through the next two decades, Moreland appeared in numerous films, including Monogram Pictures' Charlie Chan series. His bulging eyes and cackling laugh made him a favorite as supporting actor in black comedies. He also perfected the "indefinite talk" routine with Ben Carter, seen in the Charlie Chan films The Scarlet Clue and Dark Alibi. Moreland later spent a few years performing on stage with Nipsey Russell, Tim Moore, and Redd Foxx.
Moreland suffered a stroke in the early 1960's, but continued to perform, working alongside Moms Mabley, Carl Reiner, and Bill Cosby. He appeared in television shows such as the Hallmark Hall of Fame Series (1957), The Bill Cosby Show (1970) and Adam-12 (1970). His last featured role in a movie was in the 1968 horror comedy Spider Baby, and his last acting role was in The Young Nurses, released in 1973. He then teamed with Roosevelt Livinghood to form the comedic team Mantan and Livinghood and produced three albums. In his career, Moreland appeared in over eighty Charlie Chan movies, and made a total of three hundred and ten screen appearances.
Mantan Moreland died of a cerebral hemorrhage on September 28, 1973, in Hollywood, California at the age of 71. He was survived by his wife Hazel (Henry) (1902-1982) and daughter Marcella. Moreland was inducted into the National Multicultural Western Heritage Museum Hall of Fame in 2004.
Moreland has since been immortalized in such films as Spike Lee's Bamboozled, which centers around a fictional television show called Mantan, and also in rap music in the song "B-Boys Making With The Freak Freak" by the Beastie Boys.
Black Past
---
DEWEY "PIGMEAT" MARTIN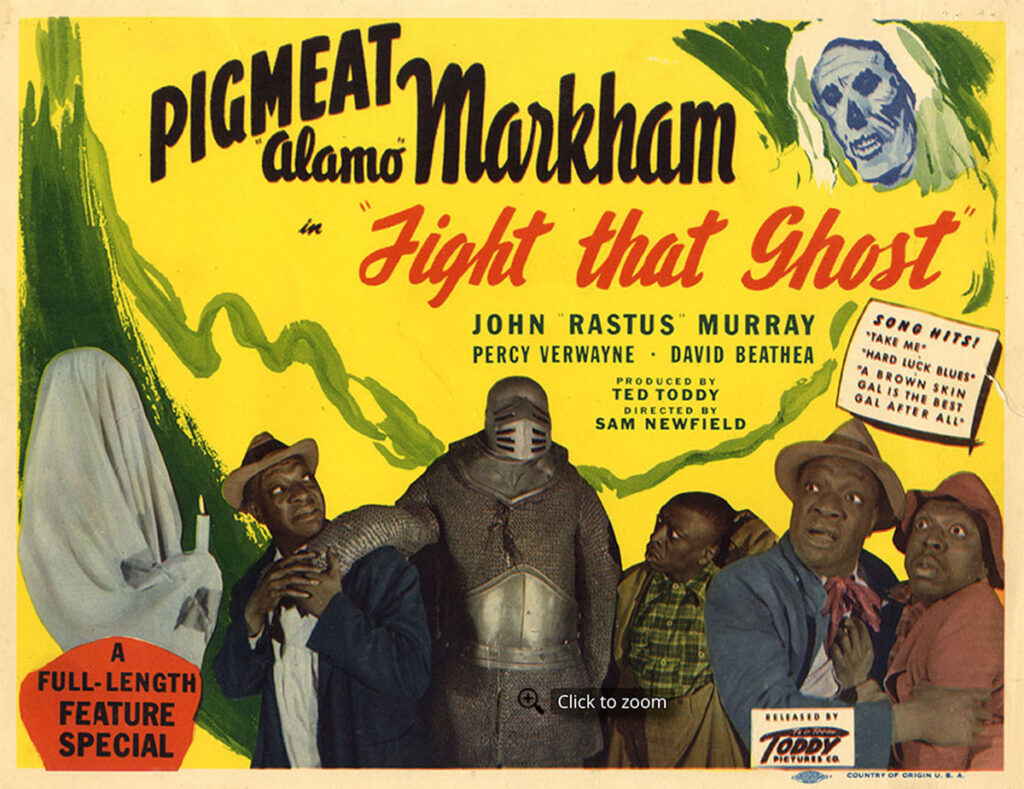 Vintage original 11 x 14" (28 x 36 cm.) title lobby card, USA. Dewey 'Pigmeat' Markham, John Murray, Percy Verwayen, David Bethea, dir: Sam Newfield; Toddy Pictures. There is one tear to middle blank right margin mended with archival paper, NEAR FINE.
Dewey "Pigmeat" Markham (1904-1981) was a comedian, singer, dancer, and actor, who spent most of his life performing on the "chitlin' circuit" of black vaudeville theaters and night clubs.
He was born in the community of Hayti, Durham, North Carolina. Markham began his career in traveling music and burlesque shows. For a time, he was a member of Bessie Smith's Traveling Revue in the 1920s. In the 1940s he started making film appearances. In 1964 he recorded "Open the Door, Richard".
Markham was a familiar act at New York's famed Apollo Theater where he wore blackface makeup and the book Showtime at the Apollo suggests, "He probably played the Apollo more often than any other performer."
Starting in the 1950s Pigmeat Markham began appearing on television, making multiple appearances on The Ed Sullivan Show. His boisterous, indecorous "heyeah (here) come da judge" schtick, which made a mockery of formal courtroom etiquette, became his signature routine. Markham's most famous routine was "discovered" by the general public only after Sammy Davis, Jr. had performed it as a guest on the March 25, 1968 episode of Laugh-In. The phenomenal ripple effect of Davis's version of "the judge" led to Markham's opportunity to perform his signature Judge character himself as a Laugh-In regular during the 1968–69 television season.
Thanks to his Heyeah come da judge routine, which originally was accompanied by music with a funky beat, Pigmeat Markham is regarded as a forerunner of rap. His song "Here Comes the Judge" peaked at number 19 on the Billboardand other charts in 1968. He published an autobiography, Here Come the Judge!, in the wake of his Laugh-In success.
Wikipedia
black comedians, black comic actors, Black History, Black Memorabilia, comedians, comic actors