In today's LGBTQ community the gay male has two aspects of his personality that might be considered by some as somewhat outré: "drag or drag queens – men dressing as women" and "beefcake males – hyper-muscular men." Their true origins date from the ancient Greeks where the muscular male body was celebrated in stone and reflected in the images of the gods and where the female characters in plays were performed by boys. However, today's interest in drag queens and beefcake males actually date from end of the 19th Century.
Drag
As described in a previous blog, Drag Before RuPaul, drag grew out of the blackface minstrel show, which evolved into vaudeville. The origin of the term drag is uncertain; the first recorded use of drag in reference to actors dressed in women's clothing is from 1870. It may have been based on the term "grand rag" which was historically used for a masquerade ball.
With vaudeville becoming more popular, it allowed female impersonators to become popular as well. At this time being a female impersonator was seen as something for the straight white male, and any deviation was punished.
JULIAN ELTINGE
The most successful female Impersonator of his day, seen here in a 1915 portrait of him in COUSIN LUCY, a Broadway play at the Cohan Theatre with music by Jerome Kern.
In the early to mid-1900s, female impersonation became identified with homosexuality and thus criminality, so it had to change forms and locations. It moved from being popular mainstream entertainment to something done only at night in disreputable areas, such as San Francisco's Tenderloin. Here female impersonation started to evolve into what we today know as drag and drag queens came to prominence in these clubs. People went to these nightclubs to play with the boundaries of gender and sexuality and it became a place for the LGBT community, especially gay men, to feel accepted.
FINOCCHIO'S (CA. 1945) NIGHTCLUB PROGRAM
Finocchios was a San Francisco cabaret which offered drag shows and was in business for over three quarters of a century. Featuring a roster of drag performers, it may well have been the longest-lived club of this kind in the US, lasting from 1936 to 1999. The booklet contains portraits of various of the establishment's drag performers.
OUTRAGEOUS! CRAIG RUSSELL (1978) SPECIAL EVENT POSTER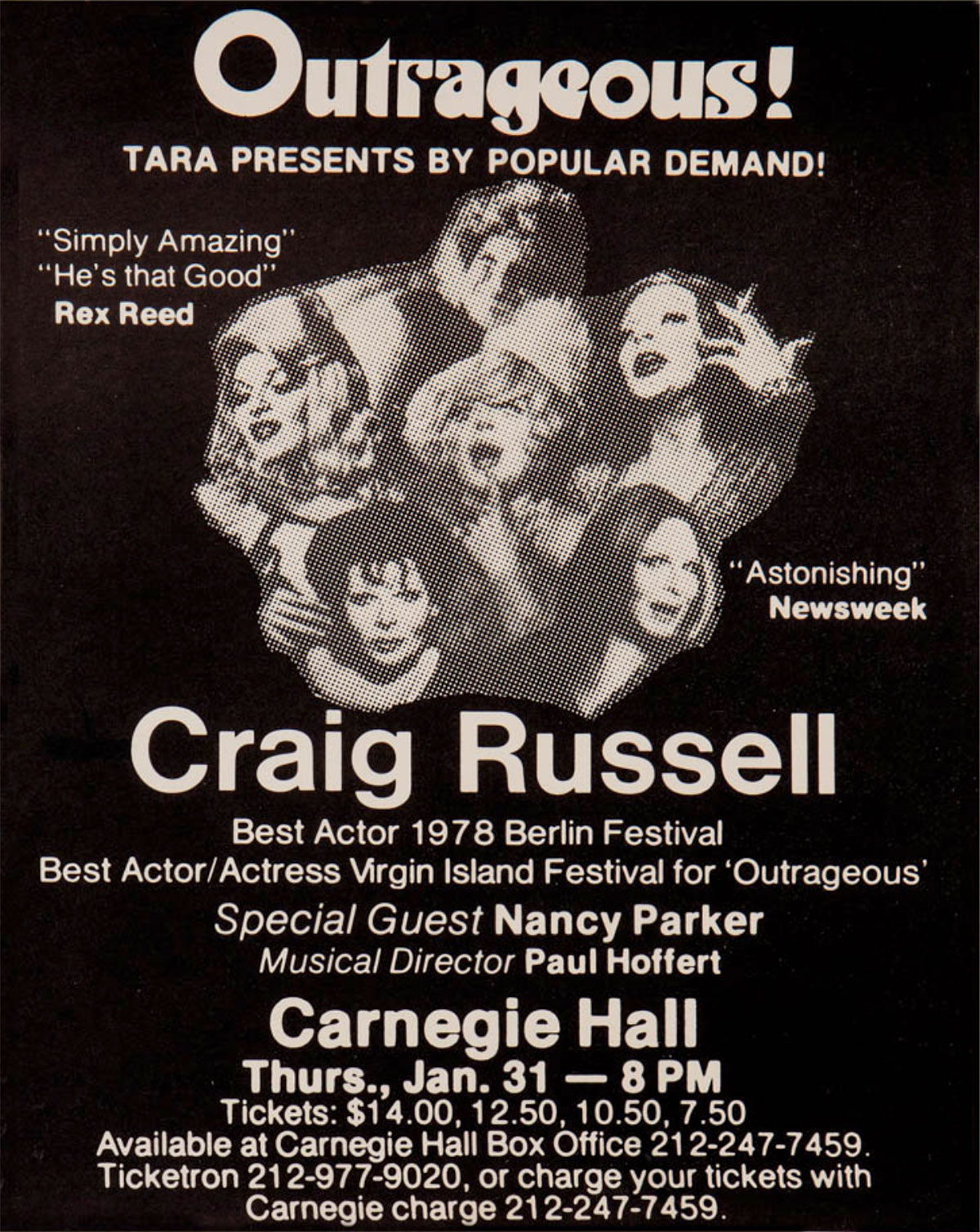 Craig Russell was an actor and self-identified female impersonator, whose roster included his takes on Bette Midler, Anita Bryant, Shirley Bassey, Judy Garland, Bette Davis and Tallulah Bankhead. By 1971 he was a regular performer in Toronto gay clubs, and soon after had a major international career. He starred in the 1977 movie OUTRAGEOUS! which added to his reputation.
This poster is for a Carnegie Hall event one year after that film's release.
DIVINE (1987) INSCRIBED COLOR PORTRAIT
Originally born Harris Glen Milstead just after the end of WWII, Baltimore's most outrageous resident eventually became the international icon of bad taste cinema, Divine, as the always shocking and highly entertaining transvestite performer/drag queen.

Milstead met maverick film director & good friend, John Waters, at high school in Baltimore, and the two combined to star in and direct several ultra low budget, taboo breaking cult films of the early 1970s. Their most famous being the amazing Pink Flamingos (1972). Divine also starred as career criminal Dawn Davenport in Female Trouble (1974), as bored housewife Francine Fishpaw in Polyester (1981), as outlaw gal Rosie Velez in Lust in the Dust (1984) and in Waters' loving salute to teen dance TV shows as Ricki Lake's mother in the superb Hairspray (1988).
SOME LIKE IT HOT (1959) WINDOW CARD POSTER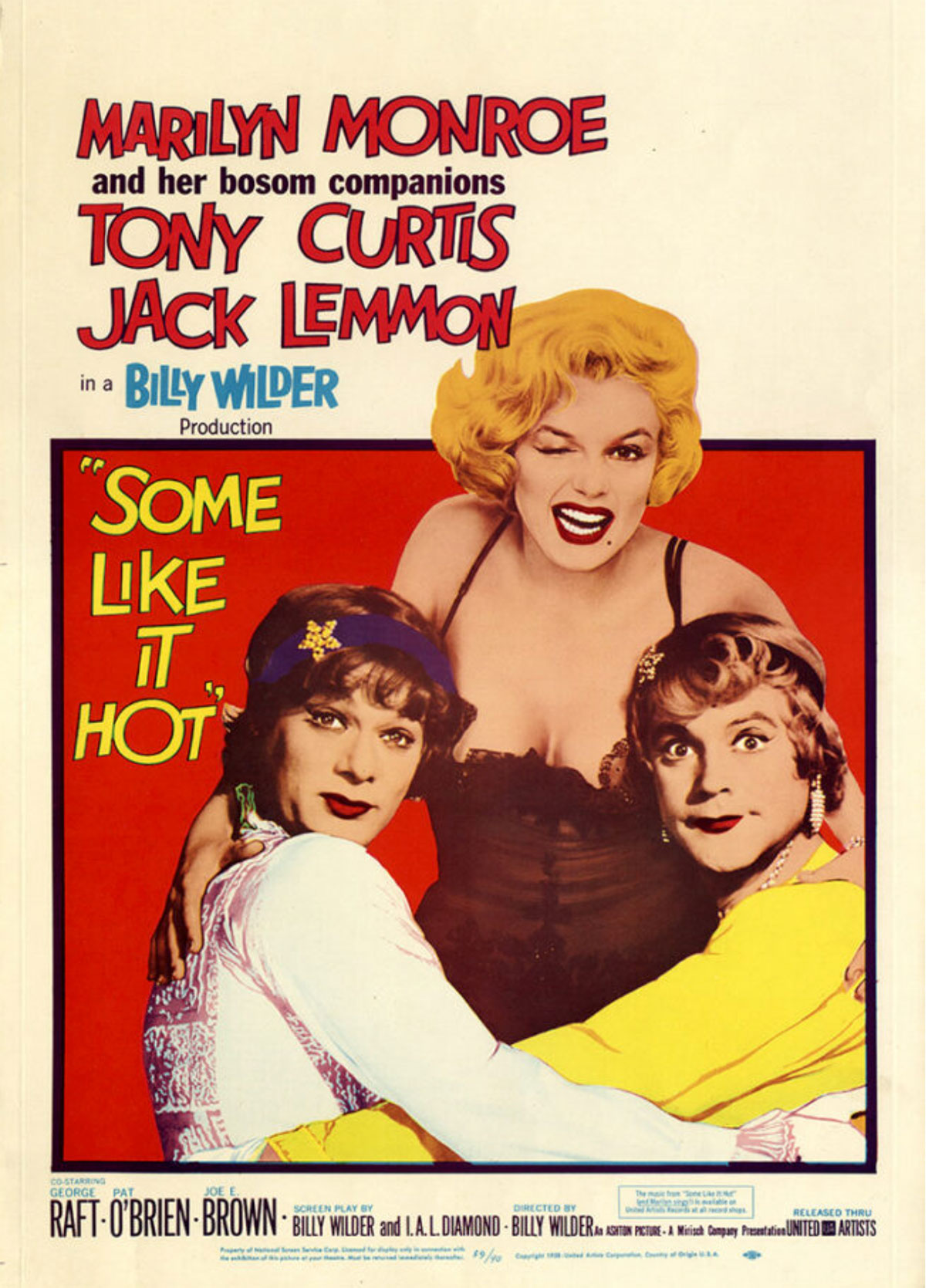 In 1959 Drag went mainstream becoming the comic centerpiece for the motion picture, Some Like It Hot, directed, produced and co-written by Billy Wilder. It stars Marilyn Monroe, Tony Curtis and Jack Lemmon. The film is about two musicians (Curtis and Lemmon) who disguise themselves by dressing as women in order to escape from mafia gangsters whom they witnessed committing a crime.
It opened to critical and commercial success and is considered to be one of the greatest films of all time. The film received six Academy Award nominations, including Best Actor, Best Director and Best Adapted Screenplay, winning for Best Costume Design. In 1989, the Library of Congress selected it as one of the first 25 films for preservation in the United States National Film Registry for being "culturally, historically, or aesthetically significant".
Not bad for Drag!
Beefcake
The term "beefcake" came along in October of 1949. The Chronicle Telegram of Elyria, Ohio noted that movie moguls realized that the female half of the population enjoyed seeing well-built men. As a result, movies began featuring males with muscled chests and arms stripped to the waist and motion picture cameramen transformed "cheesecake, which described beautifully "built" women into "beefcake" to describe equally "built" men. The term was believed to be first formally used by Hollywood columnist Sidney Skolsky.
Eugene Sandow, Father of Beefcake
While the term "beefcake" came into use in the late 1940s, Eugene Sandow (born Friedrich Wilhelm Müller: April 2, 1867 – 14 October 1925) was a Prussian bodybuilder and showman and was the first body builder to turn body building into a global business. He began by entering strongman competitions, and in 1889 encouraged to travel to London to take part in a strongmen competition. Sandow handily beat the reigning champion and won instant fame and recognition for his strength. This launched him on his career as an athletic superstar.
Soon he was receiving requests from all over Britain for performances. He became so famous, Florenz Ziegfeld arranged to display Sandow at the 1893 World's Columbian Exposition in Chicago. Ziegfeld found that the audience was more fascinated by Sandow's bulging muscles than by the amount of weight he was lifting, so Ziegfeld had Sandow move in poses which he dubbed "muscle display performances." Sandow quickly became Ziegfeld's first star.
A shrewd business man, while on tour in the United States, Sandow gave one of his "muscle display performances" at the 1894 California Mid-Winter International Exposition in Golden Gate Park at the "Vienna Prater" Theater and was a sensation. On his return to England, he opened the first of his Institutes of Physical Culture, where he taught methods of exercise, dietary habits and weight training.
Sandow Expands
His ideas on physical fitness were novel at the time and had a tremendous impact. The Sandow Institute was an early gymnasium that was open to the public for exercise. In 1898 he also founded a monthly periodical, Sandow's Magazine of Physical Culture that was dedicated to all aspects of physical culture. This was accompanied by a series of books published between 1897 and 1904 – the last of which coined the term 'bodybuilding' in the title (as "body-building").
In 1901, Sandow organized the world's first major bodybuilding competition in London's Royal Albert Hall. The venue was so full that people were turned away from the door. The three judges presiding over the contest were Sir Charles Lawes the sculptor, Sir Arthur Conan Doyle the author, and Sandow himself.
Sandow travelled around the world on tours to countries as varied as South Africa, India, Japan, Australia, New Zealand. At his own expense, from 1909 he provided training for would-be recruits to the Territorial Army, to bring them up to entrance fitness standards, and did the same for volunteers for active service in World War I
The Grecian Ideal
Sandow's resemblance to the physiques found on classical Greek and Roman sculpture was no accident, as he measured the statues in museums and helped to develop "The Grecian Ideal" as a formula for the "perfect physique". Sandow built his physique to the exact proportions of his Grecian Ideal, and is considered the father of modern bodybuilding, as one of the first athletes to intentionally develop his musculature to predetermined dimensions.
Beefcake Today
Herb Ritts Exhibition Staley-Wise Gallery (1988) Signed Poster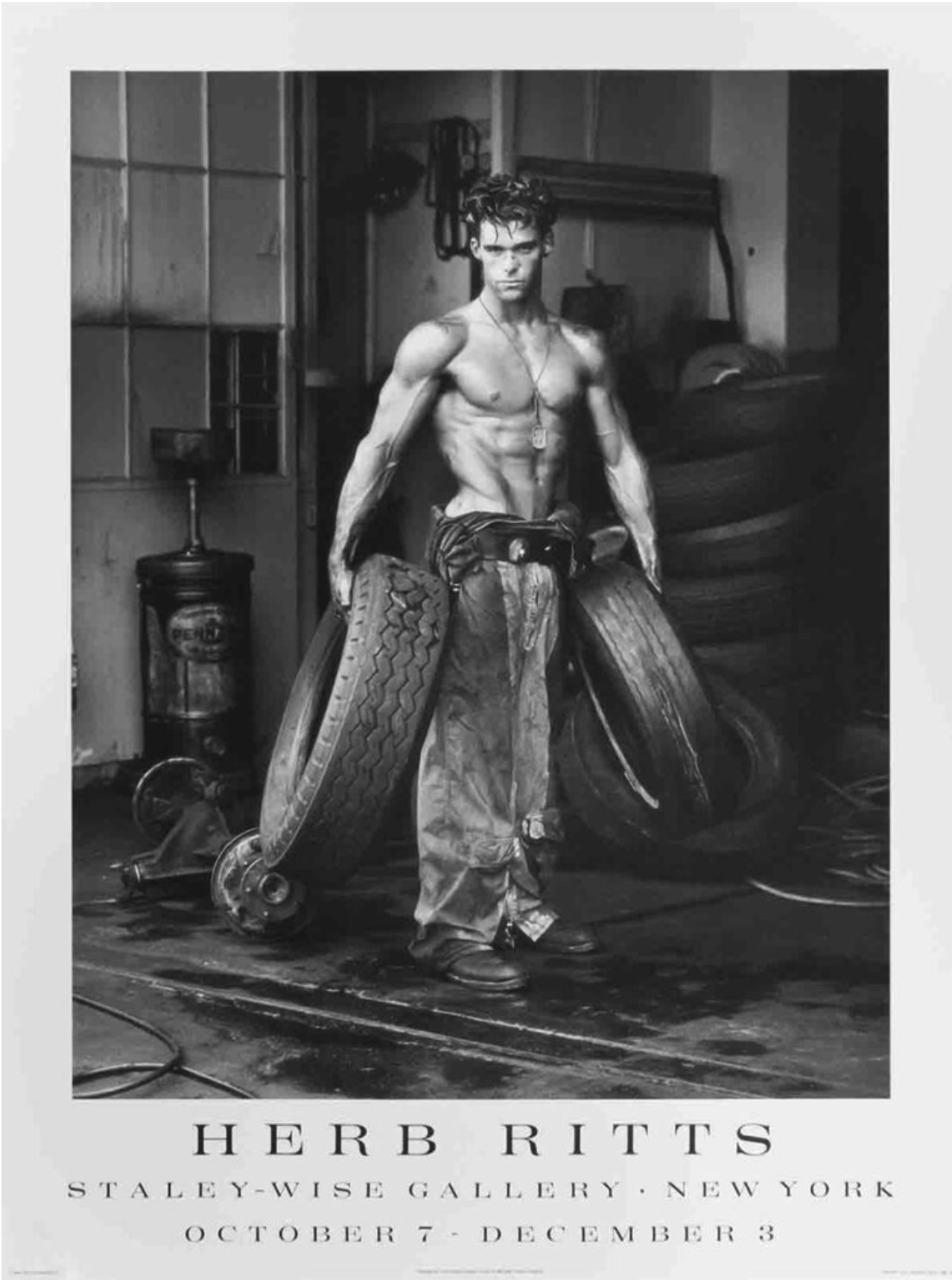 A very famous image created by Herb Ritts entitled "Fred with Tyres" from the "Bodyshop, 1984" series. This poster was created for an exhibit at the Staley-Wise Gallery in New York. It was subsequently signed and dated "1988" by Ritts in ink at the extreme bottom right.
BOOTS & SADDLE (CA. MID-1970S) GAY BAR POSTER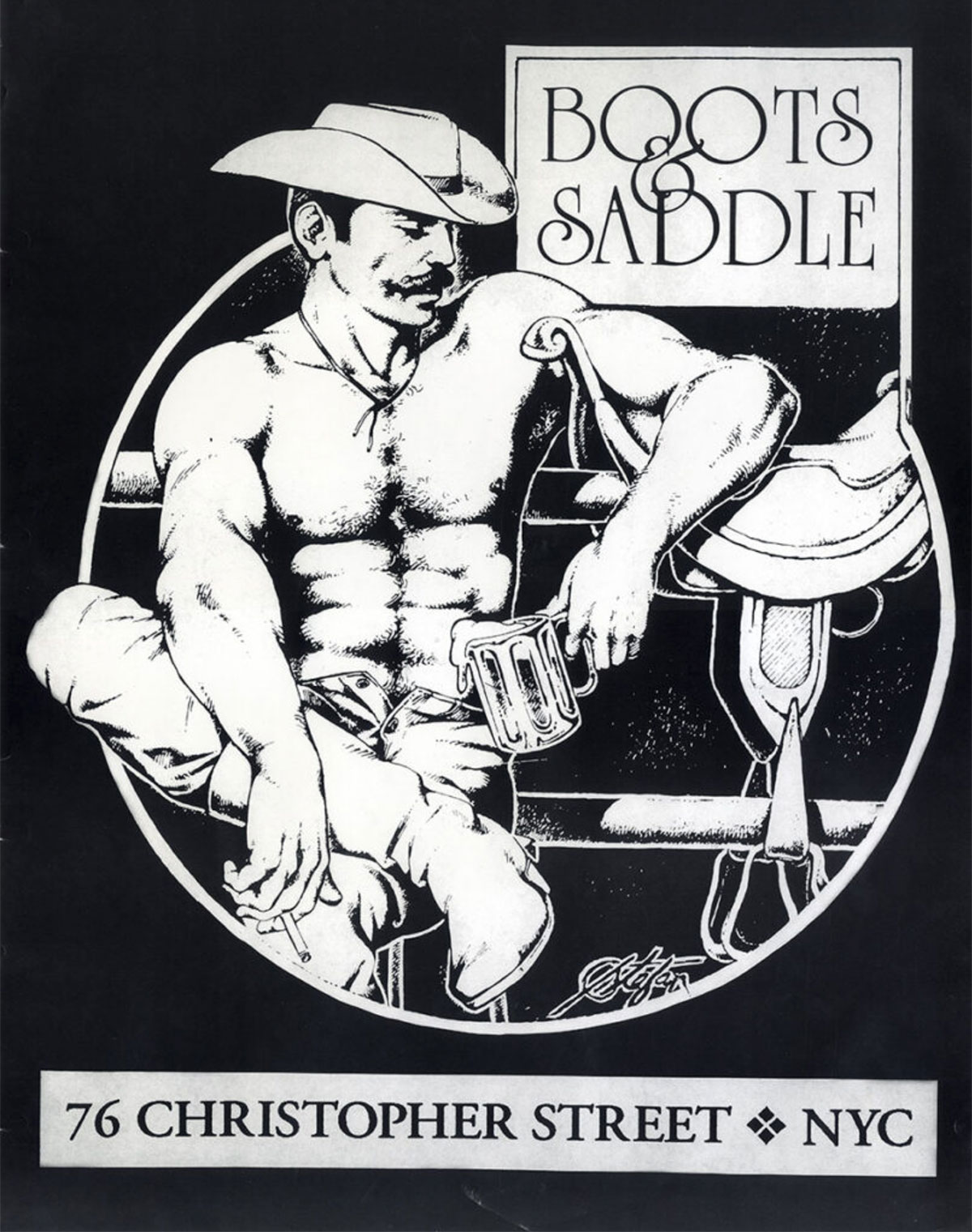 A poster with artwork by Stefan for a popular West Village gay bar on Christopher Street in NYC (back in the day when Christopher Street was a popular cruising area).
ANDY WARHOL'S FLESH (1968) OVERSIZE COLOR PHOTO OF JOE DALLESANDRO
An exceedingly scarce oversize color photo of a naked Joe Dallesandro in his breakthrough starring role as a bisexual heroin addict who is working the streets as a gay prostitute to support his and his bisexual wife's addiction. "Dallesandro is generally considered to be the most famous male sex symbol of American underground films of the 20th century, as well as a sex symbol of gay subculture."Fine
FALCON'S LAIR (CA. 1970S) POSTER BY TOM OF FINLAND
MARKY MARK | CALVIN KLEIN UNDERWEAR (1992) POSTER
Mark Wahlberg, then performing as Marky Mark, did a few underwear ads and accompanying posters for Calvin Klein in 1992. This accompanied another poster, in which he grabbed his crotch. Since this poster was only sent to clothing stores, very few originals of it survived.
CHICAGO EAGLE (1983) GAY LEATHER BAR POSTER
This poster illustrates part of a wall mural created by queer painter and illustrator Dom Orejudos (under the pen name Etienne) for this bar, a long-lived Chicago leather venue, which was divided into three spaces — a large front room, a middle bar and a dimly-lit back room (and in that back room a strict dress code was enforced, requiring that "a major article of leather, rubber or uniform or camouflage" be worn).
THE SAINT AT LARGE: THE BLACK PARTY AT ROSELAND
Poster from the famous New York gay disco (see our blog The Saint Collection for a sampling of the posters, and a description of the disco and its place in the gay subculture of New York). The club opened September 30, 1980, and closed in 1988; however, it continued on through a variety of pop-up events which went on and continued into this century. Most of the posters from this period were created during the era of the AIDS crisis.
.