The term "Drag" is the shortened version of "Drag Queen" which, in many circles today, is a derogatory description of men who like to dress as women either as a life choice or as a female impersonator.
RuPaul changed "Drag Queen" to "Drag" in 2009, when he became an international celebrity, turning his success as RuPaul Female Impersonator, recording artist, spokesperson, actor, author and talk show host into a reality competition television series, RuPaul's Drag Race, which he produces, hosts and judges to this day.
The success of that show has spread around the world in a variety of formats. For RuPaul's Drag Race, he has received eleven Primetime Emmy Awards, becoming the most-awarded person of color in the history of the Primetime Emmys. In 2017, he was included in the annual Time 100 list of the most influential people in the world. Outside of film and television, he continues to write and record music, releasing fourteen studio albums as of 2022. His success couples the entertainment value of Drag with the sensibilities of an enlightened audience.
A Brief History of Drag
Boys dressing as women was a requirement of actors in all of Shakespeare's plays as it was illegal for women to appear on the stage. It wasn't until the restoration of Charles II of England and bawdy "Restoration comedy" became a recognizable genre that theatre licenses granted by Charles required that female parts be played by "their natural performers", rather than by boys.
Pantomime Dames
In the late 1800s to the mid-1900s, pantomime dames became a popular form of female impersonation in England and Europe. This was the first era of female impersonation to use comedy as part of the performance, contrasting with the serious Shakespearean tragedies and Italian operas. The dame became a stock character with a range of attitudes from "charwoman" to "grande dame and continues today in British "Pantos." These "entertainments" can be found across England during the Christmas holiday season where well-known male actors have great fun impersonating 'evil queens' and 'nasty sisters'.
American Drag Balls
The first person known to describe himself as "the queen of drag" was William Dorsey Swann, an African American, born enslaved in Hancock, Maryland, who in the 1880s started hosting drag balls in Washington, DC attended by other men who were formerly enslaved, and often raided by the police.
Minstrel Shows
Development of the drag queen in the United States was influenced by the development of the blackface minstrel show. Originally the white performers would only mock African American men, but as time went on, they found it amusing to mock African American femininity as well. They performed in comedic skits, dances, and "wench" songs.
Vaudeville
The broad comedic stylings of the minstrel shows helped develop the vaudeville shows of the late 1800s to the early 1900s. With the United States shifting demographics, including the shift from farms to cities, Great Migration of African Americans, and an influx of immigrants, vaudeville's broad comedy and music expanded the audience from minstrelsy.
With vaudeville becoming more popular, it allowed female impersonators to become popular as well. Many female impersonators started with low comedy in vaudeville and worked their way up to perform as the prima donna. They were known to perform song and dance routines with multiple outfit changes.
Female Impersonators
At this time being a female impersonator was seen as something for the straight white male, and any deviation was punished. Connection with sex work and homosexuality eventually led to the decline of vaudeville during the Progressive Era. Both the minstrelsy and vaudeville eras of female impersonation led to an association with music, dance, and comedy that still lasts today
JULIAN ELTINGE/The Widow's Might (1918)
(Above – Vintage original 41 x 27" (104 x 69 cm.) one sheet poster, USA. Julian Eltinge, dir: William De Mille; Paramount. On linen, with some touchups in blank margins and along old fold lines, very good+. View Poster)
(May 14, 1881 – March 7, 1941), born William Julian Dalton, was an American stage and film actor and female impersonator. As his star began to rise, he appeared in vaudeville and toured Europe and the United States, even giving a command performance before King Edward VII. Eltinge appeared in a series of musical comedies written specifically for his talents starting in 1910 with The Fascinating Widow.
The success of The Fascinating Widow led producer A. H. Woods to give Eltinge one of the entertainment industry's highest honors, having a theatre named for him. A year to the day that The Fascinating Widow opened, Woods opened the Eltinge Theatre on New York's 42nd Street.
Hollywood beckoned Eltinge and in 1917 he appeared in his first feature film, The Countess Charming. This led to other films, including 1918's The Isle of Love with Rudolph Valentino and Virginia Rappe. By the time Eltinge arrived in Hollywood, he was considered one of the highest paid actors on the American stage.
Night Clubs
In the early to mid-1900s, female impersonation had become tied to the LGBT community and thus criminality, so it had to change forms and locations. It moved from being popular mainstream entertainment to something done only at night in disreputable areas, such as San Francisco's Tenderloin.
Here female impersonation started to evolve into what we today know as drag and drag queens. Drag queens first came to prominence in these clubs. People went to these nightclubs to play with the boundaries of gender and sexuality and it became a place for the LGBT community, especially gay men, to feel accepted.
As LGBT culture has slowly become more accepted in American society, drag has also become more acceptable in today's society and now, with RuPaul and RuPaul's Drag Race, it has become an international sensation. 
––Wikipedia
CRAIG RUSSELL / A Man and His Women (1977)
Canadian Russell Craig Eadie, who preferred to go by his stage name of Craig Russell, made a career for himself impersonating a wide range of female artists. His diverse repertoire included Carol Channing, Bette Davis, Mae West, Shirley Bassey and even Anita Bryant.
LES ETOILES (CA. 1977)
Promotional poster for the Brazilian singing duo LES ETOILES, which consisted of Rolando Faria and Luiz Antonio, who made a splash in Europe performing in full drag.
DRAG QUEENS FROM OUTER SPACE (CA. 1986)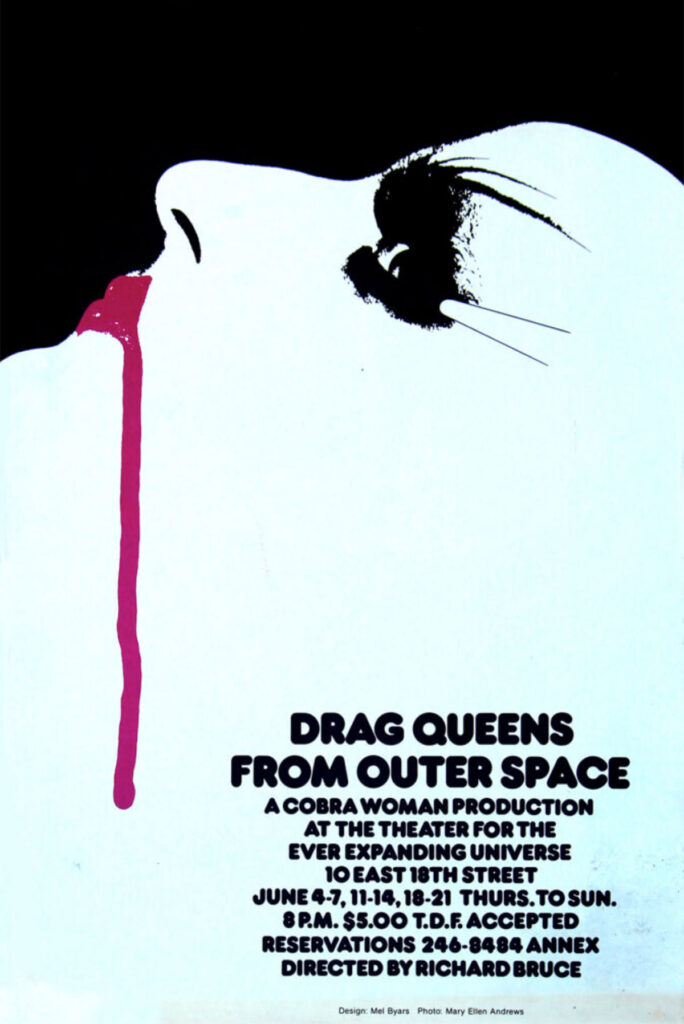 Poster designed by Mel Byars for New York City stage production of DRAG QUEENS FROM OUTER SPACE by Sky Gilbert. Gilbert is a preeminent name in LGBTQ theater, and an enormous influence on Canadian theater. This play followed Gilbert's equally successful DRAG QUEENS ON TRIAL (1985).
GLAMOUR, GLORY AND GOLD: THE LIFE & LEGEND OF NOLA NOONAN, GODDESS & STAR (1968)
Very scarce poster (the OCLC records no known copy) for a 1968 run of the first play written by and starring Andy Warhol superstar Jackie Curtis. This play had had its world premiere a year before, also at the Playwright's Workshop, and an entirely different poster was created for this 1968 revival.
Jackie performed as both a man and a woman throughout her career. While performing in drag, Curtis would typically wear lipstick, glitter, bright red hair, ripped dresses, and stockings. Curtis pioneered this combination of trashy and glamour, a style that has prompted assertions that Curtis inspired the glitter rock or glam rock movement of the 1970s.
Drag, drag artist, Drag Queens, famous American drag performer, female impersonator, RuPaul