When it comes to Hollywood Movie Memorabilia, much of WalterFilm's vintage original stock might be considered "Hollywood" because a substantial amount of material either comes from Hollywood or references it. And when it comes to "Movie Memorabilia", a large portion of what we offer could fit that description as well. But we do try to clearly define, describe and date each object we present as a vintage original poster, photograph, script, etc.
However, sometimes items come along that are difficult to define and 'Hollywood Movie Memorabilia" provides an excellent catch all.
MGM Advertising Pull-Outs
The first three items are of particular note: they are vintage original 9 x 12″ (22 x 30 cm.) Metro-Goldwin-Mayer advertising pull-outs on card stock for three movies starring Judy Garland and Mickey Rooney.
They were created for the industry publication The Lion's Roar by the famous caricature artist Jacques Kapralik, They each were created in three dimension using elements of yarn, fabric, paper, buttons, sequins and miniature creations to highlight the themes and elements found in the film's story.
BABES ON BROADWAY (1941)
See above photograph.
The film's "let's put on a show" theme was presented at its most spectacular in this Busby Berkeley extravaganza produced by Arthur Freed.
LIFE BEGINS FOR ANDY HARDY (1941)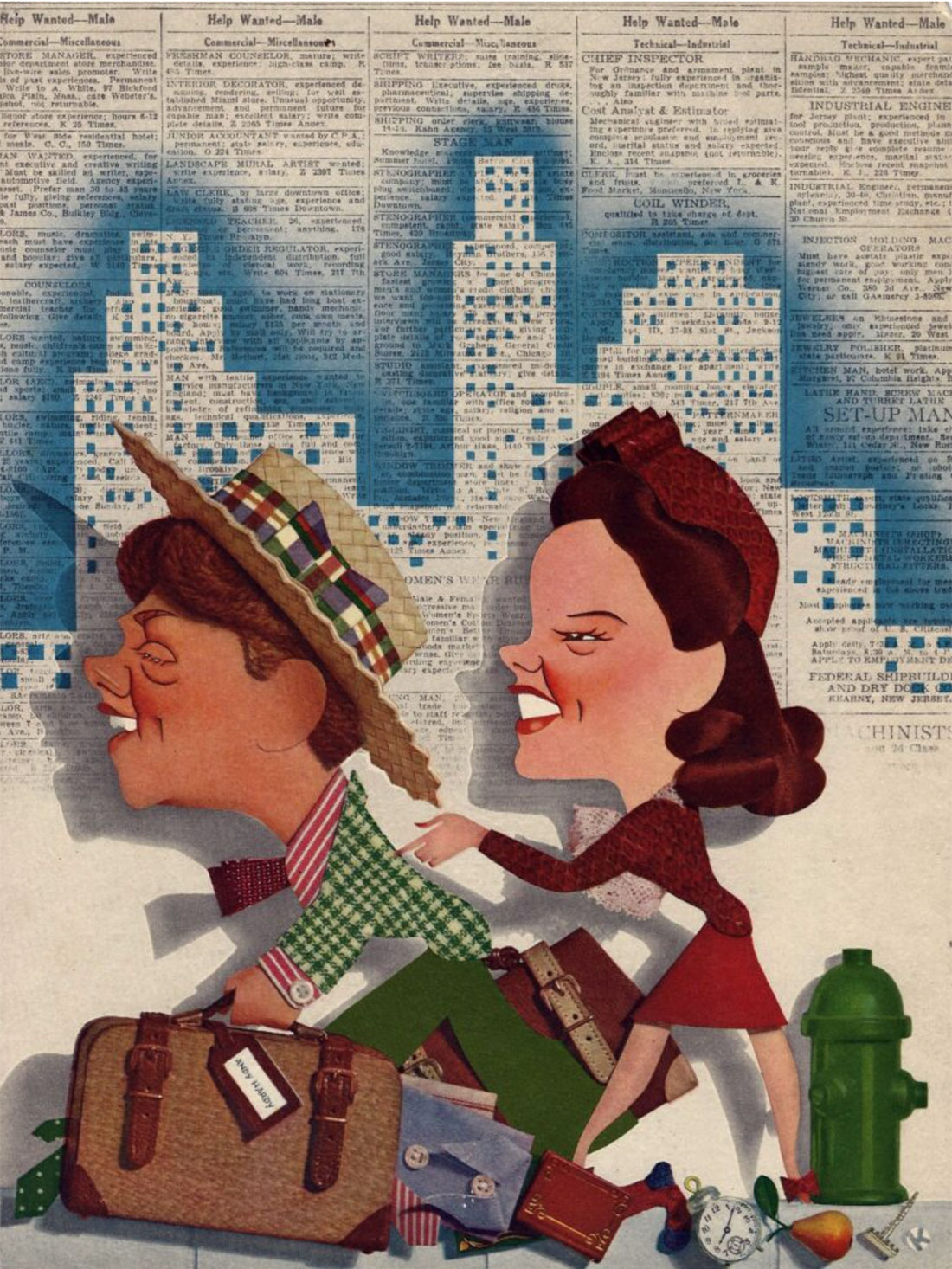 The two stars are featured in a New York City setting when Betsy Booth (Garland), daughter to a Broadway actress, shows "Smalltown, USA" Andy Hardy (Rooney) the ropes of making it in the big city.
GIRL CRAZY (1943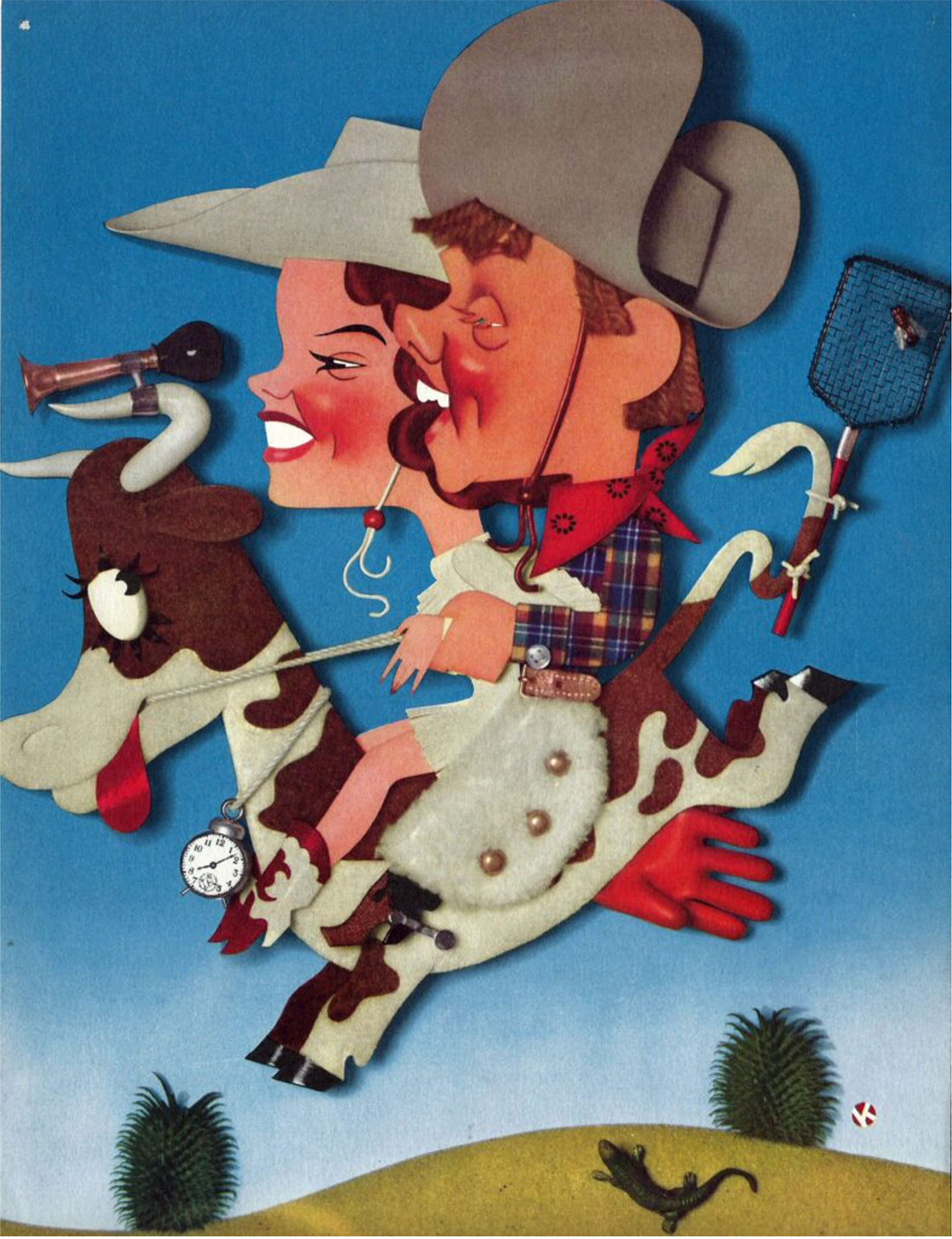 The last and likely the finest of the grand MGM Mickey and Judy musicals featured a superb score by George and Ira Gershwin and a story set at a dude ranch college.
LUCIFER RISING (1972)
Kenneth Anger (filmmaker, artist) Original artwork used for the opening shot of Kenneth Anger's experimental film LUCIFER RISING, which was his attempt to depict the age of the hippies. In this film, Egyptian gods summon the angel Lucifer to usher in a new occult age.
HOTEL SAHARA PRESENTS… CHRISTINE JORGENSEN (1953)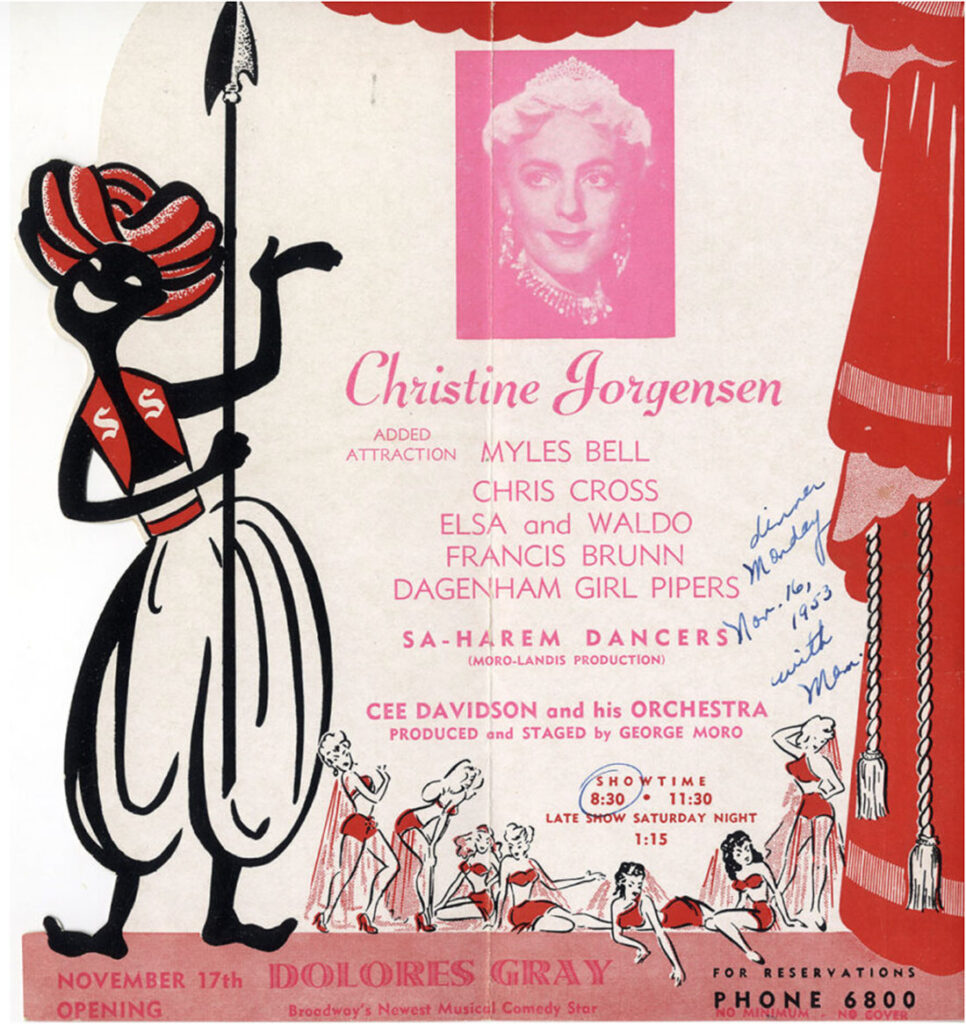 "A New York Daily News article in late '52 that brought instant notoriety to Christine Jorgensen, the first person in the US to become famous for having sex reassignment surgery. Celebrity agent Charles Yates teamed with Jorgensen to turn this notoriety into an unlikely nightclub act. The Sahara booked Jorgensen for a summer 1953 engagement with singer Marguerite Piazza and dancer Gene Nelson, but was fired when both Piazza and Nelson protested the co-billing.
Jorgensen sued the hotel."Jorgensen was a controversial figure in the press, treated with sensationalism, praise, respectful curiosity, and indignantly. The Sahara's firing was done with a public letter that began, 'Dear sir'. Despite this, Jorgensen was rescheduled at the Sahara and opened in November that year. A mostly-positive column about the show in the Las Vegas Review Journal commented that Jorgensen was 'either an opportunist of supreme magnitude or an individual of indescribable courage.' Jorgensen returned to Las Vegas later for a show at Silver Slipper.
ED EMSHWILLER (ca. 1980) Signed letter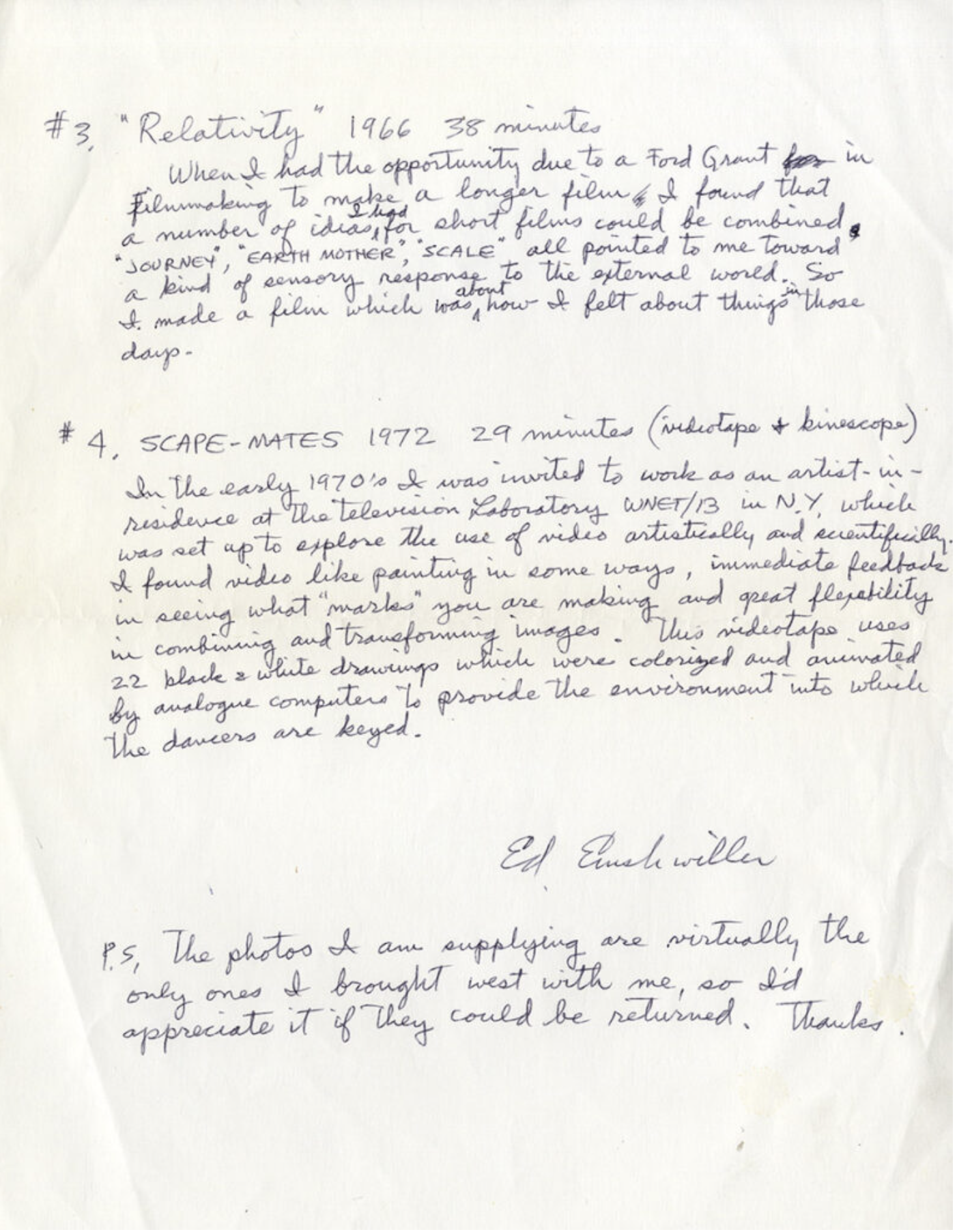 A letter from pioneering experimental filmmaker Ed Emshwiller to Doug Edwards, who was at that time the leading figure in Los Angeles for the showing of avant-garde film. In this fascinating letter, he lists each of the four films which he has selected for Edwards to screen, with a succinct paragraph describing each one: LIFE LINES (1960); THANATOPSIS (1962); RELATIVITY (1966); and SCAPE-MATES (1972).
PAUL ROBESON AUSSTELLUNG ZU EHREN SEINES 70 GEBURTSTAGE AM 9 APRIL 1968 German pamphlet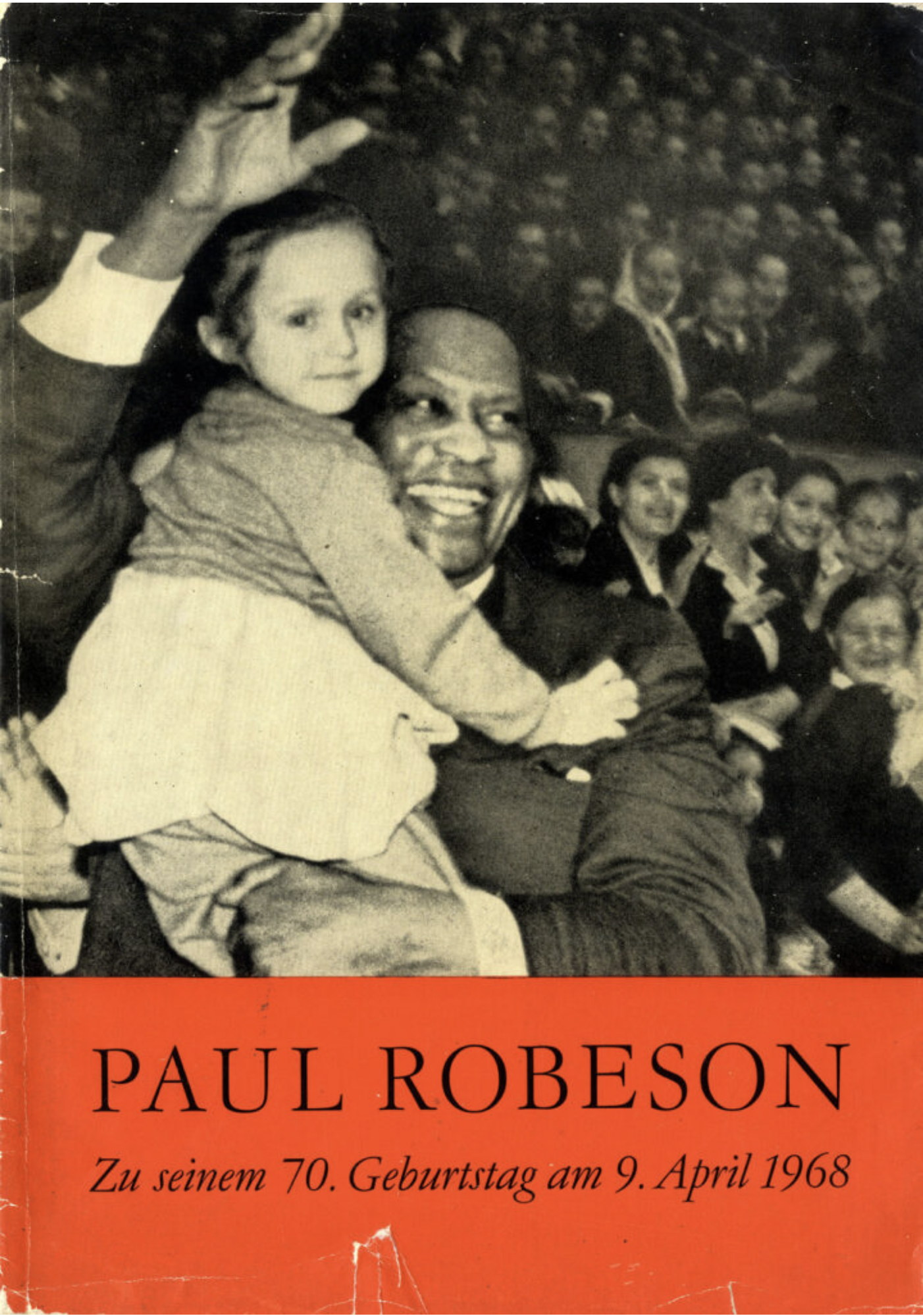 A pamphlet issued to honor Paul Robeson's seventieth birthday. Contains photos documenting Robeson's varied visits to the USSR and then-East Germany, as well as commentary on his artistic and political careers.
SHE'S A HE – Lynn Carter (1957) Vinyl record
The front sleeve states "Introducing Mr. Lynn Carter, America's foremost female impersonator."
Lynn Carter was a headliner in the Jewel Box Revue, a racially inclusive traveling revue of what were then dubbed female impersonators. The show was staffed almost entirely by gay men and one lesbian. OCLC only records one known copy.
AGNÈS VARDA (ca. 1965-77) Archive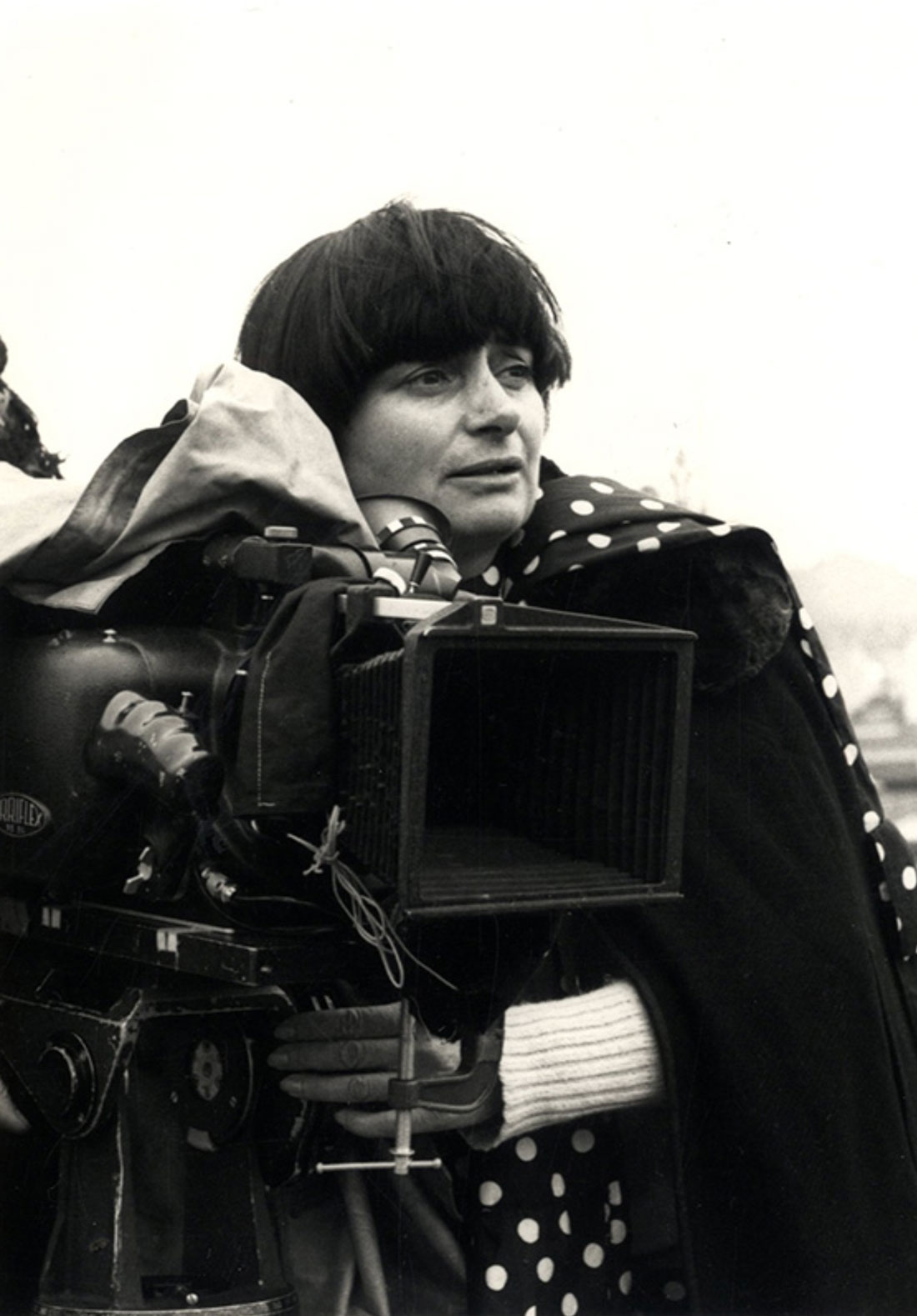 Collection of vintage original French promotional materials, all just about fine or better.
LE BONHEUR [HAPPINESS] (1965) Pressbook
LES CRÉATURES [THE CREATURES] (1968) Pressbook
LION'S LOVE (1969) US two-sided poster, 23 x 19″ (59 x 49 cm.)
L'UNE CHANTE, L'AUTRE PAS (1977) Promotional book
female impersonator, George and Ira Gershwin, Hollywood Movie Memorabilia, Hollywood Musicals, Judy Garland, Judy Garland and Mickey Rooney, Mickey Rooney, sex reassignment surgery