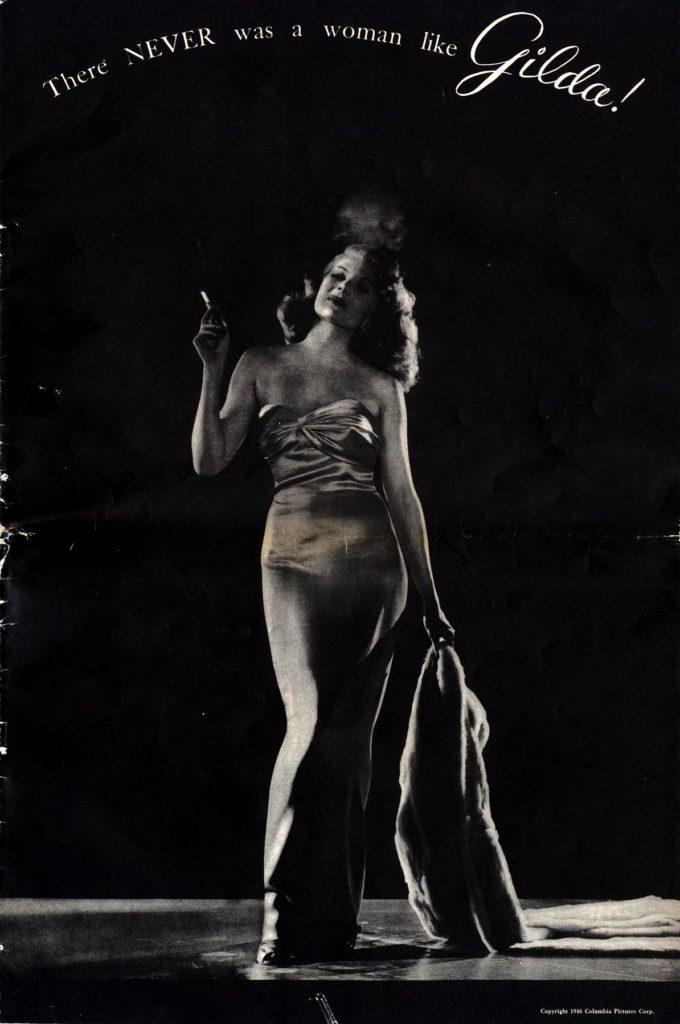 GILDA (1946)
Sold
Vintage original 12 x 18″ (31 x 46 cm.) campaign book, 32 pp. plus 16-page advertising section, USA. Rita Hayworth, Glenn Ford, George Macready, Joseph Calleia, dir: Charles Vidor; Columbia. One of the quintessential film noir titles, with star Rita Hayworth becoming film history's iconic femme fatale.
The cover and back of the book features one of the most famous publicity shots of all time, utilized fully and in part for scores of publicity campaigns for the film and the star. Hayworth is featured in what is likely her most famous costume — a gown designed by Jean Louis. In the film she performs the musical number "Put the Blame on Mame" while wearing this gown. To this day Hayworth's performance is most appealing not only because of her sex appeal, but because of her pathos and vulnerability.
The campaign book is lavish as Columbia was keen on promoting their most popular female star. It opens up to a gatefold featuring various stills of Hayworth in the famous costume and an array of movie magazine covers, articles and ads she appeared in to promote the film. Featured is a parade of gowns inspired by the Jean Louis fashions, radio promos, lobby displays including special cut-out pieces, records, sheet music, articles — including one on the screen's "meanies" (actresses who made good playing bad characters), promos and posters. There is also the separate 16-page advertising booklet. No cuts, folded (as issued), there is some wear to left border, NEAR FINE.
Out of stock
Share With Friends: