SANDRA BERNHARD / I'M STILL HERE… DAMN IT! (1988)
New York: Booth Theatre, [1988]. Vintage original 36 x 24 1/2″ (92 x 62 cm.) poster, USA. Folded (as issued), JUST ABOUT FINE. VIEW DETAILS
Poster for SANDRA BERNHARD: I'M STILL HERE… DAMN IT, a one-woman comedy show given in a limited engagement on Broadway, which ran from November 5, 1988 to January 2, 1989. In the late 1980s,
In the middle of the 1970s Sandra Bernhard became a staple at The Comedy Store. As her popularity as a comedian grew, in 1977 she was cast as a supporting player on The Richard Pryor Show. Her big break came in 1983 when she was cast by Martin Scorsese to star as stalker and kidnapper Masha in the film The King of Comedy for which she won the National Society of Film Critics Award for Best Supporting Actress. Bernhard was also a frequent guest on David Letterman's NBC program Late Night with David Letterman, making 28 appearances starting in 1983.
She began performing her first one-woman show called I'm Your Woman in 1985, and an album version was released. She launched an off-Broadway one-woman show called Without You, I'm Nothing, With You, I'm Not Much Better in 1988.
It was during the run of 'Without You, I'm Nothing, With You, I'm Not Much Better' that Bernhard appeared with her then-good friend (and rumored lover) Madonna on a 1988 episode of Late Night with David Letterman. The two alluded to their romantic relationship and staged a sexy confrontation; the appearance received much publicity.
In 1991, Bernhard began playing the role of Nancy Bartlett on the hit sitcom Roseanne. She appeared in 33 episodes between 1991 and 1997 and was one of the first actresses to portray an openly bisexual recurring character on American television.
Bernhard returned to Broadway in 1998 with the show I'm Still Here… Damn It!, recorded for a live comedy album. At that time of the show, Bernhard was pregnant. She gave birth to daughter Cicely Yasin Bernhard on July 4, 1998 whom she has raised with her longtime partner, Sara Switzer. Bernhard is bisexual and a strong supporter of gay rights.
For more information about her career, please visit Wikipedia from which this content was extracted.
CASSELBERRY & DUPREE (MAY 30, 1980)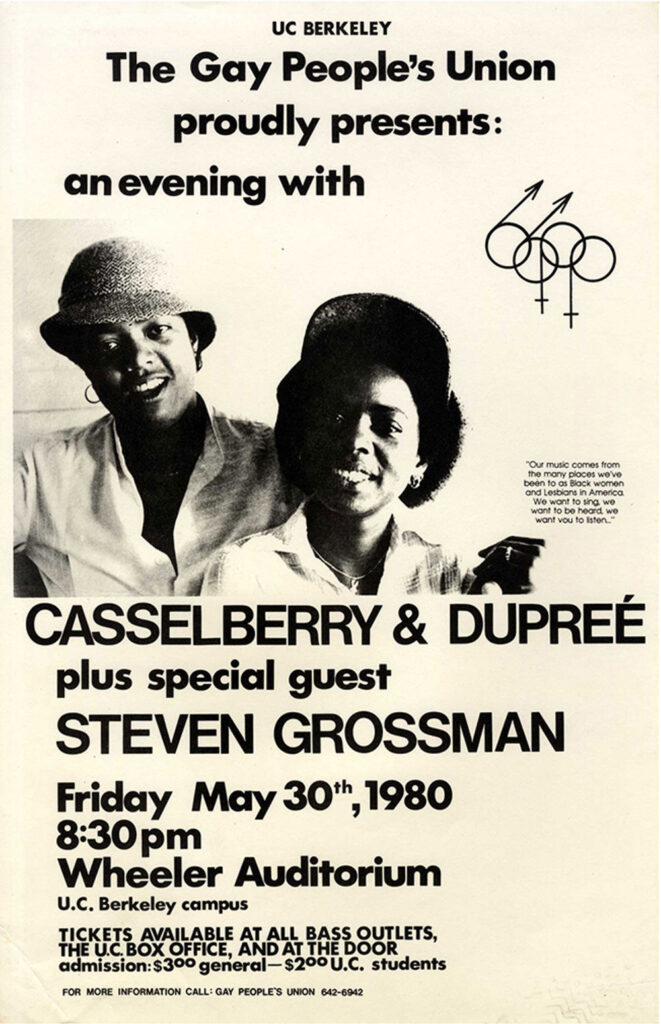 UC BERKELEY The Gay People's Union proudly presents: An Evening with CASSELBERRY & DUPREE plus special guest STEVEN GROSSMAN (May 30, 1980) Vintage original 17 x 11″ (43 x 27 cm.) musical performance poster. Slight marginal creasing, JUST ABOUT FINE. VIEW DETAILS
Jaqu'e Dupree and J. Casselberry met in high school and have, for more than a decade, worked together in a duo called, quite naturally, Casselberry-Dupree.
The duo has performed with Harry Belafonte and Whoopi Goldberg and in the Academy Award-nominated documentaries "Art Is" and "The Life and Times of Harvey Milk."
"We have different backgrounds," says Dupree, explaining the diversity of their music. "I grew up listening to church music, and J. grew up listening to big band and classical." "Our music comes from the many places we've been to as Blackwomen and Lesbians in America. We want to sing, we want to be heard, we want you to listen."
DAME JUDITH ANDERSON AS HAMLET (1970-71)
Vintage original 20 x 14″ (51 x 36 cm.) window card poster. Minimal bumping at edges, JUST ABOUT FINE. VIEW DETAILS
"Employing a heavily cut text and minimalist setting, the production relied on the power of voice to illuminate Shakespeare's poetry. Yet most viewers were unable to see past Anderson's seventy-three-year-old female body to the spirit of her Hamlet, and her performance was widely criticized. Despite its disappointing reception at the time…, Anderson's Hamlet was an extraordinary exercise in boundary crossing—rejecting conventions of Shakespearean performance alongside those of age and gender. Furthermore it refused to be aligned with either classical theatre or avant-garde performance, existing in a state of otherness and demanding to be assessed on its own terms." (Gregory, "Crossing Genre," JADT, vol. 26, No. 1.)
Dame Frances Margaret Anderson, AC, DBE (10 February 1897 – 3 January 1992), known professionally as Judith Anderson, was an Australian actress who had a successful career in stage, film and television. A preeminent stage actress in her era, she won two Emmy Awards and a Tony Award and was also nominated for a Grammy Award and an Academy Award. She is considered one of the 20th century's greatest classical stage actors.
Judith Anderson had an extraordinary career and was married twice, declaring that "neither experience was a jolly holiday."
To see the breadth and depth of her career please visit Wikipedia.
DOROTHY ARZNER (CA. 1930-37) SET OF 3 PHOTOS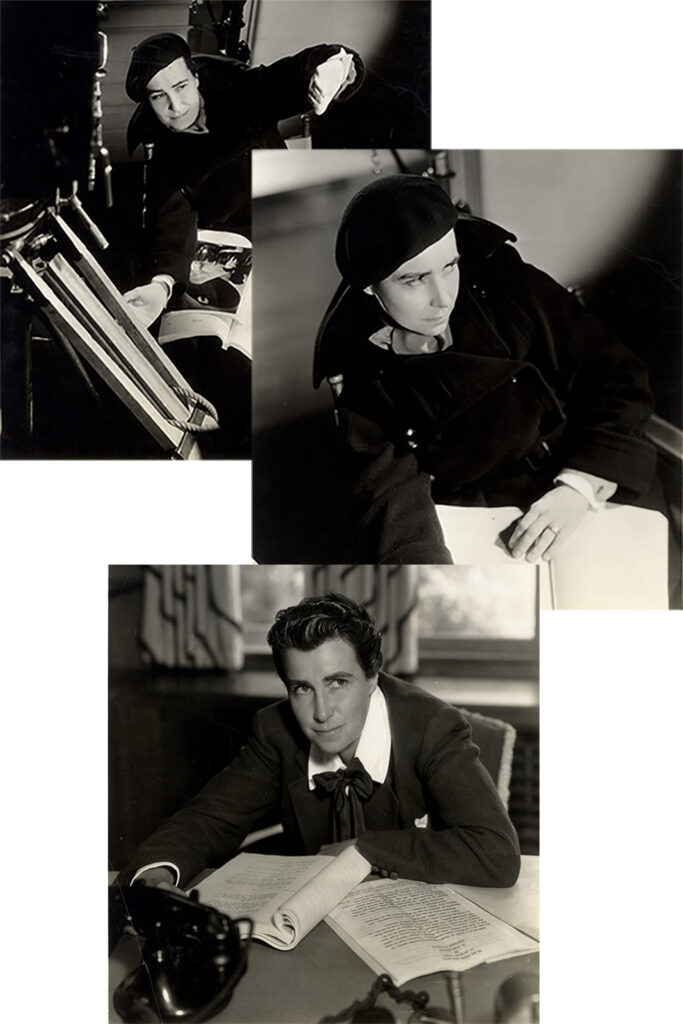 Three vintage original 8 x 10″ (20 x 25 cm.) photos, USA. One photo has diagonal creases near bottom and other signs of light handling, VERY GOOD-; the other two are linen-backed keybook photos, NEAR FINE. VIEW DETAILS
Dorothy Emma Arzner (January 3, 1897 – October 1, 1979) was an American film director whose career in Hollywood spanned from the silent era from 1927 until her retirement from feature directing in 1943. Arzner made a total of twenty films and launched the careers of a number of Hollywood actresses, including Katharine Hepburn, Rosalind Russell, and Lucille Ball. Additionally, Arzner was the first woman to join the Directors Guild of America and the first woman to direct a sound film.
Arzner would maintain a forty-year relationship with Marion Morgan, a dancer and choreographer who was ten years older than Arzner. Even though she tried to keep her private life as private as possible, Arzner had been linked romantically with a number of actresses, including Alla Nazimova and Billie Burke. She never hid her sexual orientation, nor her identity; her clothing was unconventional for a woman of that time, she wore suits or straight dresses. In 1930, Arzner and Morgan moved to Mountain Oak Drive, where they lived until Morgan's death in 1971.
Arzner's Legacy
Arzner's work, both as a female filmmaker and a lesbian filmmaker, has been an important area of film studies. Perhaps due to Arzner's leaving Hollywood in the 1940s, her work had been all but forgotten until the 1970s when she was rediscovered by feminist film theorists. Since then Arzner's films have been studied for their depictions of gender and female sexuality.
Wikepedia
Alla Nazimova, Billie Burke, Emmy Award Winner, Film Critics Award, lesbian filmmaker, member Directors Guild of America (DGA), The Comedy Store, Tony Award winner