June is Pride Month celebrating our LGBTQ community and its history. In its honor, WalterFilm.com presents six posters of performers and plays that reflect LGBTQ's diversity and creativity. From Dame Judith Anderson, doyenne of the classical American stage, fulfilling her long-held desire to, at the age of seventy-three, play the title role in Hamlet, to Charles Ludlam's first playwriting venture, Big Hotel, that became the unofficial manifesto of his Ridiculous Theater Company's artistic creed, we are to pleased to highlight their courage and contribution.
---
$650
New York (1985), Vintage original 22 x 14″ (56 x 36 cm.) window card theater poster, USA. just about fine.
As Is by William M. Hoffman, was among the very first plays to deal with the unfolding catastrophe of AIDS. It was first produced by Circle Repertory Company (Circle Rep) and The Glines and directed by Marshall W. Mason where it ran for 49 performances.
On May 1, 1985 it moved to the Lyceum Theatre on Broadway, . The cast included Robert Carradine, Jonathan Hadary, Jonathan Hogan, Lou Liberatore, Ken Kliban, and Claris Erickson. It was nominated for the 1985 Tony Award for Best Play and won the 1985 Drama Desk Award and Obie Award for Outstanding New Play and Production.
William M. Hoffman Who Wrote the Pioneering AIDS Play 'As Is,' Dies at 78
William M. Hoffman, whose epochal play "As Is" was in the vanguard of Broadway's coming to grips with the AIDS epidemic also wrote the groundbreaking libretto for John Corigliano's opera "The Ghosts of Versailles."
Mr. Hoffman began his career as a book editor at Hill and Wang, where he published gay and lesbian playwrights (LGBTQ) in the "New American Plays" series and in the 1979 anthology "Gay Plays: The First Collection." In doing so, he promoted the careers of Jane Chambers, Tom Eyen, Joe Orton, Robert Patrick and Lanford Wilson, among others.
In 1985, Mr. Hoffman's As Is and Larry Kramer's The Normal Heart represented the opening salvo in the theatrical war against AIDS
As Is is "very specifically about gay relationships, the problems that straights have in understanding and accepting gay sexuality, as well as the problems gays face in trying to deal with the disease that is destroying them," Joel Shatzky wrote in a 1992 essay, "AIDS Enters the American Theater: 'As Is' and 'The Normal Heart.'"
Mr. Hoffman adapted the play for television in 1986, on the Showtime network, directed by Michael Lindsay-Hogg starring Jonathan Hadary, Robert Carradine, and Colleen Dewhurst. Both Hadary and Carradine were nominated for CableACE Awards. NY Times Obituary, May 1, 2017 (edited)
---
CHARLES PIERCE IN APPLAUSE
1974 Vintage original 22 x 14″ (56 x 36 cm.) window card theater poster, USA, with light wear at marginal blank edges, overall VERY GOOD+ or better.
Pierce here starred as Margo Channing in this staging of musical based on ALL ABOUT EVE. Pierce made a strong impression in this part, and was considered by many one of the best of the many performers who took on this role. Pierce may have been the most famous American transgendered performer of his generation (he was famous for his Bette Davis, although it is said that, when Davis attended a Pierce act in which he did her, she claimed to be unimpressed).
Charles Pierce (July 14, 1926 – May 31, 1999) was one of the 20th century's foremost female impersonators, particularly noted for his impersonation of Bette Davis.
Initially playing in small gay clubs, his fame spread. He took up residence in San Francisco, where his act became well known to Hollywood stars. His imitations were imitated by other female impersonators, and his roles included Bette Davis, Mae West, Tallulah Bankhead, Gloria Swanson, Carol Channing, Katharine Hepburn, and Joan Crawford, and these roles became the drag queen canon. His act was centered on wit rather than mimicry; however, it often was said that he looked more like Joan Collins than Joan Collins herself.
He performed at many clubs in New York, including The Village Gate, Ted Hook's OnStage, The Ballroom, and Freddy's Supper Club. His numerous San Francisco venues included the Gilded Cage, Cabaret/After Dark, Gold Street, Bimbo's 365 Club, Olympus, The Plush Room, the Venetian Room at the Fairmont Hotel, Louise M. Davies Symphony Hall, and the War Memorial Opera House.
Carol Channing was one of two Hollywood celebrities Pierce "impersonated" who actually saw his act. She went backstage after a show at Gold Street in San Francisco (c. 1972) and said "Cheee-yarles: you do me better than I do!" Wikipedia.org
Charles Pierce In Applause
"On a May evening in 1974, Kimo Production presented Applause starring Charles Pierce and the old California Hall was packed. Charles was brilliant as Margo Channing, and the reviewers raved. He was totally believable in the role, and though he was not a singer or dancer, he went through his paces like the professional that he was." From: Drags to Riches – The Untold Story of Charles Perce, by John Wallraff
---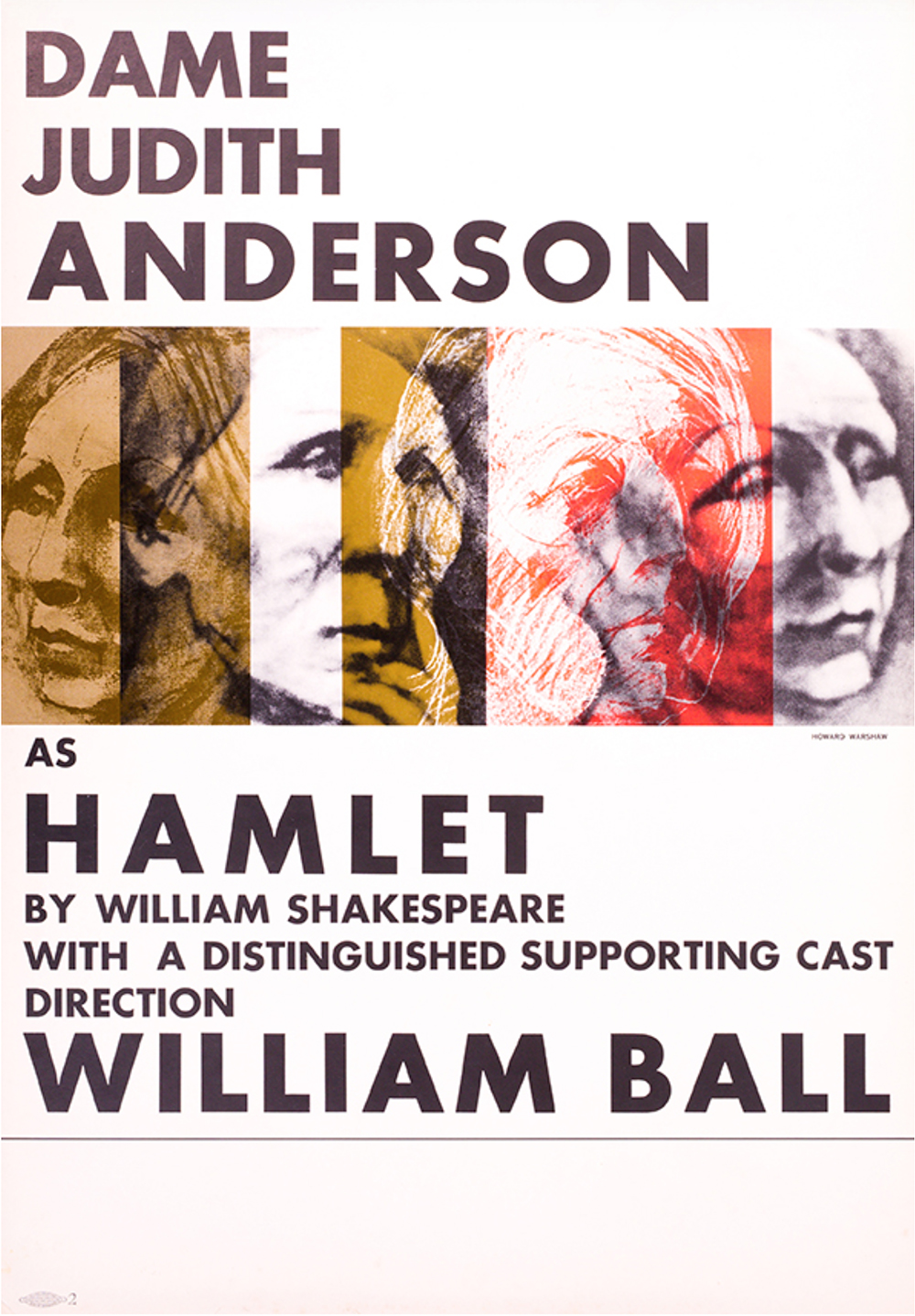 $750
[1970-71] Vintage original 20 x 14″ (51 x 36 cm.) window card poster. Minimal bumping at edges, Just About Fine.
"In 1970 Judith Anderson, doyenne of the classical American stage, fulfilled a long-held desire to play the title role in Hamlet. Employing a heavily cut text and minimalist setting, the production relied on the power of voice to illuminate Shakespeare's poetry. Yet most viewers were unable to see past Anderson's seventy-three-year-old female body to the spirit of her Hamlet, and her performance was widely criticized.
Despite its disappointing reception at the time…, Anderson's Hamlet was an extraordinary exercise in boundary crossing—rejecting conventions of Shakespearean performance alongside those of age and gender. Furthermore, it refused to be aligned with either classical theatre or avant-garde performance, existing in a state of otherness and demanding to be assessed on its own terms." (Gregory, "Crossing Genre," JADT, vol. 26, No. 1.)
---
$1,500
New York: Ridiculous Theatrical Company, [1968]. Vintage original 14 x 8 ½" (36 x 21 cm.), poster. Just about fine.
Charles Ludlam (Playwright And Director)
Charles Ludlam's first play, a comic melodrama about the residents of a large hotel. It was originally presented in an East Side loft and directed by John Vaccaro, who later had a falling out with Ludlam. This poster is for a 1968 revival, this time directed by Ludlam, which was at the very beginning of his creation of his Ridiculous Theatrical Company. The initials "JS "at the bottom left are thought to be those of designer Jack Smith.
Big Hotel was Charles Ludlam's first playwriting venture and, we can see, an unofficial manifesto of the Ridiculous artistic creed. A collage of transvestite clowning and classical references (whether to Aristotle or Cecil B. DeMille), it owes far more to the shaggy blackout sketches of burlesque than it does to the taut threads of the well-made play. Yet for all its storytelling anarchy and St. Marks Baths locker-room humor, Big Hotel is the outpouring of a playwright well-schooled in the dramatic conventions he wanted either to invert or deconstruct. Ludlam knew almost everything about the theater and, as young writers are wont to do, didn't hesitate to remind the audience of his precocity, sometimes in verse." New York Times, Frank Rich, September 29, 1989 (edited),
---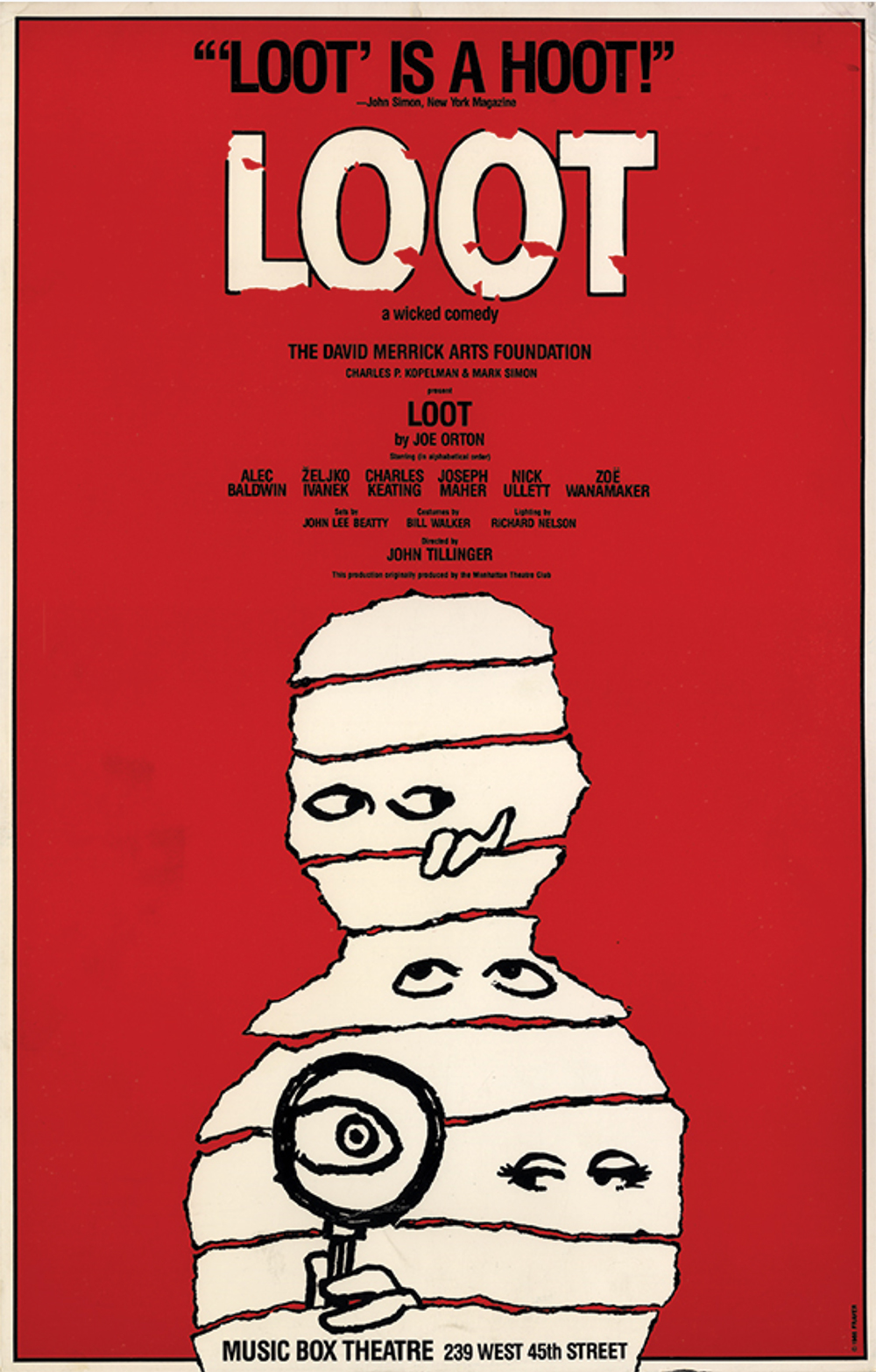 $300
New York: David Merrick, 1986, Broadway Poster. Vintage original 22 x 14" (56 x 36 cm.) .
Alec Baldwin made his Broadway debut in this revival of the play.
Joe Orton was a working-class, gay playwright whose outrageous black comedies scandalized theatre audiences in the 1960s.
Loot, a two-act play is a dark farce that satirizes the Roman Catholic Church, social attitudes to death, and the integrity of the police force.
Loot was Orton's third major production, following Entertaining Mr Sloane and the television play The Good and Faithful Servant. Playing with the conventions of popular farce, Orton creates a hectic world and examines English attitudes and perceptions in the mid twentieth century. The play won several awards in its London run and has had many revivals.
The play had its first Broadway production in New York at the Biltmore Theatre. It opened on 18 March 1968. Kenneth Cranham played Hal (as he had in the 1966 London production), James Hunter played Dennis, Liam Redmond played McLeavy, Carole Shelley played Fay, George Rose played Truscott, and Norman Barrs played Meadows. It was directed by Derek Goldby and designed by William Ritmann. The play was profiled in the William Goldman book The Season: A Candid Look at Broadway.
---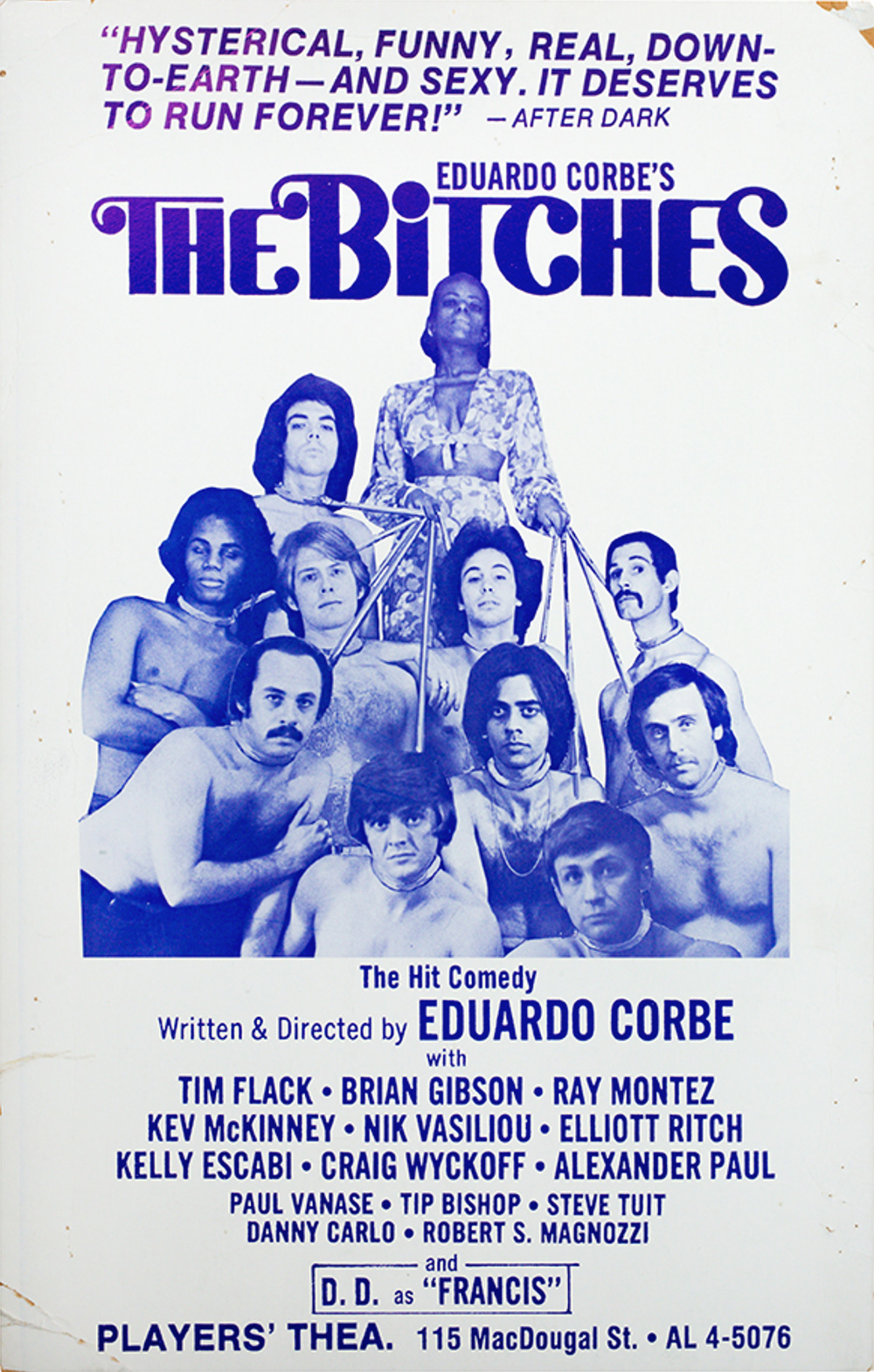 $500
Vintage original 1972, 22 x 14″ (56 x 36 cm.) window card theater poster, USA. Unfolded, with some light creases and other signs of minor marginal handling, NEAR FINE.
This play by Eduardo Cortes was an all-male reimagining of Clair Booth Luce's THE WOMEN. It gets discussed in Michael Schiavi's CELLULOID ACTIVIST: THE LIFE AND TIMES OF VITO RUSSO, where a Russo review of it gets quoted: "I am tired of hearing about how all gays are bitchy queens. I resent being represented as something I'm not." (p. 109).