by Bill Reed
In the first half of the 20th century these eight, great black jazz musicians, who helped to create one of America's unique contributions to the musical canon, come alive in the wonderful posters, photographs and promotional pieces that are part of WalterFilms' collection of African Americana. Jazz, a music genre that originated in the African American community, is known for its soulfulness and complex musical variations. Click on an image to view offering.
MILES DAVIS
Background
One of the greats in the pantheon of African Americana is Miles Davis (seen above). Davis picked up the trumpet at age 13. Before it was all over, he'd won just about every honor and glory a jazz musician can achieve, including six Grammys and numerous best-selling albums. The Grammy Hall of Fame inducted ten of his releases, including 1949's Birth of the Cool and, from a decade later, Kind of Blue. *
The groundwork above and much more was laid down when, in 1944, he relocated to New York City. He soon became part of the wellspring of the new jazz sound, known as be-bop. His contemporaries included the likes of bandleader Billy Eckstine, alto sax giant Charlie Parker and trumpeter Dizzy Gillespie.
Before long, Davis became well-known enough to start up his own small music group. It included name musicians, like Sonny Rollins and Art Blakey. Its descriptive title . . . "The New Sounds."
On The Way Up
In rapid order came two record contracts. The first was with the noteworthy Prestige outfit, followed by a mainstream affiliation with none other than one of THE big three record labels: Columbia.
The "Ig Time
There are far too many highpoints to address here; however, two which cry out are the album Kind of Blue (1959), which became the most significant selling jazz album of its day, and the Miles Davis-[arranger] Gil Evans big band trilogy: Miles Ahead, Porgy and Bess and Sketches of Spain. One of his major European engagements included a period of early '50s residency in France where he was awarded the <iframe width="560″ height="315″ src="https://www.youtube.com/embed/ZzKUVsHL7ac" frameborder="0″ allow="accelerometer; autoplay; encrypted-media; gyroscope; picture-in-picture" allowfullscreen></iframe>, rubbed shoulders with the likes of Jean Cocteau, and conducted an affair with singer Juliette Greco.
Final Days
Davis' later years were filled with many health issues resulting in the musician's death at the relatively young age of 65. Inasmuch as this WalterFilm photo of Davis does not seem to appear in other known jazz collections, it should be regarded as rare.
---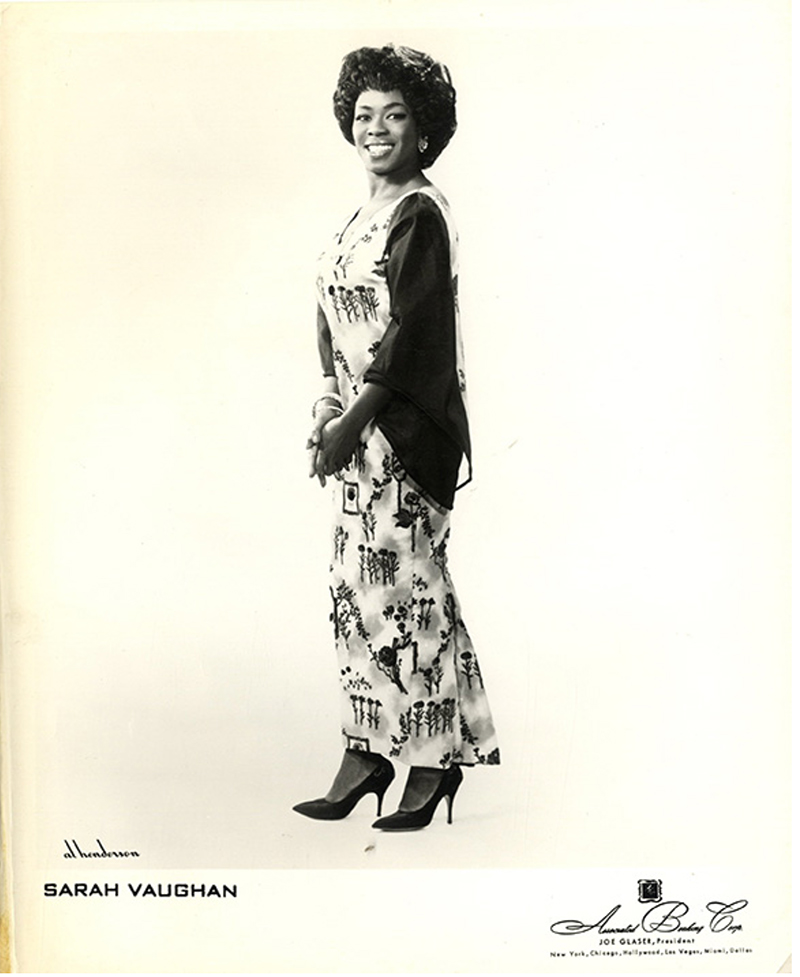 SARAH VAUGHAN
Two Legs Up
No doubt about it. The numbers one and two female jazz vocalists in the golden age of the art form were Ella, Fitzgerald and Sarah Vaughan. Three-quarters of a century later, that still — more or less — holds true.
Along the way, there were many memorable recordings, and the winning of countless awards, including four Grammys.
Though Sarah came along a decade-or-so later after Ella, like "First Lady of Song" Fitzgerald, she got a head start by winning the historic talent contest at Harlem's Apollo Theater.
One of her very earliest sides, "Lover Man," (1945) found her backed by Charlie "Bird" Parker (also in this WalterFilm collection) and Dizzy Gillespie. Several decades later, France's Michel Legrand made a recording with Vaughan. He remarked of her, "She sings from the stars."
Not long after completing her final recording in 1990, "Sassy," as Vaughan was lovingly nick-named, passed away.
---

DUKE ELLINGTON
There is little question that Duke Ellington was the most famous, respected, charming, talented, elegant figures of the jazz musician and "beyond category" a definition oft-used to describe him.
The elegance of this WalterFilm poster gives some sense of how much admiration his label, Victor, accorded him. The Master had been primarily with that label from 1924 onward, with stops along the way at Columbia, Capitol, and Bethlehem records.
Flash forward to the end of his life (in 1974), and Ellington had created music for just about every form of show business, including theatre and film.
The Duke once claimed that the only reason he kept his band together was so that he could hear what his imaginary musical notes on paper sounded like in real-time. A hang-up for which we, his listeners, are eternally grateful.
This retail store advertisement (above) does not appear to have been recycled into any other Victor placement, i.e. catalogs, record jackets, etc., which would make it doubly rare.
---
NANCY WILSON
Right Out Of The Starting Gate
Born in Ohio, jazz vocalist Nancy Wilson, after much performance time on the road, arrived in New York City in 1960. She soon signed with Capitol Records. Right off, she had the good fortune to record with the label's stars Cannonball Adderley and George Shearing. Both recordings were hits. It probably helped in marketing Wilson that she was exceptionally attractive.
Wilson would have a successful career with Capitol, lasting from that start in '60 to 1971. She would also have success on TV–with her own show, in nightclubs, jazz festivals, etc. Her honors were many, including multiple Grammys and the Martin Luther King Jr. Center for Nonviolent Social Change. She continued to perform and record with other labels until 2011. It was then that she remarked: "I'm not going to be doing it anymore, and what better place to end it than where I started, in Ohio" –– her last professional engagement. She died in 2018.
---
CHARLES MINGUS
Versatility Personified
It was a long row to hoe for this master musician, from the '40s L.A. Central Avenue Swing-to-Bop crossover scene. Eventually, however, he could be found starring at the likes of major Japan concert halls. In 1971, he even recorded an album while performing there.
Tracks Record
Mingus had first recorded in the early 1940s. The overall sound was much like swing stars of that era, such as Benny Goodman. However, a Mingus 78 rpm disc from just a few years finds this player/composer/arranger thoroughly ensconced in the bubbling bop cauldron.
Later in his career, Mingus could be found versatile enough to be performing with players from any era. An example: an early Sixties trio of Mingus, vibist Red Norvo and guitarist Tal Farlow.
Way Too Soon
Although Mingus died at 56, his name remains high on the list of jazz greats. Two major documentaries attest to this.
---

LIONEL HAMPTON
Musical Integration
In addition to his significant seven-decades-long career as a jazz musician, bandleader, vibes player, African-American Lionel Hampton (1908-2002) is also remembered for another undertaking. In 1936 he helped Benny Goodman tear down the walls between white and black musicians in "live" performances.
Years later, Hampton observed: "The Benny Goodman Quartet made it possible for Jackie Robinson to get into major league baseball. This was such an important development that we just cannot fluff it off or forget about it."
This re-formatted groundbreaking Goodman Quartet would end up playing at the likes of the Waldorf-Astoria.
Of interest is the number of awards Hampton received along the way, including the National Medal of Arts and several Honorary Doctorates.
Somewhat ironically, Hampton's big band ended up lasting even longer than Goodman's. It has the distinction of giving jazz vocal stars Betty Carter and Little Jimmy Scott their first big.
---

CHARLIE PARKER
Fast Forward
Starting in the mid-Thirties, alto saxophonist Carlie Parker found himself inspired by the swing era likes of Ellington and Basie. But not for long. It would not be stressing things too much in calling this Kansas City, Missourian, "the man who invented modern jazz."
Parker has received numerous forms of tribute, including documentaries, biographies, and stage productions, with one of the most well-regarded being the big screen docudrama, Clint Eastwood's Bird.
As noted in the description of the press kit herein for director Clint Eastwood's daring work, the film "remains one of the few classic movies about jazz."
Sadly, Parker dies at the implausibly early age of 34. One can only wonder how he would have developed artistically if he had been given more time. Parker is a prime example of The Good Die Young.
---

COUNT BASIE
On The T.O.B.A *
Starting in show business, pianist Count Basie worked as a back-up player on the historic black vaudeville circuit, the Theater Owners Booking Association *. Eventually, these musical meanderings landed him in Kansas City, Missouri. It was there, in 1935, that he founded his first big band, which would endure for the next half-century.
Basie didn't leave his Jersey home (and place of birth) entirely behind; he would become widely known as "The Kid from Red Bank." It stuck with him for the rest of his life.
However, a few of the noteworthy Basie instrumentalists and singers who gained early-on professional experience include Lester Young and Freddie Green, and songsters, Joe Williams and Jimmy Rushing.
The Count was especially popular with Jewish comedians, namely Jerry Lewis (Cinderfella) and Mel Brooks (Blazing Saddles).
---
WALTER FILM'S AFRICAN AMERICANA COLLECTION
WalterFilm.com offers a range of African-American Cultural History that celebrates the achievements of black actors, black artists, black musicians, black athletes, black politicians, and other members of this country's African-American Community. To see the extensive vintage original collection click on this link; African-American Collectibles and Black Memorabilia,
---
Our Guest Author
BILL REED
Bill Reed is a journalist and writer whose articles on show business, the arts, and popular music have appeared in a wide variety of publications, including Rolling Stone, the San Francisco Examiner, International Documentary, and Japan's Swing Journal. Among his books are: Hot from Harlem: Profiles in Classic African-American Entertainment, Brains as Well as Feet, Early Plastic: A Memoir, and Shared Air: My Six-Decade Interface With Celebrity. He as also worked as a video jack-of-all-trades for the Criterion Collection, and produced many jazz recordings for SSJ Records, Japan.
More: https//musicians.allaboutjazz.com/billreed