Andy Warhol born Andrew Warhola Jr.; August 6, 1928 – February 22, 1987) was a seminal American visual artist, film director and producer, and a leading figure in the visual art movement known as pop art. His works explore the relationship between artistic expression, advertising, and celebrity culture that flourished by the 1960s, and spaned a variety of media, including film, photography, painting, silkscreening, and sculpture.
THE ABOVE IMAGE IS ANDY WARHOL'S FLESH (1968; 1971 FIRST UK RELEASE) PROGRAM
Vintage original 11 x 8 ½" (28 x 22 cm.) program, UK. Joe Dallesandro, dir: Paul Morrissey; Vaughan Films
Born and raised in Pittsburgh, Warhol initially pursued a successful career as a commercial illustrator. After exhibiting his work in several galleries in the late 1950s, he began to receive recognition as an influential and controversial artist, as he lived openly as a gay man prior to the LGBTQ rights movement, and the subsequent gay liberation movement.
His New York studio, The Factory, became a well-known gathering place that brought together distinguished intellectuals, drag queens, playwrights, Bohemian street people, Hollywood celebrities, and wealthy patrons. He promoted this collection of personalities. known as Warhol superstars, and is credited with inspiring the widely used expression "15 minutes of fame".

ANDY WARHOL'S MY HUSTLER (1965) PHOTO FT. JOSEPH CAMPBELL, CHUCK WEIN
The Film Art Of Warhol
As David Bourdon describes in the May/June 1971 issue of Art in America (vol. 59 no. 3),
Far from being a neutral and impassive recorder of daily life, or a cinematic journalist documenting present-day depravity, Andy Warhol has constructed a stylized, extremely interpretive view of contemporary life that, however real it might seem on screen, is closer to fantasy than to any kind of reality with which most of us are familiar.
More talked about than seen, more emulated than admired, Andy Warhol's films will probably survive as legends rather than as living classics that people will want to see again and again. Currently, there is a fairly broad consensus that he is among the most important, provocative and influential filmmakers of the sixties.
To the general public, he is best known as the originator of the marathon motionless movie, whose petrified camera dutifully records an inactive image, and as the purveyor of voyeuristic nudity, obscenity, homosexuality, transvestitism, drugs and various other X-rated activities.
But to art and cinema connoisseurs Warhol has scored many conceptual coups and stylistic innovations: some see him as a "primitive" who has taken cinema "back to its origins, to the days of Lumiere, for a rejuvenation and a cleansing" (Jonas Mekas); others see him as an especially gifted recorder of "the seemingly unimportant details that make up our daily lives" (Samuel Adams Green).
A lot has been made of how scrupulously he records ordinary events "as they are," and of his beneficent inclination to let his performers just "be themselves." Finally, there has been a great deal of emphasis on his equation of real-time with reel-time – if it takes a man three minutes to eat a banana, that slice of life is filmed and projected for three minutes without cuts. But far from being literal transcriptions of reality, Warhol's films are more inventive, artificial and art-directed than some of his admirers would like to believe.
Film At The Factory
Between 1963 and 1968, Andy Warhol made more than 60 films, plus some 500 short black-and-white "screen test" portraits of Factory visitors. One of his most famous films, Sleep, monitors poet John Giorno sleeping for six hours. The 35-minute film Blow Job is one continuous shot of the face of DeVeren Bookwalter supposedly receiving oral sex from filmmaker Willard Maas, although the camera never tilts down to see this. Empire (1964), projects eight hours of footage of New York City's Empire State Building at dusk. The film Eat reveals a man eating a mushroom for 45 minutes.
Batman Dracula is a 1964 film that was produced and directed by Warhol, without the permission of DC Comics. It was screened only at his art exhibits. A fan of the Batman series, Warhol's movie was an "homage" to the series, and is considered the first appearance of a blatantly campy Batman.
Warhol's 1965 film Vinyl is an adaptation of Anthony Burgess' popular dystopian novel A Clockwork Orange. Others record improvised encounters between Factory regulars such as Nico, Joe Dallesandro, Edie Sedgwick, Viva, Ultra Violet, Holly Woodlawn, Jackie Curtis, and Candy Darling. The underground artist Jack Smith appears in the film Camp.
His most popular and critically successful film was Chelsea Girls (1966). The film was highly innovative in that it consisted of two 16 mm-films being projected simultaneously, with two different stories being shown in tandem. From the projection booth, the sound would be raised for one film to elucidate that "story" while it was lowered for the other. The multiplication of images evoked Warhol's seminal silk-screen works of the early 1960s.
ANDY WARHOL'S CHELSEA GIRLS (1970) UK POSTER BY ALAN ALDRIDGE
Blue Movie—a film in which Warhol superstar Viva makes love in bed with Louis Waldon, another Warhol superstar—was Warhol's last film as director. The film, a seminal film in the Golden Age of Porn, was, at the time, controversial for its frank approach to a sexual encounter.

ANDY WARHOL'S FLESH (1968) ONE SHEET POSTER [New York]: Sherpix, [1968].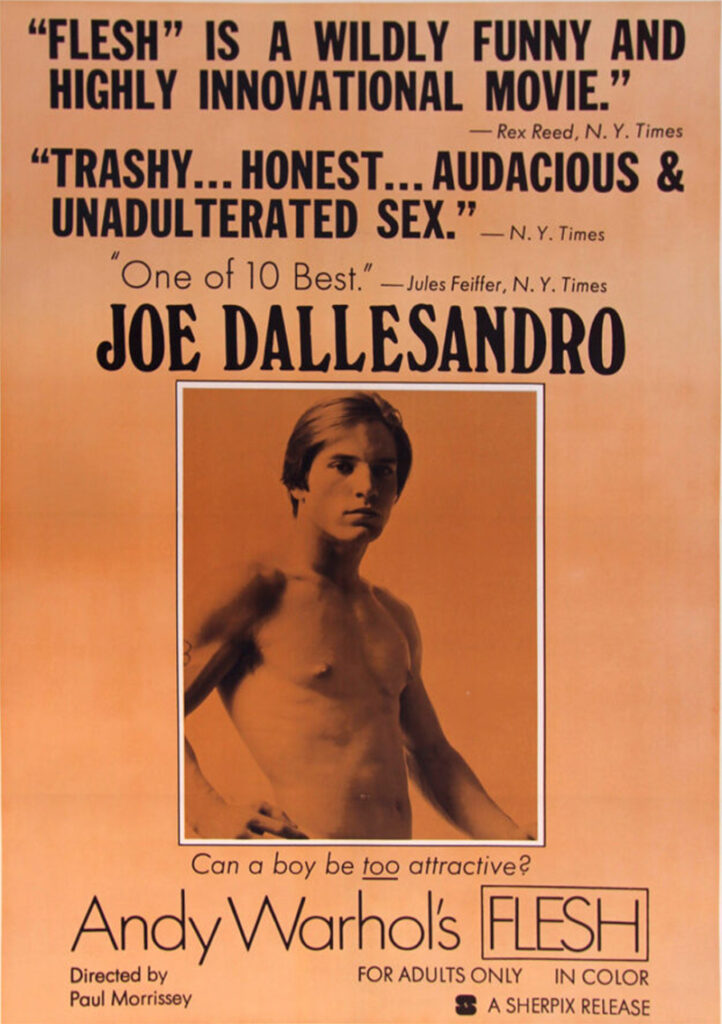 1968 Assassination Attempt
On June 3, 1968, radical feminist writer Valerie Solanas shot Warhol and Mario Amaya, art critic and curator at the Factory. Amaya received only minor injuries; but Warhol was seriously wounded by the attack and barely survived. He had physical effects for the rest of his life, including being required to wear a surgical corset. The shooting had a profound effect on his life and art.

ANDY WARHOL'S MY HUSTLER (1966) WINDOW CARD POSTER New York
The assassination attempt resulted in the reclusive Warhol relinquishing his personal involvement in film making. His acolyte and assistant director, Paul Morrissey, took over the film-making chores for the Factory collective, steering Warhol-branded cinema towards more mainstream, narrative-based, B-movie exploitation fare with Flesh, Trash, and Heat. All of these films, including the later Andy Warhol's Dracula and Andy Warhol's Frankenstein, were far more mainstream than anything Warhol as a director had attempted. These latter "Warhol" films starred Joe Dallesandro—more of a Morrissey star than a true Warhol superstar. After the shooting, the Factory scene heavily increased its security, and for many the "Factory 60s" ended.
Warhol's Reaction
Before I was shot, I always thought that I was more half-there than all-there—I always suspected that I was watching TV instead of living life. People sometimes say that the way things happen in movies is unreal, but actually it's the way things happen in life that's unreal. The movies make emotions look so strong and real, whereas when things really do happen to you, it's like watching television—you don't feel anything. Right when I was being shot and ever since, I knew that I was watching television. The channels switch, but it's all television.

ANDY WARHOL'S TRASH (1970; 1971 GERMAN RELEASE) PHOTO
Andy Warhol's Legacy
Andy Warhol died in February 1987 in New York City of cardiac arrhythmia, following gallbladder surgery, at the age of 58.
He has been the subject of numerous retrospective exhibitions, books, and feature and documentary films. The Andy Warhol Museum in his native city of Pittsburgh, which holds an extensive permanent collection of art and archives, is the largest museum in the United States dedicated to a single artist. Warhol has been described as the "bellwether of the art market". Many of his creations are very collectible and highly valuable. His works include some of the most expensive paintings ever sold.