Dorothy Jean Dandridge (November 9, 1922 – September 8, 1965) was an American film and theatre actress, singer, and dancer. She is one of the earliest black movie stars and the first woman of color to be nominated for the Academy Award for Best Actress, which was for her performance in Carmen Jones (1954).
Early Dandridge
Dandridge performed as a vocalist in venues such as the Cotton Club and the Apollo Theater. During her early career, she performed as a part of The Wonder Children, later The Dandridge Sisters, and appeared in a succession of films, usually in uncredited roles.
She continued to appear occasionally in films and on the stage throughout the 1940s, and as a band singer with Count Basie in Hit Parade of 1943 and Louis Armstrong, Atlantic City 1944 and Pillow to Post 1945.
Dandridge's first credited film role was in Four Shall Die (1940). The race film cast her as a murderer and did little for her film career. Because of her rejection of stereotypical black roles, she had limited options for film roles. Aside from her film appearances, Dandridge appeared in a succession of "soundies" – film clips that were displayed on jukeboxes, including "Paper Doll" by the Mills Brothers, "Cow, Cow Boogie", "Jig in the Jungle", and "Mr. and Mrs. Carpenter's Rent Party" also called "Swing for my Supper." These films were noted not only for showcasing Dandridge as singer and dancer and her acting abilities, but also for featuring a strong emphasis on her physical attributes.
In May 1951, Dandridge spectacularly opened at the Mocambo nightclub in West Hollywood This success seemed a new turn to her career and she appeared in New York and at Café de Paris in London with equal success. In a return engagement at the Mocambo in December 1952, a Metro-Goldwyn-Mayer studio agent saw Dandridge and recommended her to production chief Dore Schary
Her acquaintance with Dore Schary resulted in his casting Dandridge as Jane Richards in Bright Road—her first starring role, projecting herself as a "wonderful, emotional actress." The film, which centered on a teacher's struggles to reach out to a troubled student, marked the first time Dandridge appeared in a film opposite Harry Belafonte. She continued her performances in nightclubs and appeared on multiple early television variety shows, including Ed Sullivan's Toast of the Town.
Carmen Jones
In 1953, a nationwide talent search arose as 20th Century Fox began the process of casting the all-black musical film adaptation of Oscar Hammerstein II's 1943 Broadway musical Carmen Jones, conceptually Georges Bizet's opera Carmen updated to a World War II-era African-American setting.
Initially, the director and writer Otto Preminger did not consider Dandridge for Carmen, feeling her presentation in 'Bright Road' would be better suited for the smaller role of the quiet Cindy Lou. Dandridge refused to accept this and, with the aid of Max Factor make-up artists, created the appearance and character of the earthy title role Carmen and confronted Preminger in his executive office.
With this meeting, and a subsequent viewing of her freer, looser appearances in the 'soundies' material, Preminger gave her the role. The remainder of the cast was completed with Harry Belafonte, Pearl Bailey, Brock Peters, Diahann Carroll, Madame Sul-Te-Wan (uncredited), Olga James, and Joe Adams. Despite Dandridge's recognition as a singer, the studio wanted an operatic voice, so Dandridge's voice was dubbed by operatic vocalist Marilyn Horne for the film.
Hollywood's First African-American Sex Symbol
Carmen Jones opened to favorable reviews and strong box-office returns. Dandridge's performance as the seductive leading actress made her one of Hollywood's first African-American sex symbols and earned her positive reviews. On November 1, 1954, Dorothy Dandridge became the first black woman featured on the cover of Life.
First African-American Academy Award Nominee for Best Actress
Carmen Jones became a worldwide success, eventually earning over $10 million at the box office and becoming one of the year's highest-earning films. Dandridge was nominated for an Academy Award for Best Actress, becoming the first African American nominated for a leading role. At the 27th Academy Awards held on March 30, 1955, Dandridge shared her Oscar nomination with such luminaries as Grace Kelly, Audrey Hepburn, Judy Garland, and Jane Wyman. Although Kelly won the award for her performance in The Country Girl, Dandridge became an overnight sensation.
Headlining at the Waldorf
On April 11, 1955, Dandridge became the first black performer to open at the Empire Room inside New York's Waldorf-Astoria hotel. Her success as a headliner led to the hotel booking other black performers such as the Count Basie Orchestra with vocalist Joe Williams, Pearl Bailey, and Lena Horne.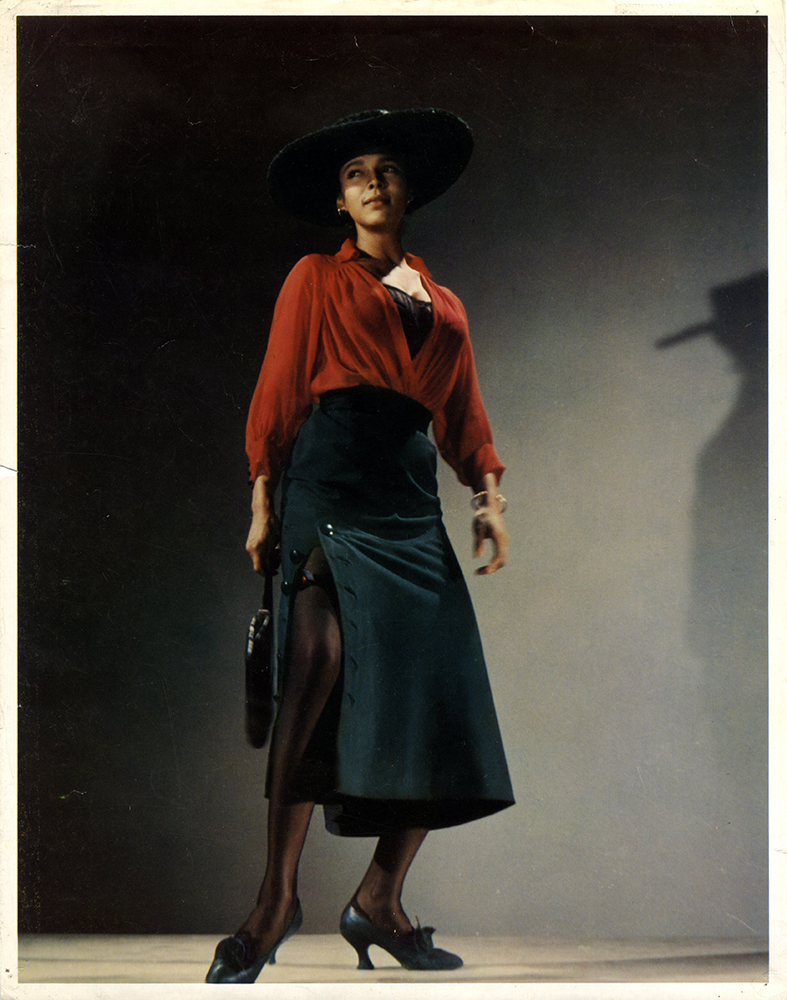 Porgy and Bess
In 1958, Dandridge accepted producer Samuel Goldwyn's offer to star as Bess in his forthcoming production of Porgy and Bess, which would become her first major Hollywood film in five years. Her acceptance of the role angered the black community, who felt the story's negative stereotyping of blacks was degrading.
When the initial director, Rouben Mamoulian, was replaced with Otto Preminger, he informed Dandridge that her performance was not credible, and that she needed intensive coaching to handle such a role. The film had a long and costly production, including a fire that destroyed the sets and costumes, continuous script rewrites and other problems that prolonged the production, which ultimately pushed the film over its original budget. When it was released in June 1959, it drew mixed reviews and failed financially. However, Dandridge was nominated in 1959, for a Golden Globe Award for performance in Porgy and Bess.
By 1963, Dandridge's popularity had dwindled and she was performing in nightclubs to pay off debts from numerous lawsuits. She filed for bankruptcy and went into seclusion before appearing as a lounge act in Las Vegas in 1964.
The End
On September 8, 1965, while scheduled to fly to New York the next day to prepare for her nightclub engagement at Basin Street East, Dandridge was found naked and unresponsive by her manager, Earl Mills, in her small apartment on Fountain Avenue in West Hollywood. The Los Angeles County Coroner's Office concluded that she died of a fat embolism resulting from a right foot fracture sustained five days previously. Dorothy Dandridge was 42.
Her Legacy
It was not until the 1980s, with the passing of the blaxploitation era, that such stars as Cicely Tyson, Jada Pinkett Smith, Halle Berry, Janet Jackson, Whitney Houston, Kimberly Elise, Loretta Devine, Tasha Smith, and Angela Bassett began to acknowledge Dandridge's contribution to the image of African Americans in American motion pictures.
Dorothy Dandridge was the subject of the 1999 HBO biographical film, Introducing Dorothy Dandridge. and recognized with a star on the Hollywood Walk of Fame. –Wikipedia