In recognition of Gay Pride and as an observation of the state of "drag" in America, the above photograph of Julian Eltinge and Mary PIckford appeared in the Washington Post on June 24, 2023, along with a profile by Randy Dotinga entitled "A century ago, this star 'female impersonator' made men swoon."
The following is WalterFilm's salute to Gay Pride and perspective on Julian Eltinge's life, career and place in the evolution of the "the Gay." It incorporates Mr. Dotinga's thoughts, WikipediA's knowledge base and WalterFilm's photo archive of Mr. Eltinge's career.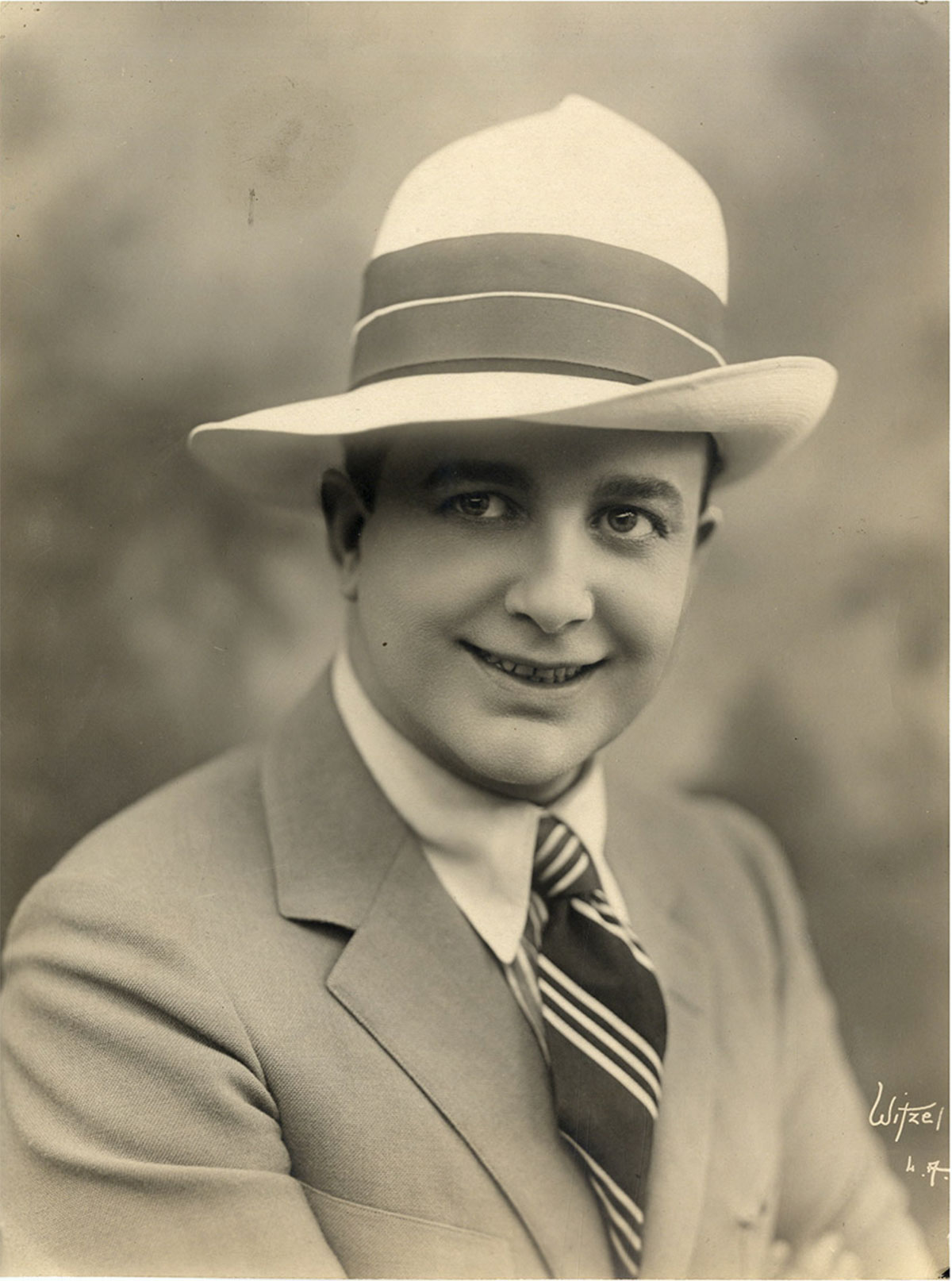 Julian Eltinge was indeed a star in vaudeville, where he toured Europe and the United States, even giving a command performance before King Edward VII. And while female impersonation was a standard act in vaudeville, Eltinge's transformed his act into a musical performance. In addition, unlike many of the female impersonators at that time, he did not present a caricature of women but created the illusion of actually capturing the feminine mystique.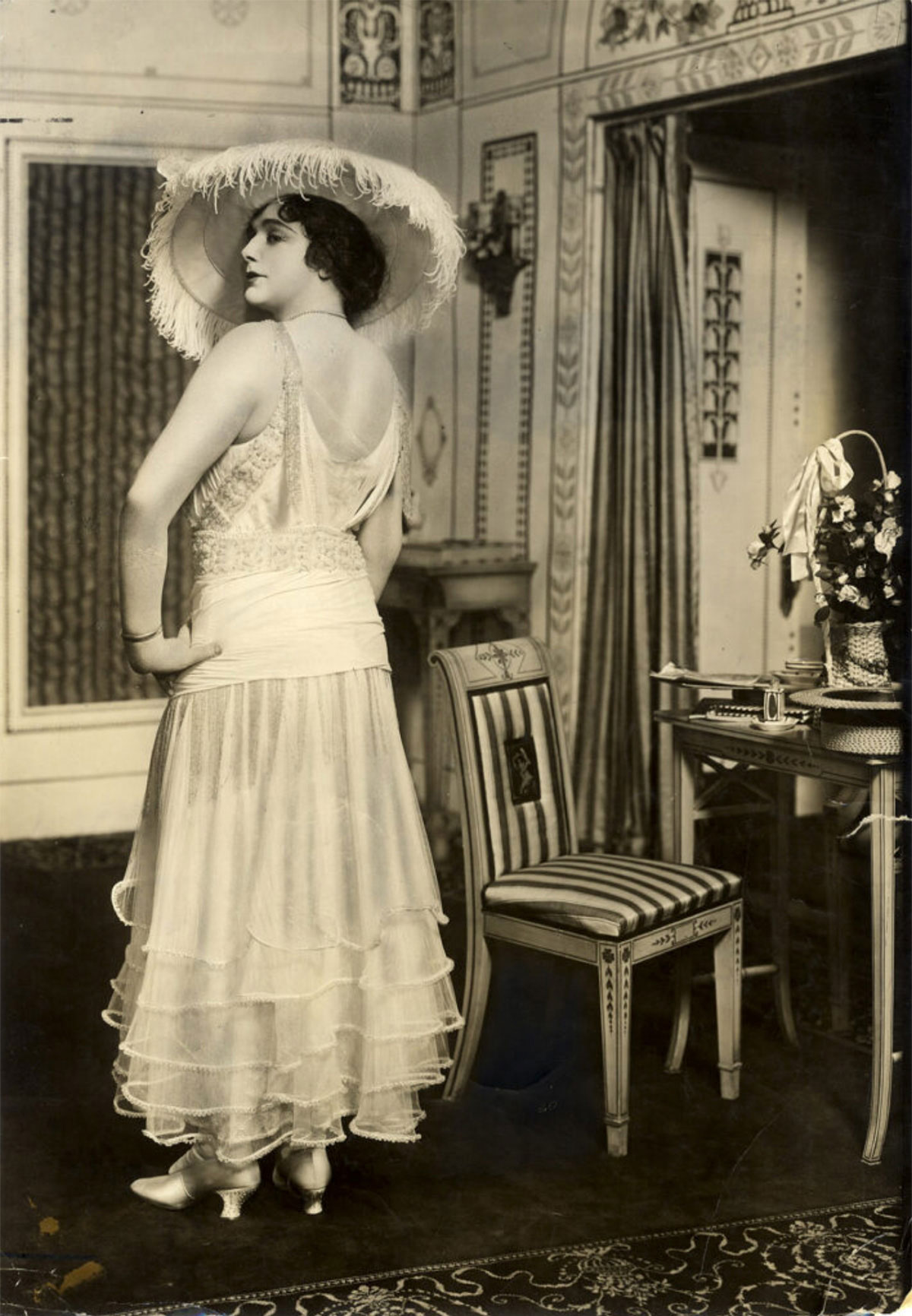 Thank God For The Cakewalk!
"He was born William Julian Dalton (May 14, 1881 – March 7, 1941) and began a career as a female impersonator, according to some reports, while taking cakewalk lessons, at the age of twenty, from a Mrs. Wyman's dance studio where he demonstrated a remarkable ability to emulate females. It is said to be Mrs. Wyman who encouraged William to study the art of female impersonation.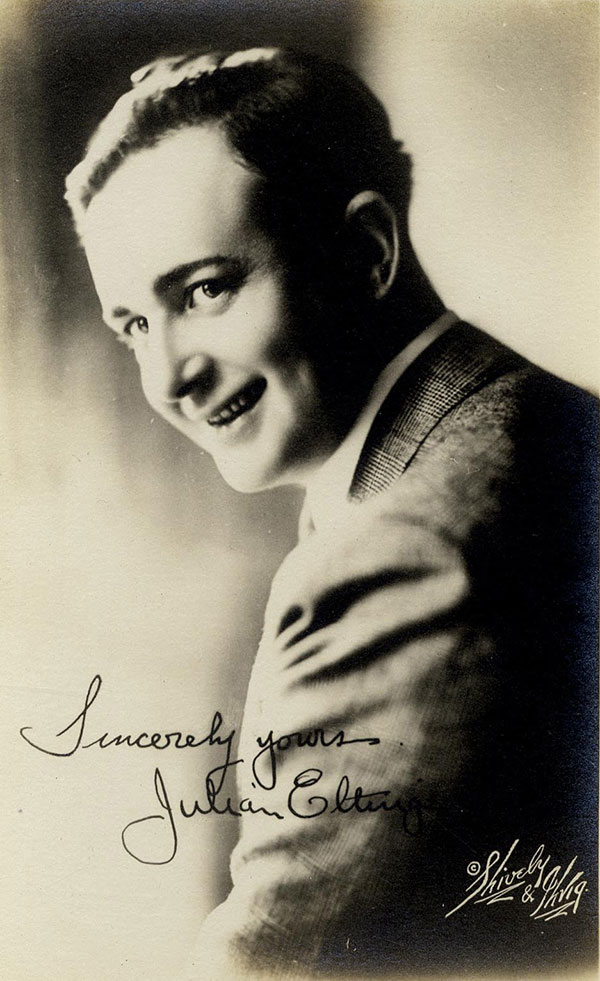 Mrs. Wyman was correct in her observation as William, who became Julian Eltinge (He chose his stage name because it rhymed with "melting."), was a very handsome man in his youth and able to transform himself into a beautiful woman and sing in a really lovely contralto voice.
Mr. Lillian Russell
Audiences were convinced they were watching a female performer, even though they had been explicitly told that "this was a man." His popularity soon earned him the moniker "Mr. Lillian Russell" in honor of the popular beauty and musical comedy star. As he became more and more successful, his name and reputation allowed him to fill theaters across the country, at one point earning as much as $5,000 a week.
He toured simply as "Eltinge" which left his sex unknown and his act included, in addition to singing and dancing, making quick costume changes in a variety of female roles. At the conclusion of his performances, he would remove his wig, revealing his true nature to the surprise of the often-informed audience. And men, as the press loved to write, swooned over his onstage persona. "He is the swellest-looking dame that ever wore down the boards," raved an audience member to a Cincinnati reporter.
On Broadway
It was on Broadway, in musical comedies written specifically for him, that he made his name. In 1910 he started in and as "The Fascinating Widow," which was so successful that it caused A. H. Woods , the producer, to give Eltinge one of the entertainment industry's highest honors, having a theatre named for him. A year to the day that "The Fascinating Widow" opened, Woods opened the Eltinge Theatre on New York's 42nd Street, now renamed the Empire Theater,. By 1910, Eltinge had reached the height of his fame. Sime Silverman, Editor of Variety, called him "as great a performer as there is today"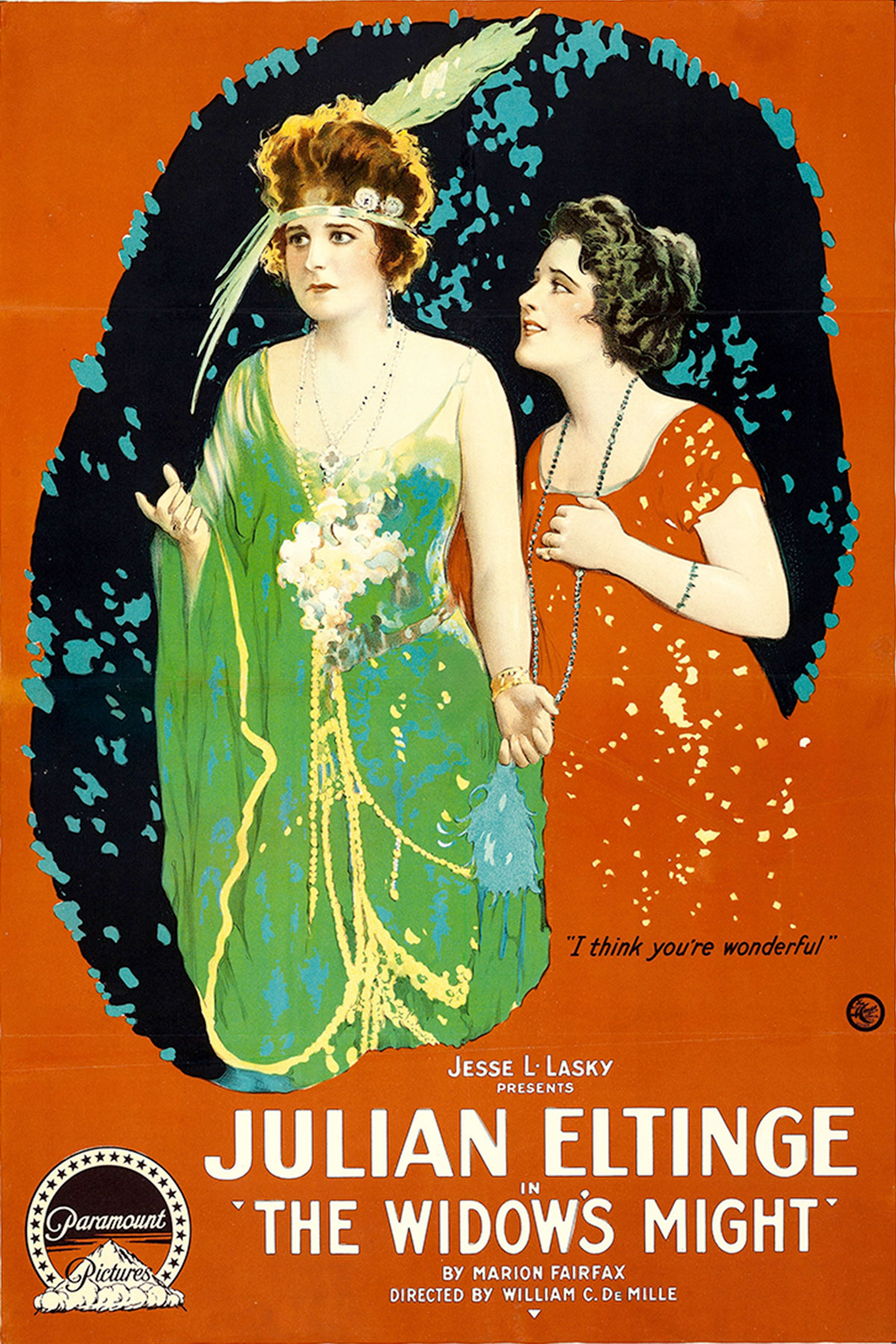 Drag Ain't What It Used To Be
As Dotinga details in his profile, "In the 1925 silent comedy "Seven Chances," Buster Keaton's character is thrown out of a theater, with his clothes torn and his straw hat shoved down his head, after strutting inside in pursuit of a performer with a beaming smile and shapely legs. Clearly, he had made a pass, and it was intercepted.
What is so funny? As the scene reveals, the attractive beauty was Julian Eltinge, a famous female impersonator. Moviegoers would have gotten the joke — that is no lady! — because Eltinge was the first cross-dressing celebrity in the nation: a triple threat of movie star, accomplished singer and popular stage actor.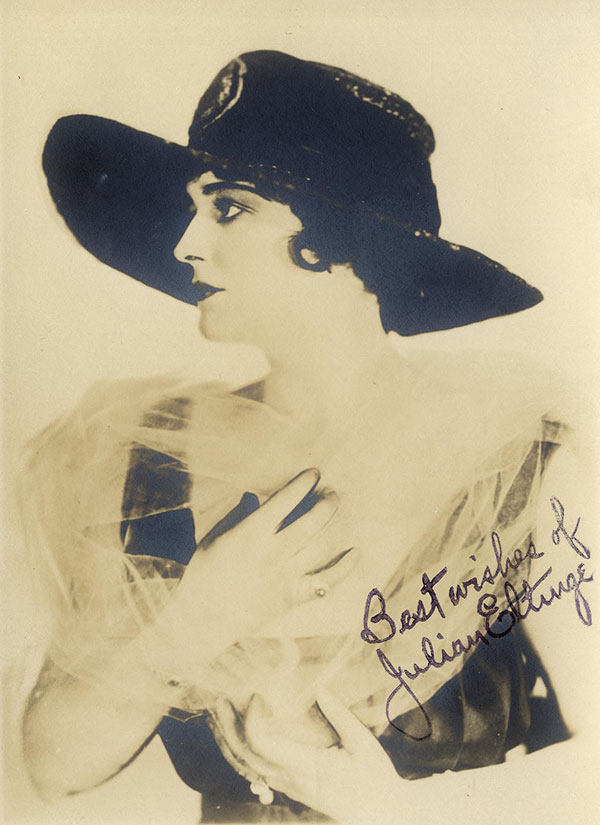 A century before the battles over drag performances today, Eltinge represented a unique form of the art, one that emphasized fidelity to femininity instead of risqué repartee, outlandish outfits or high-energy lip syncing. He made a mint onstage and toured the world, sometimes while wearing a 23-inch corset and size 4 high-heeled shoes."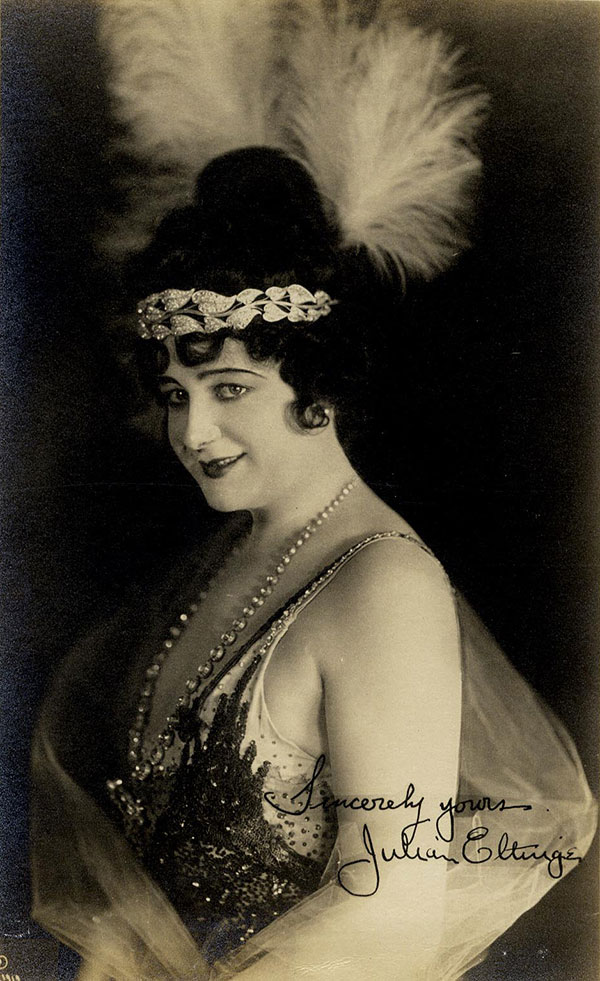 Holywood Calls
Beginning in 1914, Eltinge expanded his career into silent pictures. However, it wasn't until 1917 in "The Countess Charming" that he found success. His role in the film was again a double role with him playing a man being forced by circumstance to disguise himself as a woman, a precursor to movies like "Some Like It Hot" and "Mrs. Doubtfire".
Settling in Hollywood, Eltinge made three films in 1917 and 1918. During this time he wrote and produced a vaudeville group called "The Julian Eltinge Players". With this group he returned to the vaudeville stage appearing at New York City's Palace Theatre in 1918, where he was paid one of the highest salaries in show business: $3,500 a week. The next year he returned again in a new vaudeville review with sets by the French designer Erté.
By 1920, Eltinge was very wealthy and was living in one of the most lavish mansions in Southern California, Villa Capistrano. He appeared with Rudolf Valentino in the 1920 film "An Adventuress" (released as "The Isle of Love"in the U.S.). After filming, Eltinge continued touring onstage and did so until 1927. He also made two films, "Madame Behave" and "The Fascinating Widow" based on his stage play.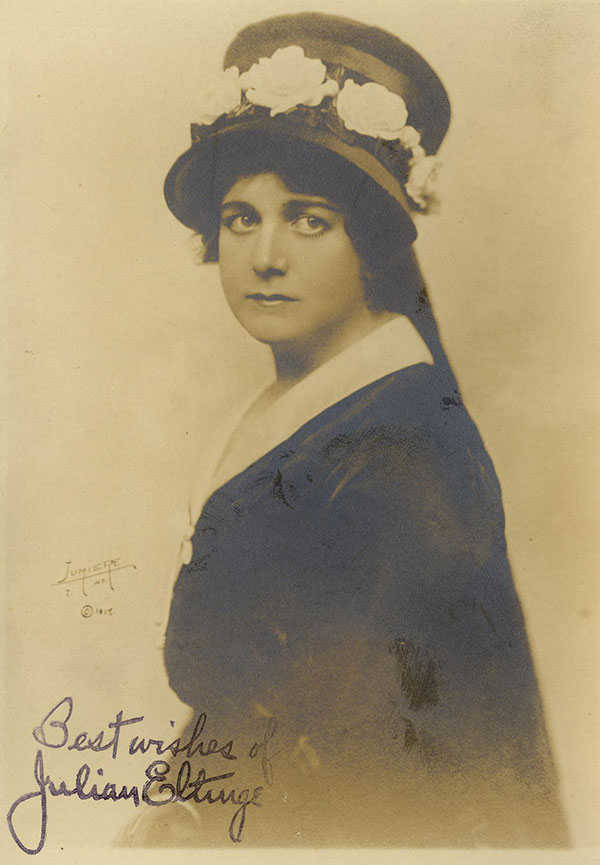 Who Was Julian Eltinge?
As mentioned in Dotinga's article, Then, just as now, the gender-bending nature of drag performance made some people uncomfortable. As a result, Eltinge had to toe the line both in his stage and film careers. On one hand, he leaned into a role as a cultural icon and dispenser of blunt advice. "The woman who prides herself on being as nature made her is apt to be unnecessarily ugly," he declared, uncharitably.
Eltinge hawked fashion tips through his own magazine, sold his own brand of cold cream and warned of the unspeakable horror of women's shoes with low heels. There was always a danger that the public would think there "must be 'something wrong' with a man who wanted to put on women's clothes," as a newspaper reporter later wrote in a profile of Eltinge. To combat the perception he was gay, his publicists fed the press an image of a "cigar-chomping, womanizing, hotheaded braggart," Beyelia said.
Eltinge sparred with boxer "Gentleman Jim" Corbett, and his own magazine in 1912 touted him as "a husky young man of 29, agreeable, manly and without the slightest trace of the sissiness one might expect to find in the nature of a man who impersonates a woman." (The article fudged his age. He was actually around 31.)
Eltinge may have been a gay man, as Milton Berle and many others who worked with him believed. Actress Ruth Gordon stated in a New York Times article that he was "as virile as anybody virile." There is no existing record of a lover of either sex, though stories did abound.
Eltinge was one of many show business figures to be hit hard by the 1929 stock market crash. By the 1930s, vaudeville as well as female impersonation, which he had built his career on, had begun to lose popularity. Eltinge resorted to performing in nightclubs.
Everything Old Is New Again
As is happening today with the outrage and litigation over transgender surgery along with the increase in violence against the HTMLG+ community, it was the same with the crack down on cross-dressing in public – an attempt to curb homosexual activity – that prevented Eltinge from performing in costume.
As Dotinga reports, Hollywood cracked down on explicit content and homosexuality on screen in the 1930s. "Sex perversion or any inference to it is forbidden," the new film rule book known as the Hays Code declared. By 1937, Eltinge told a reporter he did not want to return to female impersonation. "Girls today don't have charm," he said, "so I find little to impersonate." He preferred to act as a man, he said, "but producers can't imagine me without a gown."
Three years later, the Los Angeles Times reported that local police refused to allow him to perform as a woman at a "known hangout for women who hold women's hands and men who hold men's hands." Instead, he took the stage to sing and point to his old outfits on a mannequin. "For this number," he said at one point, "I would have worn this lovely dress."
Eltinge died in 1941, of a cerebral hemorrhage. He had also suffered from heart and kidney problems. Years earlier, the Los Angeles Times reported, Eltinge had been told that his corsets were dangerous to his health. "I must," he replied, "be a martyr to my profession."
Eltinge's Legacy
Eltinge leaves a legacy as an LGBTQ pioneer, said Hajdu, the cultural historian. "He is turning sexual desire upside down when men in the audience realize they are attracted to someone who is really a man," Hajdu said. "He embodied the idea that gender can be constructed, a product of human agency."
WikipediA – Julian Eltinge