African American Musical Theater
Background:
Before the turn of the 20thth Century the idea of Black Musical Theater was a second-hand treatment of black life created by European-American performers, performing stereotyped "coon songs" in blackface. This began to change as African American composers and lyrists such as Will Marion Cook and Bob Cole brought black-written musical comedy to Broadway in 1898.
Cook's Clorindy, or The Origin of the Cake Walk, an hour-long sketch, was the first all-black musical to play in a prestigious Broadway house, Casino Theatre's Roof Garden. Cole's A Trip to Coontown was the first full-length New York musical comedy written, directed and performed exclusively by blacks.
Bob Cole and brothers John Rosamond Johnson and James Weldon Johnson focused on elevating the lyrical sophistication of African American songs. Their first collaboration was "Louisiana Lize", a love song written in a new lyrical style that left out the watermelons, razors, and "hot mamas" typical of earlier "coon songs."
Cole and the Johnson brothers went on to create musicals such as The Belle of Bridgeport, The Red Moon (with Joe Jordan), The Shoo-Fly Regiment, In Newport, Humpty Dumpty, and Sally in Our Alley (featuring Bob Cole's "Under The Bamboo Tree").
Bert Williams and George Walker, called the "Two Real Coons", found fame in 1896 with a musical farce called The Gold Bug. The duo's performance of the cakewalk captured the audience's attention, and they soon became so closely associated with this dance such that many people think of them as its originators. They then put together a number of small productions including A Lucky Coon, Sons of Ham, and The Policy Players, but their ultimate goal was to produce and star in their own Broadway musical. So they thought back to the times in San Francisco and produced In Dahomey (1903) alongside Paul Lawrence Dunbar, Jesse A. Shipp, and Will Marion Cook.
By 1911, Bob Cole had died. Will Marion Cook and the Johnson brothers had pursued new careers and Bert Williams moved to the Ziegfeld Follies and black musical theater went into a hiatus. – Wikipedia (edited)
SIX GREAT AFRICAN AMERICAN MUSICALS
$1,000
This poster is for a Washington tryout of a Houston Grand Opera production, prior to a Broadway run. (Washington, D.C., 1975. Vintage original 22 x 14″ (56 x 36 cm.) window card poster, some wear and handling at edges, some light creases, but very good or better, with bright colors.)
Scott Joplin
A master of ragtime music, he wrote "Treemonisha" in 1911 as a celebration of African-American life and culture set on an Arkansas plantation. The opera was largely unknown before its first complete performance in 1972. Joplin was posthumously awarded the Pulitzer Prize for music in 1976 for Treemonisha. The performance was called a "semimiracle" by music historian Gilbert Chase, who said Treemonisha "bestowed its creative vitality and moral message upon many thousands of delighted listeners and viewers" when it was recreated. The musical style of this black opera is the popular romantic one of the early 20th century. It has been described as "charming and piquant and … deeply moving", with elements of black folk songs and dances, including a kind of pre-blues music, spirituals, and a call-and-response style scene featuring a preacher and congregation. – Wikipedia (edited)
View on YouTube:
---
$750
An Opera, music by George Gershwin, lyrics by Ira Gershwin and Du Bose Heyward, libretto by Du Bose Heyward based on his play PORGY.
Original 1935 Theatre Guild Photograph. (Vintage original 8 x 10" (20 x 25 cm.) double weight photo. (New York: Theatre Guild, 1935] There are a few markings in blank margins for printing, typed descriptive label on verso along with a contemporary printing note in pencil, near fine.)
The photograph is of the divorce scene, with Todd Duncan and Anne Wiggins Brown, who created the roles of Porgy and Bess. Next to them is J. Rosamond Johnson, in the role of the lawyer Frazier, and various cast members.
View on You Tube:
$2,500
A play in four acts play by Dorothy Heyward and DuBose Heyward, adapted from the short novel by DuBose Heyward, which became the source for the subsequent Gershwin opera..
Distinctive artwork by Simonson for the original play (Theatre Guild, 1927. Vintage original 22 x 14″ (56 x 36 cm.) window card poster, backed with conservation paper, near fine.)
The Evolution of PORGY into PORGY AND BESS
PORGY – The Book
A descendant of Thomas Heyward, Jr., DuBose Heyward was from an old, white family in Charleston, South Carolina. In 1925, he published his first and best-regarded novel, Porgy, which was inspired by a news story and drawn from his sympathetic observations of Black culture. The book was a best seller.
PORGY – The Play
Heyward's wife, playwright Dorothy Heyward, roughed out a stage adaptation of the novel that persuaded her husband of the story's dramatic possibilities. They wrote the play together, strengthening the character of Bess, incorporating folk songs, and creating a more upbeat ending that shows Porgy following Bess to New York.
Just as the novel had been one of the first to regard African American culture seriously, Porgy was the first authentic presentation of black culture on the Broadway stage. The Heywards insisted that a black cast perform the play, offering white audiences a mature view of African American life. DuBose Heyward credited the actors—many of whom had theatre experience going back generations—as collaborators whose contributions transformed the drama on the stage.
Sponsored by the Theatre Guild, Porgy was given its premiere on Broadway, running October 10, 1927, to August 1928, at the Guild Theatre and the Republic Theatre. It marked the Broadway directing debut of Rouben Mamoulian.
Porgy then went on tour—for nine weeks in Chicago, 11 weeks in London, and in cities including Boston, Philadelphia, Cincinnati, Washington, Cleveland, Pittsburgh, Baltimore, Detroit, San Francisco, Los Angeles, and others in the northwestern United States and Canada. The show returned to New York, running September 13 to October 1929 at the Martin Beck Theatre.
After a total of 55 weeks in New York, all of the original principal cast members of Porgy toured the nation once again, performing from October 14, 1929, into January 1930.
PORGY AND BESS – The Opera
George Gershwin read Porgy in 1926 and proposed to Heyward to collaborate on an operatic version. In the fall of 1933 Gershwin and Heyward signed a contract with the Theatre Guild to write the opera. In the summer of 1934 Gershwin and Heyward went to Folly Beach, South Carolina (a small island near Charleston), where Gershwin got a feel for the locale and its music. He worked on the opera there and in New York. Ira Gershwin, in New York, wrote lyrics to some of the opera's classic songs, most notably "It Ain't Necessarily So". Most of the lyrics, including "Summertime", were written by Heyward, who also wrote the libretto. In a 1935 New York Times article, Gershwin explained his motivation for calling Porgy and Bess a folk opera:
"Porgy and Bess is a folk tale. Its people naturally would sing folk music. When I first began work in the music I decided against the use of original folk material because I wanted the music to be all of one piece. Therefore, I wrote my own spirituals and folksongs. But they are still folk music—and therefore, being in operatic form, Porgy and Bess becomes a folk opera".
Porgy and Bess was first performed in Boston on September 30, 1935, before it moved to Broadway. It featured a cast of classically trained African-American singers—a daring artistic choice at the time. After an initially unpopular public reception, a 1976 Houston Grand Opera production gained it new popularity, and it is now one of the best-known and most frequently performed operas.
The libretto of Porgy and Bess tells the story of Porgy, a disabled black street-beggar living in the slums of Charleston. It deals with his attempts to rescue Bess from the clutches of Crown, her violent and possessive lover, and Sportin' Life, her drug dealer. The opera plot generally follows the stage play. – Wikepedia (edited)
For more information on the this evolution see: Porgy and Porgy and Bess
---
$325
A musical with a book by George C. Wolfe, lyrics by Susan Birkenhead, and music by Jelly Roll Morton and Luther Henderson.
George C. Wolfe directed Gregory Hines in this show.( New York: 1992] Vintage original Jelly Roll 22 x 14" (56 x 36 cm.) poster. Near fine.)
Jelly Roll Morton
The musical is based on the life and career of Ferdinand Joseph LaMothe, known professionally as Jelly Roll Morton. He is generally regarded as one of the primary driving forces behind the introduction of jazz to the American public in the early 20th century and serves as a social commentary on the African-American experience during the era. LaMothe was born into a Louisiana Creole family that was established and free before the Civil War.
An American ragtime and jazz pianist, bandleader, and composer. Morton was jazz's first arranger, proving that a genre rooted in improvisation could retain its essential characteristics when notated. His composition "Jelly Roll Blues", published in 1915, was one of the first published jazz compositions. Morton also wrote "King Porter Stomp", "Wolverine Blues", "Black Bottom Stomp", and "I Thought I Heard Buddy Bolden Say", the last a tribute to New Orleans musicians from the turn of the 20th century. – Wikipedia (edited)
For more information see: Jelly Roll Morton
View on YouTube:
---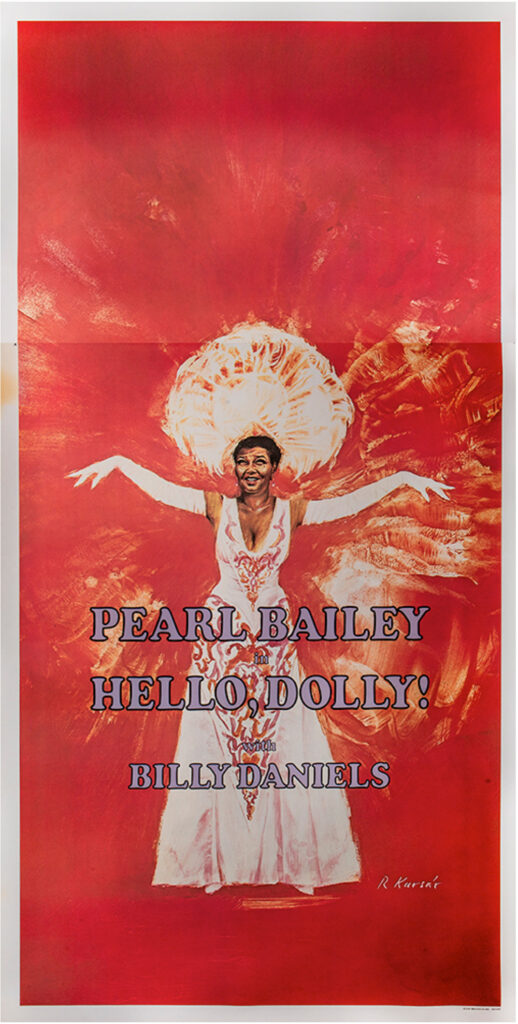 $1,500
An imposing image of the great Pearl Bailey, who made an enormous impression as Dolly Levi when she took on the role in 1967. This classic musical with lyrics and music by Jerry Herman and a book by Michael Stewart is based on Thornton Wilder's 1938 farce The Merchant of Yonkers, which Wilder revised and retitled The Matchmaker in 1955.
This scarce, vintage three sheet poster is for a national tour, in which her costar was Billy Daniels. (Vintage original 81 x 41" (205 x 104 cm.) poster. Unfolded, printed in two sections, there are a couple of tiny tears in extreme blank margins, just about fine. New York, 1975.)
Pearl Mae Bailey
(March 29, 1918 – August 17, 1990) began by singing and dancing in Philadelphia's black nightclubs in the 1930s, and soon started performing in other parts of the East Coast. In 1941, during World War II, Bailey toured the country with the USO, performing for American troops. After the tour, she settled in New York. Her solo successes as a nightclub performer were followed by acts with such entertainers as Cab Calloway and Duke Ellington. In 1946, Bailey made her Broadway debut in St. Louis Woman. For her performance, she won a Donaldson Award as the best Broadway newcomer.
In 1967, Bailey and Cab Calloway headlined an all-black cast version of Hello, Dolly! The touring version was so successful, producer David Merrick took it to Broadway where it played to sold-out houses and revitalized the long running musical. Bailey was given a special Tony Award for her role and RCA Victor made a second original cast album. That is the only recording of the score to have an overture which was written especially for that recording.
In her later years Bailey wrote several books: The Raw Pearl (1968), Talking to Myself (1971), Pearl's Kitchen (1973), and Hurry Up America and Spit (1976). In 1975 she was appointed special ambassador to the United Nations by President Gerald Ford. Her last book, Between You and Me (1989), details her experiences with higher education. On January 19, 1985, she appeared on the nationally televised broadcast of the 50th Presidential Inaugural Gala, the night before the second inauguration of Ronald Reagan. In 1988 Bailey received the Presidential Medal of Freedom from President Reagan. – Wikipedia (edited)
For more information see: Pearl Baileyl
View on YouTube
Hello Dolly! Pearl Bailey 1968 Tony Awards
---
$450
Sammy Davis Jr. scored a great success when he premiered this musical on Broadway in 1964. The book was by Clifford Odets and William Gibson (adapted from Odets 1937 play of the same name), lyrics by Lee Adams, and music by Charles Strouse.
This poster is from the 1968 London revival of the show. (Vintage original 19 7/8 x 12 ½" (51 x 32 cm.) poster, fine.)
Producer Hillard Elkins planned the project specifically for Sammy Davis, Jr. and lured Odets out of semi-retirement to write the book. The original play centered on Italian American Joe Bonaparte, the son of poverty-stricken immigrants with a disapproving brother who works as a labor organizer. Elkins envisioned an updated version that would reflect the struggles of an ambitious young African American at the onset of the Civil Rights Movement and include socially relevant references to the changing times.
Following the Detroit tryout, Odets died and Gibson was hired to rework the script. The ideals of the noble plot were abandoned in a revision in which Joe evolved into an angry man who, embittered by the constant prejudice he faces, uses his fists to fight his frustrations. His brother became a worker for CORE, and the subtle romance between Joe and the white Lorna developed into an explicit affair capped by a kiss that shocked audiences already having difficulty adjusting to a heavily urban jazz score and mentions of Malcolm X. This was a far cry from the musical comedies Hello, Dolly! and Funny Girl, both popular holdovers from the previous theatrical season.
The Broadway production, directed by Arthur Penn and choreographed by Donald McKayle, opened on October 20, 1964 at the Majestic Theatre, where it ran for 568 performances and twenty-five previews. Davis reprised his role for the 1968 West End production at the London Palladium, the first book musical ever to play in the theatre. – Wikipedia (edited)
View on YouTube
---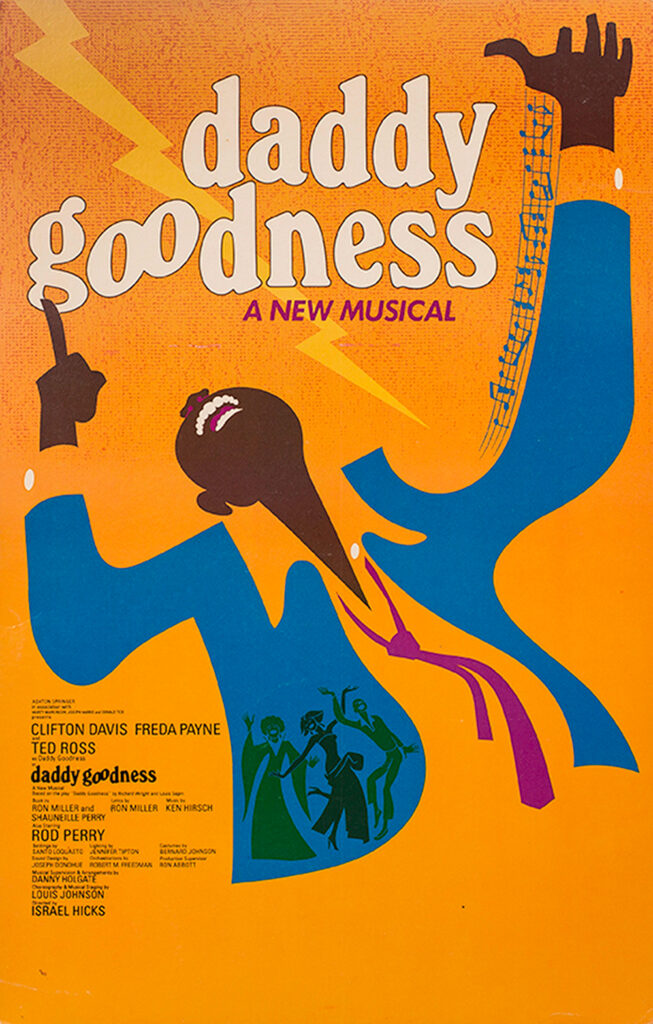 $750.00
A musical by Ron Miller, Shauneille Perry, and Ken Hirsch, adapted from the play DADDY GOODNESS, by Richard Wright and Louis Sapin. Due to the brevity of this play's production, this poster is very scarce. (Vintage original 22 x 14" (56 x 36 cm.) window card poster ,fine. [New York?]: Clifton Davis et al., [1978]).
The musical ran into severe trouble while still in try outs on the road in Philadelphia and Washington, where it closed without ever getting to Broadway, where it had been scheduled to open on October 25 at the Winter Garden Theatre.