Terrence Stephen McQueen (March 24, 1930 – November 7, 1980), nicknamed the "King of Cool", was an American actor. His antihero persona, emphasized during the height of the counterculture of the 1960s, made him a top box-office draw during the 1960s and 1970s. In 1974, he became the highest-paid movie star in the world, although he did not act in film for another four years. He was combative with directors and producers, but his popularity placed him in high demand and enabled him to command the largest salaries.
The Above Photograph: Steve McQueen (Ca. 1965) by William Claxton – Beverly Hills, CA: the black-and-white print still photo (stamped twice on the back) is a vintage original borderless double weight 8 x 10″ (20 x 25 cm.) [ca 1965]; Just About Fine.
McQueen received an Academy Award nomination for his role in The Sand Pebbles (1966). His other popular films include Love With the Proper Stranger (1963), The Cincinnati Kid (1965), Nevada Smith (1966), The Thomas Crown Affair (1968), Bullitt (1968), Le Mans (1971), The Getaway (1972) and Papillon (1973), as well as the all-star ensemble films The Magnificent Seven (1960), The Great Escape (1963) and The Towering Inferno (1974).
He was nominated for four Golden Globes: (1964) Best Actor – Motion Picture Drama in Love with the Proper Stranger, (1967) Best Actor – Motion Picture Drama in The Sand Pebbles, (1970) Best Actor – Motion Picture Musical or Comedy in The Reivers, (1974) Best Actor – Motion Picture Drama in Papillon.
Early Life
Steve McQueen's began his life in Beech Grove, Indiana. His father, William McQueen, a stunt pilot for a barnstorming flying circus, left McQueen's mother, Julia Ann six months after meeting her. Unable to cope with caring for a small child, she left him with her parents, on their farm, in 1933.
Dyslexic and partially deaf due to a childhood ear infection, McQueen's youth was anything but positive. shuffled from his grandparents to a mother who didn't love him and multiple step fathers who beat him. At age 14, he left his grandfather's farm and joined a circus. He drifted back to his mother and stepfather in Los Angeles and resumed his life as a gang member and petty criminal. culminating in his being caught stealing hubcaps by the police and handed over to his stepfather. They fought and his stepfather beat him severely, ending the fight by throwing McQueen down a flight of stairs. McQueen looked up at his stepfather and said, "You lay your stinking hands on me again and I swear, I'll kill you.
California Junior Boys Republic
After the incident, McQueen's stepfather persuaded his mother to sign a court order stating that McQueen was incorrigible, remanding him to the California Junior Boys Republic in Chino. Here, McQueen began to change and mature. He was not popular with the other boys at first, "I got my lumps, no doubt about it. The other guys had ways of paying you back for interfering with their well-being." Ultimately McQueen became a role model and was elected to the Boys Council. He eventually left the Boys Republic at age 16. When he later became famous, he regularly returned to talk to the boys and retained a lifelong association.
Military service
In 1947, after receiving permission from his mother since he was not yet 18, McQueen enlisted in the Marines and was sent to Parris Island for boot camp. He was promoted to private first class and assigned to an armored unit. He initially reverted to his prior rebelliousness: demoted to private seven times and spending 41 days in the brig. After this he focused his energies on self-improvement and embraced the Marines' discipline.
He saved the lives of five Marines during an Arctic exercise, pulling them from a tank before it broke through ice into the sea. He was assigned to the honor guard responsible for guarding the presidential yacht of US President Harry Truman. McQueen served until 1950, when he was honorably discharged. He later said he had enjoyed his time in the Marines. He remembered the Marines as a formative time in his life, saying, "The Marines made a man out of me. I learned how to get along with others, and I had a platform to jump off of."
The 1950s
In 1952, with financial assistance provided by the G.I. Bill, McQueen began studying acting in New York at Sanford Meisner's Neighborhood Playhouse, at HB Studio under Uta Hagen and with Stella Adler.
McQueen began to earn money by competing in weekend motorcycle races at Long Island City Raceway and purchased the first two of many motorcycles, a Harley-Davidson and a Triumph. He soon became an excellent racer and went home each weekend with about $100 in winnings (equivalent to $1,000 in 2020).
McQueen had minor roles in productions and made his Broadway debut in 1955 in the play A Hatful of Rain, starring Ben Gazzara.
In late 1955 at the age of 25, McQueen left New York and headed for California, where he appeared in a two-part Westinghouse Studio One television presentation entitled The Defenders. Hollywood manager Hilly Elkins took note of him and decided that B-movies would be a good place for the young actor to make his mark. He landed his first film role in a bit part in Somebody Up There Likes Me, directed by Robert Wise and starring Paul Newman. McQueen was subsequently hired for the films Never Love a Stranger; The Blob (his first leading role), which depicts a flesh-eating amoeba-like space creature; and The Great St. Louis Bank Robbery.
McQueen's first breakout role came on television. He appeared on Dale Robertson's NBC western series Tales of Wells Fargo. Elkins, then McQueen's manager, successfully lobbied the producer of the western series Trackdown, to have McQueen read for the part of bounty hunter, which he got as well as subsequently appearing in several more episodes. McQueen then filmed a pilot episode for what became the series titled Wanted: Dead or Alive, which aired on CBS in September 1958.
Wanted Dead or Alive
Wanted Dead or Alive became a huge television success in large part to McQueen's antihero image infused with mystery and detachment that made this show stand out from the typical TV Western. The 94 episodes that ran from 1958 until early 1961 kept McQueen steadily employed, and Steve McQueen became a household name as a result of the series.
At 29, McQueen got a significant break when Frank Sinatra replaced Sammy Davis Jr. with McQueen in the film Never So Few. Sinatra saw something special in McQueen and ensured he got plenty of closeups in a role that earned McQueen favorable reviews. McQueen's character, Bill Ringa, was never more comfortable than when driving at high speed—in this case in a jeep—or handling a switchblade or a tommy gun.
After Never So Few, the film's director John Sturges cast McQueen in his next movie, The Magnificent Seven (1960), promising to "give him the camera". He played Vin Tanner and co-starred with Yul Brynner, Eli Wallach, Robert Vaughn, Charles Bronson, Horst Buchholz and James Coburn. This became McQueen's first major hit and led to his withdrawal from Wanted: Dead or Alive.
McQueen played the top-billed lead role in the next big Sturges film, 1963's The Great Escape, Hollywood's fictional depiction of the true story of a historic mass escape from a World War II POW camp, Stalag Luft III. This film established McQueen's box-office clout and secured his status as a superstar.
Also in 1963, McQueen starred in Love with the Proper Stranger with Natalie Wood. After starring in 1965's The Cincinnati Kid as a poker player, McQueen earned his only Academy Award nomination in 1966 for his role as an engine-room sailor in The Sand Pebbles, in which he starred opposite Candice Bergen and Richard Attenborough, whom he had previously worked with in The Great Escape).
Bullitt
He followed his Oscar nomination with 1968's Bullitt, one of his best-known films, and his personal favorite, which co-starred Jacqueline Bisset, Robert Vaughn and Don Gordon. It featured an unprecedented (and endlessly imitated) car chase through San Francisco. Although McQueen did do the driving that appeared in closeup, the rest of the driving by McQueen's character was done by stunt drivers Bud Ekins and Loren Janes.The antagonist's black Dodge Charger was driven by veteran stunt driver Bill Hickman; McQueen, his stunt drivers and Hickman spent several days before the scene was shot practicing high-speed, close-quarters driving. Bullitt went so far over budget that Warner Brothers cancelled the contract on the rest of his films, seven in all.
The Thomas Crown Affair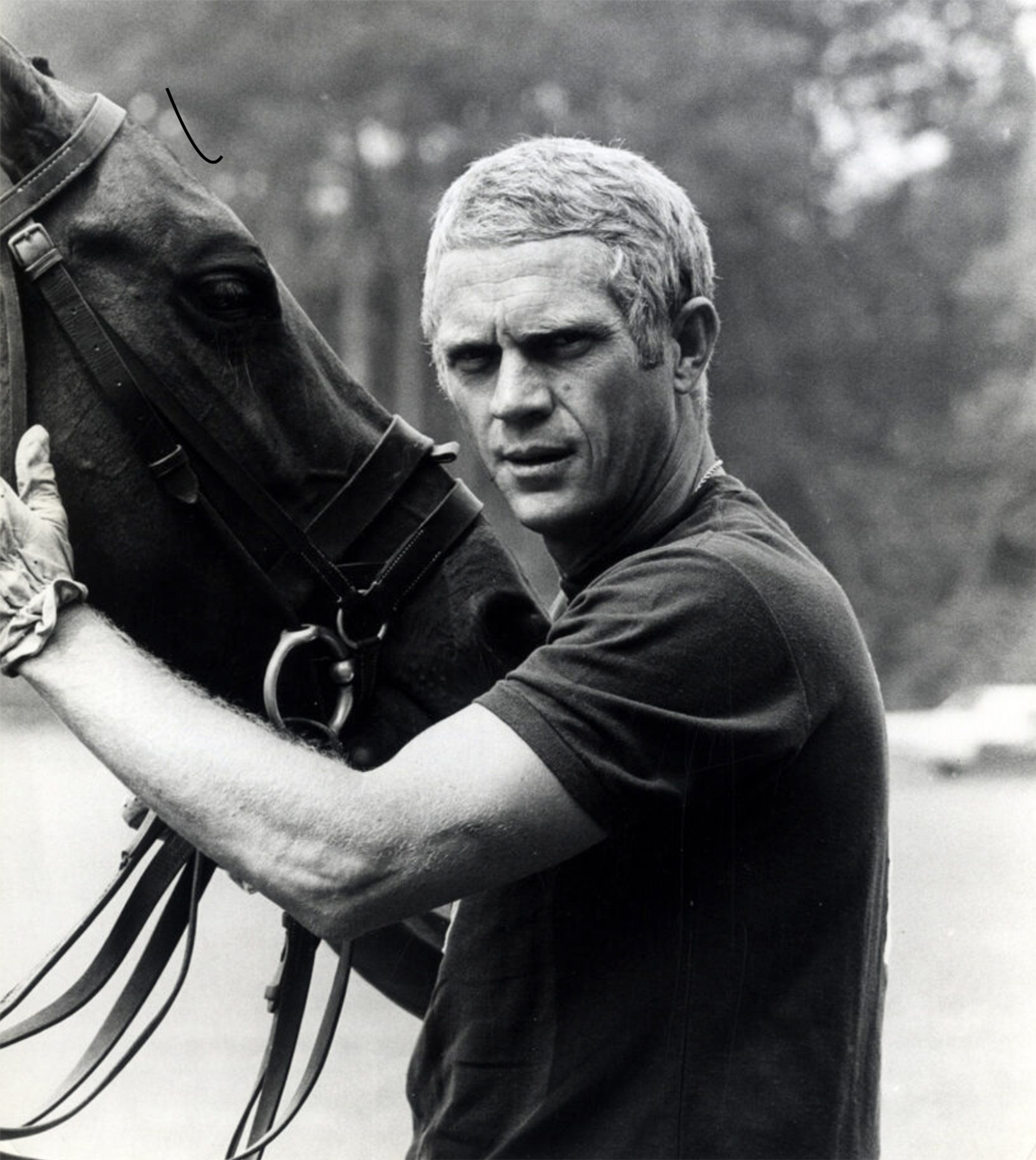 When Bullitt became a huge box-office success, Warner Brothers tried to woo him back, but he refused, and his next film was made with an independent studio and released by United Artists. For this film, McQueen went for a change of image, playing a debonair role as a wealthy executive in The Thomas Crown Affair with Faye Dunaway in 1968.
In 1972 he worked for director Sam Peckinpah again inthe leading role in The Getaway, where he met future wife Ali MacGraw. He followed this with a physically demanding role as a Devil's Island prisoner in 1973's Papillon, featuring Dustin Hoffman as his character's tragic sidekick.
By the time of The Getaway, McQueen was the world's highest-paid actor, but after 1974's The Towering Inferno, co-starring with his long-time professional rival Paul Newman and reuniting him with Dunaway, became a tremendous box-office success, McQueen all but disappeared from the public eye, to focus on motorcycle racing and traveling around the country in a motor home and on his vintage Indian motorcycles. He did not return to acting until 1978 with An Enemy of the People, playing against type as a bearded, bespectacled 19th-century doctor in this adaptation of a Henrik Ibsen play. The film was never properly released theatrically, but has appeared occasionally on PBS.
Personal Life and Death
On November 2, 1956, he married Filipino actress and dancer Neile Adams, with whom he had a daughter, Terry Leslie (June 5, 1959 – March 19, 1998) and a son, Chad (born December 28, 1960). McQueen and Adams divorced in 1972.
Mamie Van Doren claimed to have had an affair with McQueen in 1959. Actress-model Lauren Hutton said that she had an affair with McQueen in the early 1960s. In 1971–1972 McQueen had a relationship with Junior Bonner co-star Barbara Leigh.
On August 31, 1973, McQueen married actress Ali MacGraw, his co-star in The Getaway, but this marriage ended in a divorce in 1978.
On January 16, 1980, less than a year before his death, McQueen married model Barbara Minty.
McQueen developed a persistent cough in 1978. He gave up cigarettes and underwent antibiotic treatments without improvement. His shortness of breath grew more pronounced, and on December 22, 1979, after filming The Hunter, a biopsy revealed pleural mesothelioma, a cancer associated with asbestos exposure for which there is no known cure.
On November 7, 1980, McQueen died of a heart attack at 3:45 a.m. at a Juárez hospital, 12 hours after surgery to remove or reduce numerous metastatic tumors in his neck and abdomen. He was 50 years old. According to the El Paso Times, McQueen died in his sleep. Steve McQueen was cremated and his ashes were spread in the Pacific Ocean.
For more information about Steve McQueen please visit his website: