As an addition to our WalterFilm.com website, we are delighted to announce that Walter Reuben Inc. has expanded its marketing profile to include a portfolio of catalogs that will consist of exceptional items, as exampled above. This first catalog in this series (#42/2018) is 126 pages and encompasses the breadth and depth of our collecting and connoisseurship.
Its cover is graced by a stunning photograph of Audrey Hepburn in the "little black dress" designed by Hubert de Givenchy and worn by her in the opening scene of the 1961 romantic comedy Breakfast at Tiffany's. Here are two additional photographs of that scene from our collection.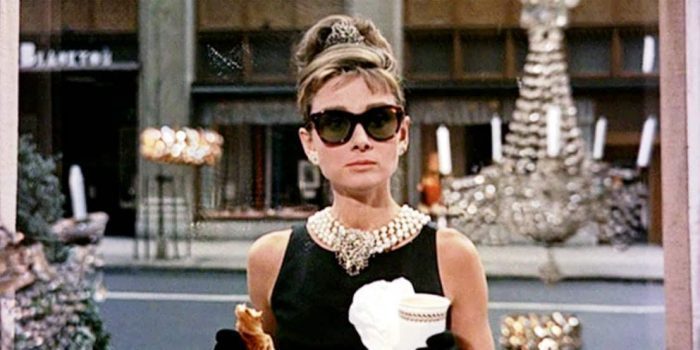 Catalog's Categories
The following are the categories included in the Catalog along with a brief description. You can experience the actual catalog in a flip-file that will allow you to view it as though you were holding it in your hand and flipping from page to page. Just  go to the bottom of the page and click on, "VIEW CATALOG".  We hope you enjoy exploring this remarkable collection; and, should you care to purchase a piece (assuming it hasn't already sold), just go to the website and search for the item's name or contact us at 323-422-1564 or email us at info@walterfilm.com.
COLLECTIONS – We are offering two collections created for this catalog:

LGBTQ Cultural History Collection – A substantial archive on LGBTQ film, stage, and music history, with 42 vintage scripts, 1200+ photos, and 45 pressbooks, promotional books and other ephemeral promotional items, making for overall more than 1300 pieces.
Broadway Theater Photo Archive – A collection of about 2,550 vintage photos from 675 different stage productions, almost all of them done on Broadway, from around 1895 to 1940.

WARHOL – Two scripts and four photographs, including the exceedingly scarce oversize color photo of a nude Joe Dallesandro in his breakthrough starring role in "Flesh."
LGBTQ – A number of photographs, posters and programs that reflect the evolution of the LGBTQ community, including an extremely rare poster of the Julian Eltinge's film "The Widows Might," who was one of the most celebrated drag performer of his generation (1910-20's) to a press kit for "The Rocky Horror Picture Show" (1975).
AFRICAN AMERICANA – This collections consists of film scripts and photographs of musicians, actors and broadway shows.
LATINO – A wonderful collection of vintage photographs of Latino actors in Hollywood films spanning from the 1920s to the 1960s and the film script for "Walk Proud."
MUSIC – Photographs that include "A Hard Day's Night," an extremely scarce set of photos from the legendary Bob Dylan documentary, "Don't Look Back," as well as images of David Bowie, Lou Reed and others.
PHOTOGRAPHY – A range of photographs, Jackie Kennedy & Leonard Bernstein to Joan Crawford, at the height of her career at MGM.
HORROR – This collection has some wonderful and rare images including a lobby card from the 1919 film "The Cabinet Of Dr. Caligari," a Roman Polanski script for "The Fearless Vampire Killers" and the final shooting script for George Romero's "Dawn Of The Dead."
SCIENCE FICTION – Both photographs and scripts from films such as "Metropolis," Paddy Chayevsky's "Altered States" and "Total Recall."
CRIME & FILM NOIR – Included in this collection are some of this category's big names including "The Big Sleep," "Murder My Sweet," "The Maltese Falcon," "Dark Passage," "Rear Window," "Bullitt," "Oceans 11," "Dirty Harry," "Chinatown" and, not to be left out, an extremely rare poster from the original 1939 film of "The Hound Of The Baskervilles."
LITERATURE INTO FILM – This category is filled with film scripts, lobby cards, posters and photographs whose origin came from books, short stories and plays. They include: "Gentlemen Prefer Blonds," "Lifeboat," "The Wizard Of Oz," "The Beautiful And The Damned," "Breakfast At Tiffany's", "Lord Of The Flies" and "Notorious."
DIRECTORS – Here are the film directors whose work is represented here: Alfred Hitchcock, Gregory Lacava, Orson Welles, Stanley Kubrick, Russ Meyer, Woody Allen and Sergio Leone.
EXHIBITOR BOOKS – Exhibitor books are a rare commodity and each a work of art, we have three of them: FoxFilms 1926, MGM 1930-31 and Columbia Pictures 1933-34.
WOMEN IN FILM – Here photographs, scripts and a promotional book representing 10 women who have made major contributions to film, both in this country and abroad from the 1920s through the1980s: Lenore Coffee, Leni Riefenstahl, Dorothy Arzner, Shirley Clarke, Lillian Hellman, Sylvia Plath, Agnes Varda, Chantal Ackerman, Joan Micklin Silver, Lina Wertmuller and Marguerite Duras.