Clarence Muse (October 14, 1889 – October 13, 1979) was an African American actor, screenwriter, director, singer, and composer. He was the first African American to appear in a starring role in a film, 1929's Hearts in Dixie. He acted for 50 years and appeared in more than 150 films. He was inducted into the Black Filmmakers Hall of Fame in 1973.
Jungle Queen 1945
[Hollywood]: Universal Pictures, 1944. Vintage original 8 x 10″ (20 x 25 cm.) black-and-white print still photo, FINE.
The above photograph is a rare portrait of Clarence Muse for a Universal serial released in 1945. It was said of him, "Muse [was]…so unlike other black actors of his era. His performances crack the glossy artificiality of his films, injecting them with a healthy dose of unassimilated realism." (Bogle, Blacks in American Film and Television, pp. 431-2.)
Harlem Renaissance
During the 1920's Harlem Renaissance, Muse was acting with two Harlem theatres, Lincoln Players and Lafayette Players. While starring in the Lafayette Theatre's staging of Dr. Jekyll and Mr. Hyde, Muse said the play was relevant to black actors and audiences "because, in a way, it was every black man's story. Black men too have been split creatures inhabiting one body."
Hearts in Dixie
Muse moved to Chicago and then to Hollywood. In 1929 he starred in Hearts in Dixie, the first all-black movie. For the next fifty years, he worked regularly in minor and major roles. Muse appeared as an opera singer, minstrel show performer, vaudeville and Broadway actor; he also wrote songs, plays, and sketches. In 1943, he became the first African-American Broadway director with Run Little Chillun.
Muse was also the co-writer of several notable songs. In 1931, with Leon René and Otis René, Muse wrote "When It's Sleepy Time Down South", also known as "Sleepy Time Down South". The song was sung by Nina Mae McKinney in the movie Safe in Hell (1931). Later it became a signature song of Louis Armstrong.
The Broken Earth (1939)
Muse was the major star in The Broken Earth , which related the story of a black sharecropper whose son miraculously recovers from fever through the father's fervent prayer. Shot on a farm in the South with nonprofessional actors (except for Muse), the film's early scenes focused in a highly realistic manner on the physical labor of plowing scenes with black farmers.
Way Down South (1939)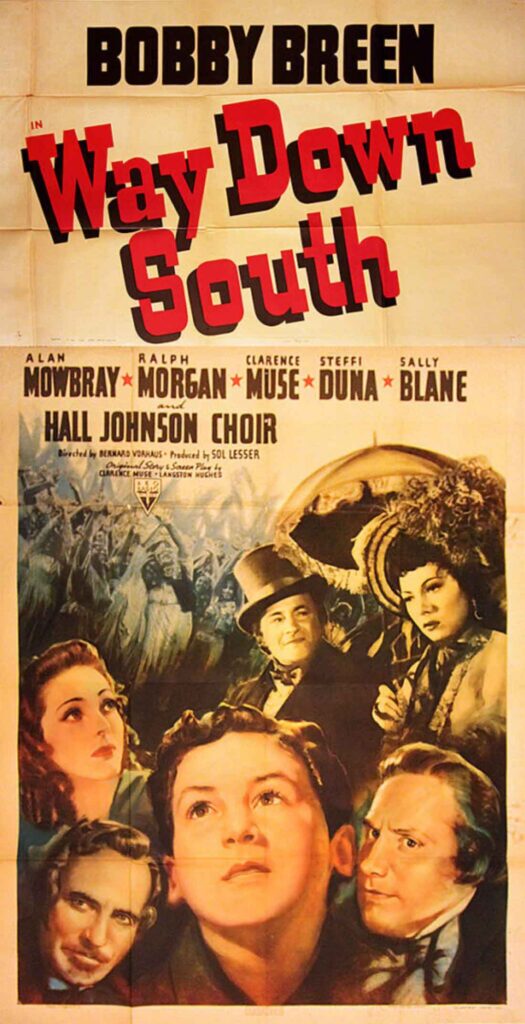 This very scarce large-format poster for this film co-authored by Langston Hughes and Clarence Muse. This was Hughes' only screen credit during his lifetime. He worked here with Muse, to create a film with a more three-dimensional portrayal of African American life in the Old South.
Their screenplay was inevitably compromised by the timidity of the studio, but the film, just the same, is arguably the only one written by African Americans and produced by a major studio in the 1930s.
Onward to TV
Muse performed in Broken Strings (1940), as a concert violinist who opposes the desire of his son to play "swing". From 1955 to 1956, Muse was a regular on the weekly TV version of Casablanca, playing Sam the pianist (a part he had been considered for in the original Warner Brothers film). In 1959, he played Peter, the Honey Man, in the film musical Porgy and Bess.
Muse appeared on Disney's TV miniseries The Swamp Fox. Other film credits include Buck and the Preacher (1972), The World's Greatest Athlete (1973), and as Gazenga's assistant, "Snapper", in Car Wash (1976). His last acting role was in The Black Stallion (1979).
Clarence Muse received an honorary doctor of humanities degree from Bishop College in Dallas, Texas, in 1972. He was a member of Phi Beta Sigma fraternity, Omega chapter. Muse died in Perris, California, on October 13, 1979, one day before his 90th birthday and the same day that his final film was released.