Once Upon a Time at MGM
Vintage Original Hollywood Movie Memorabilia, as an investment-worthy collectibles category, came of age in 1970 when MGM sold the contents of seven sound stages to auctioneer David Weisz for the ridiculous sum of $1.5 million. Included in the lot were over 350,000 costumes, furniture and decorative-art related items, automobiles, busses, trains, tanks, boats, ships, airplanes and space capsules that had been designed and built or purchased to create the background tapestry of hundreds of the studio's productions.
Weisz "recouped eight times" what he had paid from eager nostalgia enthusiasts. The centerpiece of the auction, Dorothy's ruby slippers from the Wizard of Oz, sold for the then-astronomical price of $15,000. Actress Debbie Reynolds spent a reported $600,000 to purchase thousands of items, which became the foundation of Reynolds' enormous collection. A few of the highlights of items sold were: the full-size sailing ship from Mutiny on the Bounty, Elizabeth Taylor's wedding gown worn in Father of the Bride, Clark Gable's trench coat worn in several films, a group of swimsuits worn by Esther Williams, Johnny Weissmuller's loin cloth worn in Tarzan films of the 1940s. and the Cowardly Lion costume from The Wizard of Oz. The unsold items, "… truckloads of costume sketches, movie stills and other memorabilia were sent to the MGM Grand Hotel in Las Vegas to be sold in the gift shop and used as hotel decorations". The auction catalogs have now themselves become sought-after collectibles.
For a glimpse of what went on at that fabled auction take a look at this period video describing it:
What a Pair of Ruby Slippers Can Do
Besides taking you home to Kansas, Dorothy's $15,000 ruby slippers made it clear to film enthusiasts and collectors that vintage original movie memorabilia, including movie posters, lobby cards, move star photographs and production shots, film scripts, costumes, costume and set designs, props, marketing materials––in fact almost any movie-related or screen-seen object, had value and was worth collecting. This became abundantly clear in the late 1980s when another pair of Dorothy's footwear sold for $165,000, Charlie Chaplin's signature hat and cane sold for $150,000, and Marilyn Monroe's trademark halter-top dress, worn in the The Seven Year Itch (seen above), sold for a comparable price.
The "Big Boys" Take Notice
With ever-increasing prices being paid for vintage original Hollywood movie memorabilia, larger auction houses such as Christie's, Sotheby's and Bonhams created their own departments devoted to its curation and sale. Today, Hollywood movie memorabilia is recognized as an important collectable category with ever-escalating hammer prices. This has caused Wall Street investment bankers and collectors to acknowledge that Hollywood movie memorabilia is as worthy an asset investment as fine art or the collection of automobiles.
The Importance of "Provenance"
A vital factor in buying and selling Vintage Original Hollywood Movie Memorabilia is determined by an item's provenance and valuation.  These two factors are determined through:
Authentication – establishing a piece as a vintage original and not a reproduction, the date it was issued and any additional history or documentation it might possess.
Evaluation — giving an accurate evaluation of the condition of the piece so that a prospective buyer has a clear and accurate understanding of the condition of their potential purchase.
Curatorial Process
WalterFilm's Curatorial Process  involves both Authentication and Evaluation and we provide our clients with a Certificate of Authenticity describing such for every piece we sell.
Hollywood's 12 Most Expensive Pieces of Movie Memorabilia
Here are the 12 most expensive pieces of Hollywood Movie Memorabilia as detailed in this excellent ScreenRant Article by Cailin Coane, dated January 4, 2017.
1. Marilyn Monroe's Dress (The Seven Year Itch) – $4.6 Million
Marilyn Monroe's white ivory cocktail dress is one of the most famous dresses in history, for the moment that became one of the twentieth century's most iconic images. In The Seven Year Itch (1955), Monroe's character steps onto a grate in the sidewalk, making her dress fly up to expose her legs. The moment has been parodied in everything from Shrek 2 to Blades of Glory, and it helped etch Monroe permanently into Hollywood history.
The scene originally was to be shot outside the Trans-Lux 52nd Street Theatre at 1:00 am, but the cameras and Monroe caught the attention of hundreds of fans, ruining the shot. Director Billy Wilder had to reshoot the scene on a set at 20th Century Fox.
Like Audrey Hepburn's ascot dress, Monroe's dress sold as part of the late Debbie Reynolds' Hollywood collection. It sold for $4.6 million, making it the most expensive movie costume, or prop of any kind, in history.
2. Audrey Hepburn's Ascot Dress (My Fair Lady) – $4.5 Million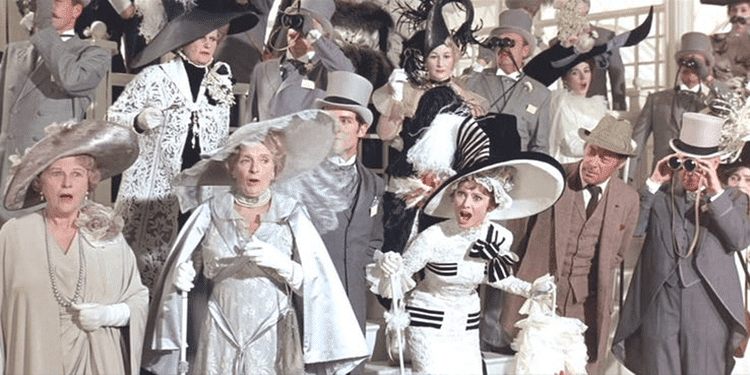 Audrey Hepburn's Edwardian black and white lace dress was designed by Cecil Beaton, who snagged the Academy Awards for costume design and art direction for his efforts. My Fair Lady (1964) also won Best Picture, Best Actor (Rex Harrison), Best Directing, Best Cinematography, Best Sound, and Best Score.
The costume was worn during the musical number "Ascot Gavotte," which features Cockney flower girl Eliza Doolittle (Hepburn) out in high society for the first time, where she pokes fun at the activities (or lack thereof) of the English upper class.
The dress (and matching hat) sold in 2011 for $4.5 million as part of a collection from late actress Debbie Reynolds, who collected over 3,500 costumes from films throughout Hollywood history — including Gone with the Wind, The Sound of Music, and Casablanca — in the hopes of one day creating a Hollywood museum.
3. Aston Martin Db5 (Goldfinger/Thunderball) – $4.4 Million
One of two cars that were used in the making of Goldfinger (1964), James Bond's 1965 Aston Martin DB5 convertible sold for $4.4 million in 2010. The car sold was known as the "Road Car"; during filming, it was used for regular driving, and was only outfitted with Bond's signature gadgets after filming was complete. Interestingly, Goldfinger was the film where gadgets became a key part of the Bond franchise.
The Road Car went on to star in Thunderball (1965) the following year. It was then sold in 1969 to radio executive Jerry Lee for $12,000. It was mainly kept in storage until its most recent sale in London, where it was bought by Ohio collector Harry Yeaggy.
The other Aston Martin, known as the "Effects Car," was given add-ons such as rotating plates and guns that appeared through the tail lights. It was stolen in 1997 from an airport hangar in Boca Raton, and has yet to be recovered.
4. Maltese Falcon Statuette (The Maltese Falcon) – $4.1 Million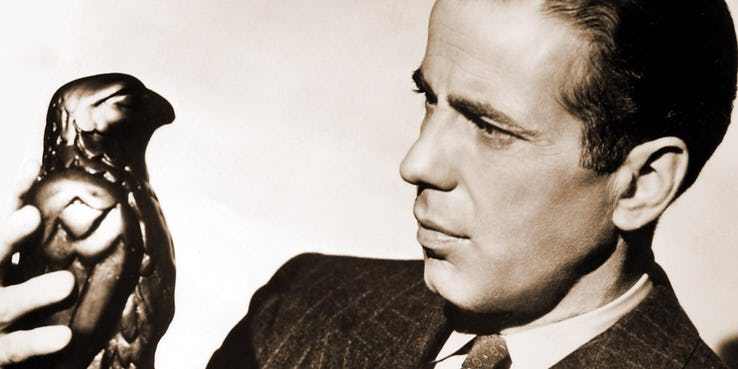 The Maltese Falcon (1941), one of the true classics of film noir, was the directorial debut of John Huston, also known for The Treasure of the Sierra Madre and The African Queen, and stars Humphrey Bogart as world-weary private detective Sam Spade in search of the titular statuette. The statuette sold in 2013 for $4.1 million to Las Vegas hotel and casino billionaire Steve Wynne.
Some have contended as to whether the statuette is the real prop used in the film, as the actors purportedly used plaster stand-ins as opposed to the 45 lb. lead statuette. However, the prop in question has been confirmed as having appeared in the film; its bent tail feather, which can be seen at the end when Spade carries it out of his apartment, occurred during filming when actress Lee Patrick dropped it while handing it to Bogart.
5. Cowardly Lion Costume (The Wizard Of Oz) – $3 Million
Actor Bert Lahr's most recognizable role was his turn as the Cowardly Lion in The Wizard of Oz. Though he may not have had the most memorable songs in the musical – "If I Were King of the Forest" somehow isn't quite as catchy as "Follow the Yellow Brick Road" – he certainly had the most memorable get-up. The Cowardly Lion costume, made from real lion fur, sold in 2014 for $3 million after being found abandoned in an old MGM building. The costume was bought by James Comisar for his Museum of TV in Phoenix, Arizona, where it is still on display.
Lahr was chosen for the role for his comedic skills; his ad-libbed lines made his co-stars, especially Judy Garland, laugh during filming, causing director Victor Fleming to call for take after take. When the film was a success, Lahr was warned about the possibility that he'd be typecast. "Well, yeah," he reportedly said, "but how many parts are there for lions?"
6. Do-Re-Mi Outfits (The Sound Of Music) – $1.5 Million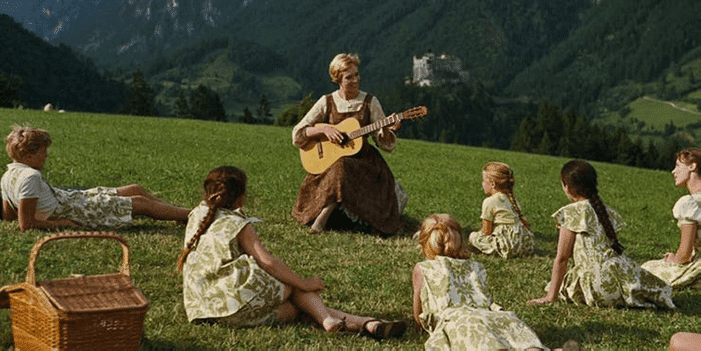 It's probably the first image that comes to mind when you think of The Sound of Music (well, right after Julie Andrews spinning around in a field belting out "The Hills Are Alive"). The outfits Maria makes from old curtains for the seven Von Trapp children are recognized all over the world, as well as the song they sing during a montage of day trips in Salzburg while wearing them. "Do, a deer, a female deer…" There, now it will never leave your head, either.
The Sound of Music came out in 1965, another smash hit for Julie Andrews after her starring role in Mary Poppins the year before. The Sound of Music went on to become the highest-grossing film of all time, surpassing Gone with the Wind (ironically, another film well-known for its curtain costume), and it held that title for five years.
The costumes are, indeed, made from real curtain material; the designer, Dorothy Jeakins, won an Oscar nomination for her work on the film. Despite being made of essentially canvas, the Do-Re-Mi outfits sold for $1.5 million in 2013.
7. Steve Mcqueen's Racing Suit (Le Mans) – $984,000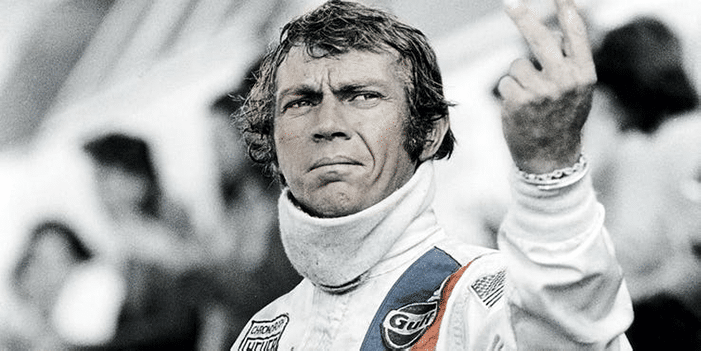 Le Mans (1971) features a fictional account of the annual 24-hour auto race in Le Mans, France. Starring Steve McQueen, it was initially a box office flop, but over the years it garnered praise for its authenticity by using the actual Le Mans circuit, footage of the race captured by a participating car, and well-known drivers and actual Le Mans race cars. It has consequently gained a cult following, to the point where fans are willing to go to extraordinary measures to own a piece of its memorabilia.
McQueen's racing suit was originally donated after the film's release to the British newspaper The Observer as a prize for a Le Mans-themed trivia contest, which was won by twelve-year-old Thomas Davies. Davies sold the suit in 2011 for $155,000; three and a half months later, it was sold again, this time at the Icons of Hollywood auction in Beverly Hills, for $984,000, making it the most expensive piece of racing memorabilia ever sold.
8. Lotus Submarine Car (The Spy Who Loved Me) – $860,000
James Bond is synonymous with glamorous cars, and the Lotus Esprit from The Spy Who Loved Me (1977) is no exception. The vehicle is a submarine specially built for the film with the bodyshell of a Lotus Esprit. Six Esprits in total were used during filming, modified for the water, with fins where the wheels would be. The vehicle was dubbed "Wet Nellie," after the autogyro called "Little Nellie" in You Only Live Twice (1967).
After filming was completed, Wet Nellie was placed in storage in Long Island, New York. After ten years, its storage unit was auctioned off for less than one hundred dollars, the buyer initially unaware of the unit's contents. From 1989 to 2013, he occasionally exhibited the vehicle, restoring its exterior. It was eventually sold at auction in London in 2013 to business magnate Elon Musk, who has plans to use Tesla Motors' electric drive train to make the car-submarine functional.
9. Audrey Hepburn's Dress (Breakfast At Tiffany's) – $806,000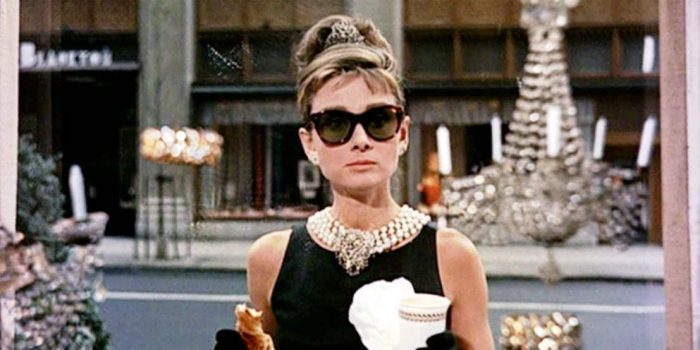 It's one of the most famous opening scenes in Hollywood history: Holly Golightly — played by Audrey Hepburn in her most iconic role — emerges from a yellow taxi on 5th Avenue. She nibbles a pastry while looking in the Tiffany's shop window, wearing "the most famous little black dress of all time."
The dress was created by Hubert de Givenchy, a French designer (with clients such as Jackie Kennedy) and a close friend of Audrey Hepburn's, for whom he designed nearly all of her personal and professional wardrobe. For Breakfast at Tiffany's (1961), Givenchy not only designed the black Italian satin sheath gown, but chose the accessories to accompany it: Holly's pearls, cigarette holder, black hat, and black opera gloves.
One copy of the dress sold in 2006 for $806,000, a huge price tag that surprised many. Two other copies of the dress remain – one in Givenchy's archive, the other in a costume museum in Madrid.
10. Flying Car (Chitty Chitty Bang Bang) – $805,000
While Mary Poppins (1964) is more well known in the public eye, Chitty Chitty Bang Bang (1968) is another British musical that can conjure up childhood nostalgia, especially for those enchanted by its eponymous flying car. The film stars Dick Van Dyke as the inventor Caractacus Potts, and chronicles his adventures with his two children and Truly Scrumptious as they seek to sell his inventions and evade Baron Bomburst and his evil (and frankly, pretty terrifying) Child Catcher.
Six cars in total were created for the film, including an engineless version for the trailers, a car for the flying scenes, a car for the transformations, and a smaller version for driving scenes. After filming was completed, all six were fitted with engines and used to promote the film around the world. One car was a fully functioning road-ready car with genuine UK registration; this was the car that sold in 2011 for $805,000 to famed director Peter Jackson, who now uses it as a fundraising vehicle.
11. Dorothy's Ruby Slippers (The Wizard Of Oz) – $666,000
1939 gave us a slew of Hollywood classics: Gone with the Wind, Mr. Smith Goes to Washington, and The Wizard of Oz. Victor Fleming's latter masterpiece also gave us one of the most famous props in movie history: Dorothy's ruby slippers. Worn by Judy Garland, only four of the original pairs survive, with one pair permanently on display at the Smithsonian's National Museum of American History.
The original book, The Wonderful Wizard of Oz by L. Frank Baum, actually had Dorothy wearing silver shoes. The producers of the film decided to change the color to red, as it would show up better against the yellow brick road. In a film with a dazzling (and now iconic) change from black and white to color, every advantage of Technicolor had to be taken.
One pair of the ruby slippers was sold in 2000 for $666,000. In 2005, the pair at The Judy Garland Museum was stolen. Ten years later, in 2015, a reward for one million dollars was issued for anyone with information on the stolen slippers' whereabouts.
12. Delorean Car (Back To The Future) – $541,000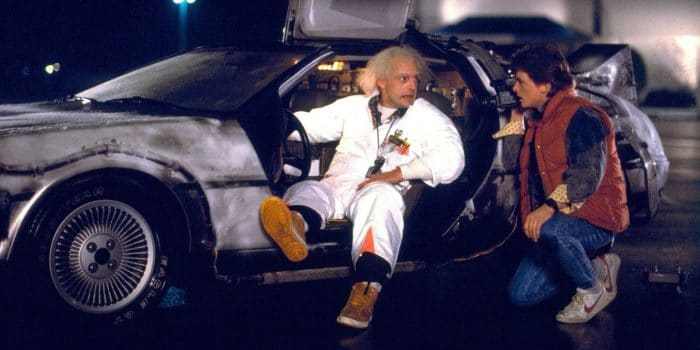 The 1982 DeLorean DMC-12 has become synonymous with time travel. The only car DeLorean ever manufactured, it burst onto the pop culture scene with the 1985 release of Back to the Future. Equipped with a flux capacitor built by inventor Doc Brown, in the film, it travels through time when it hits 88 miles per hour.
There were originally seven cars in total used in the making of the Back to the Future trilogy, and only three remain in existence. The one sold at auction in 2011 was mainly used in the third movie, with part of the proceeds going to the Michael J. Fox Foundation for Parkinson's Research.
Soon, though, the DeLorean will be available for purchase for any die-hard Back to the Future fans with the means, as the car will be going back into production in early 2017. DeLorean — who's only stayed in business by refurbishing old DMC-12s — are planning to make three hundred replicas of the original. The replicas will reportedly cost about $100,000 each; now we just need to invent the flux capacitor!
The Ever Increasing Value of Movie Memorabilia
Here is an excellent article from the Hollywood Reporter dealing with Movie Memorabilia and how valuable it's becoming and how robbers and forgers have taken notice.
To read Gary Baum's, June 08, 2018, full Hollywood Reporter Article CLICK HERE.
Since 1982, WalterFilm's primary focus has been on the glorious history of the European and Hollywood Motion Picture Business. We offer the finest selection of original vintage movie posters, movie star photos, lobby cards, movie scripts & rare books and Hollywood movie memorabilia. We also deal in sub-specialties of theater and stage, African American cultural history, as well as LGBTQ film, stage, art, and social history. Our goal is to search out and offer the most outstanding pieces we can find.