Vintage Original Horror and Science Fiction Posters have proven to be among the most popular and appreciated collectibles in all of vintage movie memorabilia.  Today, with original vintage movie posters proving to be both scarce and expensive, collectors are turning to vintage original film photography that was used by the studios to define, promote and advertise their films and stars.
Museum Quality Original Vintage Horror Posters
Some of the highest prices realized in this market have been for the posters of classic titles such as DRACULA (1931), FRANKENSTEIN (1931), THE BLACK CAT (1934), METROPOLIS (1927) and THE PHANTOM OF THE OPERA (1924).  Historians, museums and galleries now feature these elusive posters which are wonderful examples of major art movements including Art Nouveau, Art Deco and Mid-Century Modern Design.
The 1950s Reign
The vintage original science fiction and monster movie posters from the 1950s are favorites because of their mid-century design and period colors. People remember these movies from their Saturday afternoon childhoods.  Today, these posters, which in the past collectors of this genre preferred to keep in their used conditions— (if one could not find a pristine copy) — are more readily available than their 1930s predecessors, but they too are becoming scarce and expensive.
Original Vintage Horror Film Photographs
This is why the more plentiful vintage original horror movie photographs of the stars, the scenes, the publicity stills and behind the scenes views have gained in popularity and collectability. These photos capture the character's mood, their story, the lighting and art direction—the psychology of the film and the key moments we all remember.
Show Us The Monster
However, often the posters and ad art, while playing up the horror atmosphere, would rarely reveal the monster— or, at best, a mere suggestion of it.  However, a film's original vintage promotional photographs will often show the monster in all of its terrifying glory!
Our Current Exhibit
To view our Current Exhibit of some of the finest vintage original horror and science fiction movie posters and photographs please click on the button below.
HORROR AND SCI-FI POSTERS AND PHOTOGRAPHS
Additional Items
We have many other items in our WalterFilm Store that deal with HORROR, SCIENCE FICTION & FANTASY (including Scripts).
Dead of Night
An extremely rare and timely piece is the British half sheet to DEAD OF NIGHT (1945).  While Universal continued its series of popular monsters and RKO released Val Lewton's psychological horror titles, the British would not be outdone. Paper was at such a shortage, even more so in Britain, that the extremely rare print run of this poster utilized recycled paper, and therefore on the back is printed a partial poster featuring Prime Minister Winston Churchill.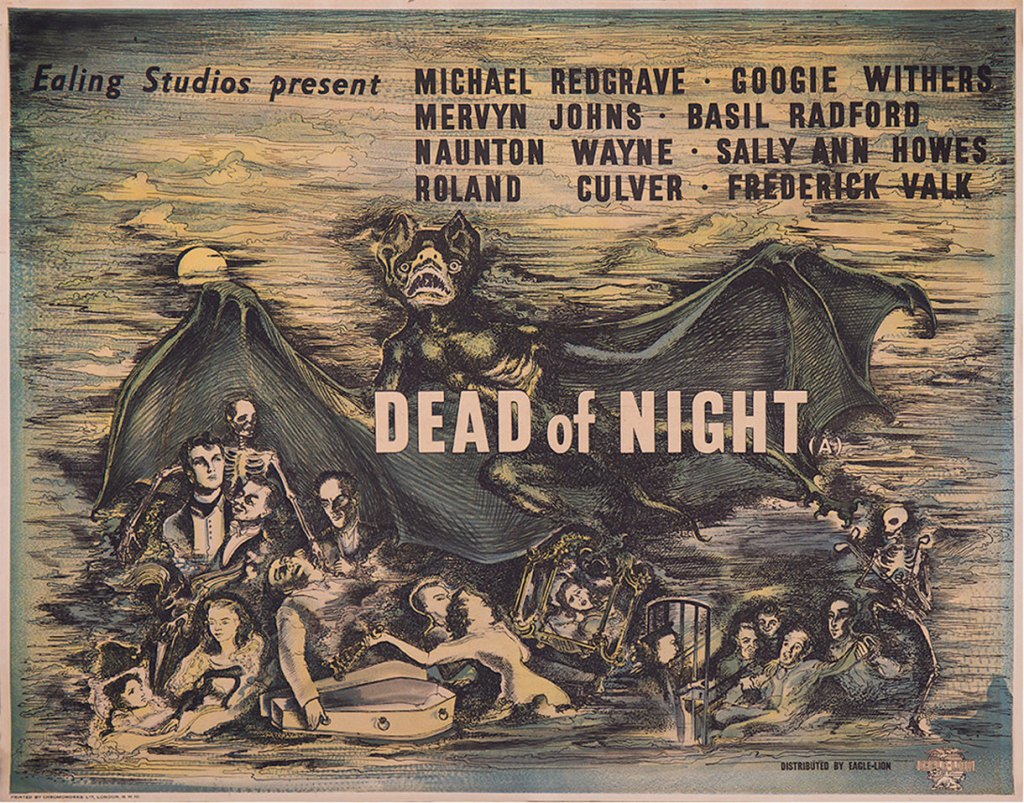 The Wolfman
A photograph of make-up artist Jack Pierce putting on the finishing touches of Lon Chaney Jr's WOLFMAN (1941) make-up is in honor of the artist who created the make-ups for all the famous Universal monsters.
I Walked With A Zombie
Zombies are implicit in the atmospheric poster art for I WALKED WITH A ZOMBIE.
We hope you enjoyed learning a bit about Collecting Original Vintage Horror & Science Fiction Posters & Photographs.